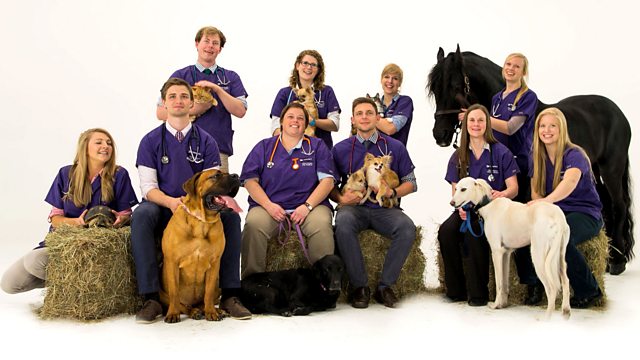 It's February and our young vets only have a few months left before their student days come to an end. They'll soon be the ones making decisions about their patients, with no-one to fall back on. They learn that these decisions about what's best for patients and their owners can be very difficult indeed.
Charlie Tewson wants to work with small animals in general practice and emergency care is a vital part of this. He's working in the intensive care unit at the RVC's Queen Mother Hospital for Animals and it's crucial he does well. Charlie's first case is Polly, a flat-coated retriever involved in a serious road accident. Her injuries were so severe that surgeons removed one of her hind legs. But infection has set into her wound and it's not responding to antibiotics. Can the vets find a way to treat her before she dies?
Matt Wilkinson is working with exotic creatures great and small at a practice that treats animals in a nearby zoo. He has to get to grips with an angry mangy monkey and helps to treat a lovesick rockhopper penguin.
Horse lover Jo Hardy is in equine bliss as she helps to treat Hughie, a valuable eventer with a dangerous heart condition.
Judy Puddifoot is learning to solve veterinary mysteries. Vets refer sick animals they can't diagnose to the RVC, so Judy needs to turn detective. Her first patient is Marnie, a nova scotia duck tolling retriever who keeps developing a high temperature and fever. Judy must learn that a good vet asks questions, follows the clues and comes up with the answers quickly. Can she work it out in time to help Marnie?
Last on
Credits
| Role | Contributor |
| --- | --- |
| Executive Producer | Emma Read |
| Series Producer | Isobel Williams |