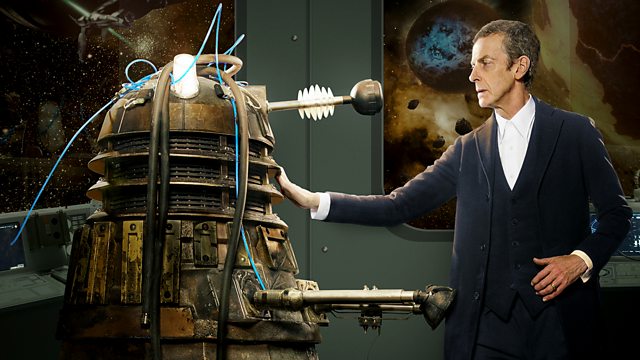 A Dalek fleet surrounds a lone rebel ship, and only the Doctor can help it now.
With the Doctor facing his greatest enemy, he needs Clara by his side. Confronted with a decision that could change the Daleks forever, he is forced to examine his conscience and ask himself whether he is truly a good man.
Last on
Peter Capaldi arrives on set early to watch the Daleks in action!
Credits
| Role | Contributor |
| --- | --- |
| The Doctor | Peter Capaldi |
| Clara | Jenna Coleman |
| Journey Blue | Zawe Ashton |
| Colonel Morgan Blue | Michael Smiley |
| Danny Pink | Samuel Anderson |
| Gretchen | Laura Dos Santos |
| Ross | Ben Crompton |
| Fleming | Bradley Ford |
| School Secretary | Michelle Morris |
| Mr Armitage | Nigel Betts |
| Director | Ben Wheatley |