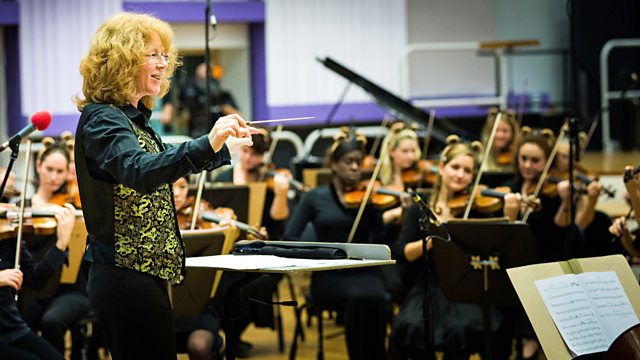 Sarah Waters; Sian Edwards
Listen in pop-out player
Sarah Waters talks about her new novel set in Post WWI London, 'The Paying Guests'. Sian Edwards is one of only four female conductors this year compared with eighty concerts at the Proms conducted by men. Seema Malhotra on her new role as shadow minister for preventing violence against women and girls. Female candidates and the European Commission. And picnics at Glyndebourne.
Presenter : Jenni Murray
Producer : Kirsty Starkey.
Last on
SEEMA MALHOTRA
Labour has appointed a new minister with the specific task of preventing violence against women and girls. Seema Malhotra, the Feltham and Heston MP, will work on issues of trafficking, female genital mutilation and prostitution, sexual violence and forced marriage.  But with scandals such as the sexual exploitation of young women and girls in Rotherham, and a history of cuts to women's services, what changes can she hope to make? She's joined by the Director of the umbrella group 'End Violence Against Women', Holly Dustin, to discuss what needs to be done. 
EUROPEAN PARLIAMENT AND WOMEN
The President of the European Commission, Jean-Claude Juncker, has made "repeated requests" to governments to put forward female candidates for the top jobs at the Commission, saying it would be "neither legitimate nor credible" without more women, and they would have "a very good chance" of leading roles. Appointments are to be made in Brussels this weekend, yet despite this, David Cameron and other governments have failed to act and have nominated men – risking Britain's chances of securing a key role. So why is it so important – and proving so difficult – to get more female candidates for these influential posts? Political journalist Anne McElvoy of the Economist joins Jenni to discuss.
SARAH WATERS: THE PAYING GUESTS
It was 'Tipping the Velvet',  an adventure based around Victorian Music Hall life, with a lesbian love story at the centre , which got Sarah Waters talked about as one of the most talented writers of her generation. Since then her novels have been nominated for a clutch of awards (she's been up for the Man Booker and the Orange Prize).  Her new novel The Paying Guests is set amid the unrest of London after the First World War and tackles the social upheaval created by an immerging "clerk class".  Jenni finds out what the intense love affair at the heart of the book tells us about a rapidly modernising society. 
The Paying Guests by Sarah Waters is published by Virago on Thursday 28th August
WOMEN CONDUCTORS- Sian Edwards
Why are there so few women conducting professional orchestras? There are four women conductors at the Proms this year; yet more than eighty Proms are being conducted by men. Some male conductors have been less than encouraging about women taking up the baton, with one saying that "a cute girl on a podium means that musicians think about other things", and another that women lack the physical strength to conduct. Sian Edwards is one of the four women conducting at this year's Proms. Her career goes back more than thirty years; it took off when she won the Leeds International conducting competition in 1984. She's also Head of Conducting at the Royal Academy of Music. Jenni speaks to her about why so few women seem to be attracted to conducting and how to get more women wielding the baton.
Sian will be conducting at the Cadogan Hall this coming Saturday the 30th August at 3pm as part of the BBC Proms (A Portrait of Sir Peter Maxwell Davies).
PICNICS AT GLYNDEBOURNE
The Glyndebourne Festival celebrates its 80th birthday this year.  Since its beginnings in 1934 its aim has been to present world class opera in the summer setting of the beautiful Sussex countryside.  A lot has changed since the early days - the operas themselves now take place in a purpose built auditorium seating 1,200 people  but the tradition of combining a night of music with an afternoon of feasting has remained and the Glyndebourne picnic is still a gold standard for outdoor eating.  Some patrons bring their own delicacies but many rely on the in-house caterers who will provide a sumptuous spread to enjoy before the opera and in the extended half time break.  In our series in search of the perfect picnic we sent a very lucky Catherine Carr down to Sussex to  meet Paul, the hospitality manager and his team as they prepare  the ultimate evening picnic.
Glyndebourne Potato, Leek & Cepe Frittata
200 grams red potatoes
120 grams leek
100 grams cepe mushrooms
5 eggs
Pinch of table salt
20 grams parsley
20 grams chive
100 grams feta cheese
80 grams watercress
40 grams peas
100 grams pea shoots
40 grams soya beans
10 grams butter
Method
Ø  Peel and boil the potatoes. When cooked, allow to cool and then slice
Ø  Wash and dry the herbs and then finely chop
Ø  Thoroughly wash and thinly slice the leeks. Cook the leeks in butter without colour and drain
Ø  Slice and cook the cepe mushrooms
Ø  Whisk the eggs and add the seasoning
Ø  Combine all of the vegetables in an oven proof dish and coat with the beaten eggs
Ø  Cook in the oven on 145°C until cooked i.e. not runny in the centre. This can be served either hot or chilled
Ø  Wash and dry watercress and pea shoots. Place on a serving platter and crumble feta cheese over the top and serve as an accompaniment to the frittata.
Glyndebourne  Beetroot  Tabbouleh
160 grams bulgur wheat
100 grams cooked beetroot
40 grams parsley
40 grams dill
40 grams mint
60 ml extra virgin olive oil
Good pinch of salt
200 grams rindless goats' cheese
4 figs
60 grams castor sugar
Method
Ø  Place the bulgur wheat in a plastic container and rinse under cold water for 2 minutes, leave in a sieve to drain
Ø  Wash and chop herbs
Ø  Peel and grate the cooked beetroot and mix with the bulgur wheat, herbs, oil and seasoning
Ø  Place the goats' cheese in a bowl and cream by hand
Ø  Cut figs into quarters,  sprinkle with sugar and glaze with a blow torch or under a hot grill
Ø  Mould the bulgur mix using a pastry cutter or similar
Ø  Quenelle the creamed cheese and place on top of the bulgur
Ø  Decorate with glazed figs
Ø  Care must be taken not to prepare the dish too far in advance as the beetroot will 'bleed' into the cheese
Credits
| Role | Contributor |
| --- | --- |
| Presenter | Jenni Murray |
| Interviewed Guest | Sarah Waters |
| Interviewed Guest | Sian Edwards |
| Interviewed Guest | Seema Malhotra |
| Interviewed Guest | Holly Dustin |
| Interviewed Guest | Anne McElvoy |
| Producer | Kirsty Starkey |