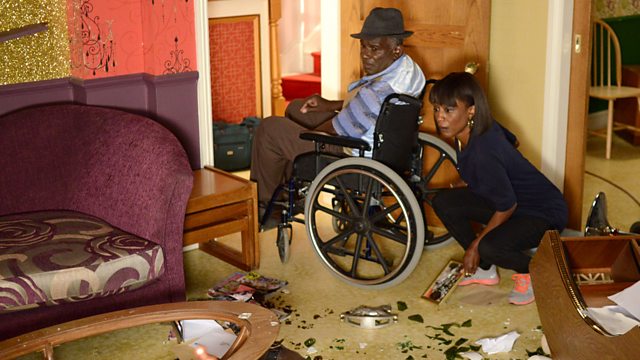 29/08/2014
Mick tells a moody Linda that Elaine is on the phone for her; she's sprained her ankle. Linda tells Mick that she doesn't want to speak to her and proceeds to storm out of the pub. An upset Linda arrives at Sharon's – she explains to Sharon how hard it's been for her; having to lie to Denise's face was awful. Cora finds Rainie on the steps outside her flat.
As they have a cup of tea, Cora asks whether Rainie has a plan – why is she bent on throwing her life away? When Rainie tells Cora that she's serious about getting clean again, Cora tells her that she can stay for as long as she wants, but reminds Rainie that it won't be easy with the Carters living across the Square. Rainie admits that that's the least of her worries – it wasn't Mick she slept with, it was Ian. Cora heads to the Vic to apologise to the Carters for falsely accusing Mick. As Cora comes into the Vic – Linda bristles. Cora apologises and admits that what she said was unforgiveable.
Stan offers to buy Cora a drink and Mick reassures Linda that things are getting back to normal just like he told her they would. An angry Denise comes to the Vic and tells Linda that she's found out that Linda knew the truth all along; does she get off on playing the martyr? In front of the pub, Denise questions why Mick would lie for someone that he hardly knows and questions how strong that makes their marriage. An upset Linda flounces off. Cora heads back to the flat to retrieve her forgotten purse- and finds Rainie gone, along with all the money in her purse. Mick comes outside of the Vic to see Linda getting in a taxi – she tells him that she's heading to look after her mum. As the taxi drives away, Linda breaks down... She and Mick are obviously not okay....
Ian and Denise share an awkward conversation – Denise admits that she barely slept. She tells Ian that forgetting what he did to her is one thing – but how can she forgive him when the thought of what happened makes her feel sick? Denise asks Ian the main question on her mind; why Rainie? When he tells Denise that Rainie accosted him, she sneers. Denise confesses to Ian that she was going to leave him the week Lucy died. Denise asks Ian who else knows about him and Rainie. He admits that Mick, Linda and Phil do.
When Denise presses further, Denise clocks that Patrick knows and runs upstairs. As Denise packs her stuff to leave, the couple argue about the mistakes they've both made. Ian asks who Denise kissed at their engagement party and Denise confesses it was Fatboy. Denise explains to Patrick that she's packing their essentials to leave and go back to his. Denise hands Ian his keys back, telling him that she deserves so much more than he ever gave her. Sharon and Phil see Denise wheeling Patrick out of Ian's house and head over to see him. Denise and Patrick arrive back to the B&B – they are devastated when they go through to the living room and see that they have been broken in to; everything is ruined.
Sharon and Phil try to console Ian – Phil tells him he'll just have to front it out. Peter arrives back home and Ian admits that Denise found out that he slept with a prostitute. Phil sorts out a boarding pass for Ian – he and Sharon have booked him a flight to go and stay with Michelle in Pensacola that night.
Lola pops into Blades and asks Dean whether he's managed to consider her apprenticeship, he tells her that she starts Monday – she did brilliantly at her trial and he underestimated her. She is thrilled and runs out to tell Peter. A less enthusiastic Peter confesses to her that he kissed Lauren. Lola is devastated, especially when Peter tells her that sometimes he feels like Lauren is the only person he can talk too and that he loves her. Lola storms off, gutted. Lauren answers the door to Peter and is surprised when he tells her that he's split up with Lola. He explains that it hasn't been working for a while.
Lauren reminds Peter that she's still with Dean – but Peter maintains that it doesn't change anything, he'll wait for her. With his bag packed to move back to the Beales', Peter bumps into Lola on Bridge Street. Peter asks if he can say goodbye to Lexi – but Lola refuses; it'll just confuse her. As Dean and Lauren walk past, Lola shouts at Lauren – telling her she wants a word with her.
Last on
Credits
| Role | Contributor |
| --- | --- |
| Linda Carter | Kellie Bright |
| Mick Carter | Danny Dyer |
| Stan Carter | Timothy West |
| Shirley Carter | Linda Henry |
| Ian Beale | Adam Woodyatt |
| Denise Fox | Diane Parish |
| Dean Wicks | Matt Di Angelo |
| Patrick Trueman | Rudolph Walker |
| Cora Cross | Ann Mitchell |
| Rainie Cross | Tanya Franks |
| Phil Mitchell | Steve McFadden |
| Sharon Rickman | Letitia Dean |
| Lauren Branning | Jacqueline Jossa |
| Peter Beale | Ben Hardy |
| Lola Pearce | Danielle Harold |
| Executive Producer | Dominic Treadwell-Collins |
| Director | Toby Frow |
| Writer | Matt Evans |