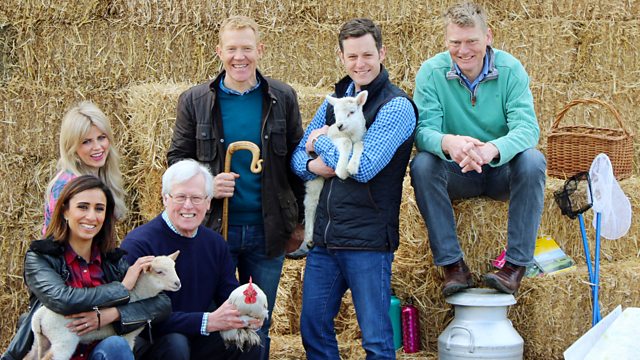 Herefordshire
John Craven and Anita Rani are in Herefordshire exploring the county's burgeoning foodie culture. John meets Simon Cutter, a farmer breeding pure Hereford cattle - not just for their meat but because they are the number one grazing cattle. And Simon is as keen on restoring his wildflower meadows as he is his cattle.
Anita finds that there's more power in flowers than meets the eye. She catches up with the botanist looking to extract nature's goodness from his fabulous fields. She also takes part in a harvest with a difference as she helps one producer get in a huge crop of blackcurrants, and she joins John to put her taste buds to the test as she samples a unique take on the traditional pork pie.
Adam's in Shropshire meeting the farmer bringing a little taste of South America to Britain with his quinoa. And Tom asks if using gas to kill badgers is the right solution to stopping the spread of bovine TB.
Last on
Flower power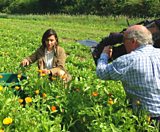 Anita Rani helps out at a farm that grows organic herbs and flowers for skin care products. Botanist Dr Paul Richards has been growing herbs at Eardisley for more than 17 years. Anita discovers the delicate process for making these precious balms that are powered by nature.
Pasture perfect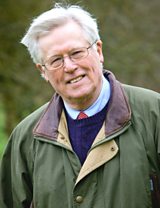 John Craven discovers the story of Hereford Cattle at a farm in the Wye Valley. Expert grazers, Hereford's were once the most widely spread breed of beef cattle in the world. But in their home county their numbers dwindled after the war, with the introduction of other European breeds. Now Simon Cutter is helping bring back the breed. His commitment to organic and pasture fed farming also means the local wildlife is flourishing. 
Local pies
All that work on the farm has left the team hungry. John heads to a local butchers where the food is truly local. Anthony Legge's recipes for his pies are inspired by real people in Bromyard. From the town crier, to the farmer and the publican, there's one for everyone. Using only local ingredients, John helps come up with a new creation, but will it win over locals?
Blackcurrant cassis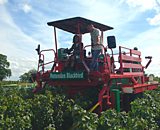 Anita visits a blackcurrant farm in the north of Herefordshire that is giving French liqueur makers a run for their money.  The farm produces more than three hundred tonnes of blackcurrants a year. Most of the fruit goes to make squash or is frozen. But the family farm is also making an English version of cassis, using champagne yeast. They are leading the way in the UK, as they are the only ones brewing the tipple this way.
Tackling Bovine TB
With another round of trial badger culls expected to begin in England soon, Tom Heap looks at two very different suggestions for tackling the problem of Bovine TB. First he looks at claims that gassing would be a more effective and humane way of culling badgers than shooting them. It is a suggestion that has been welcomed by some, but has horrified others. Then he hears how more regular testing of cattle has led to a dramatic fall in the number of new TB infections in Wales. But would it make a real difference if this policy was introduced in England too? 
Credits
| Role | Contributor |
| --- | --- |
| Presenter | John Craven |
| Presenter | Anita Rani |
| Presenter | Adam Henson |
| Presenter | Tom Heap |
| Series Producer | Joanna Brame |
| Executive Producer | William Lyons |