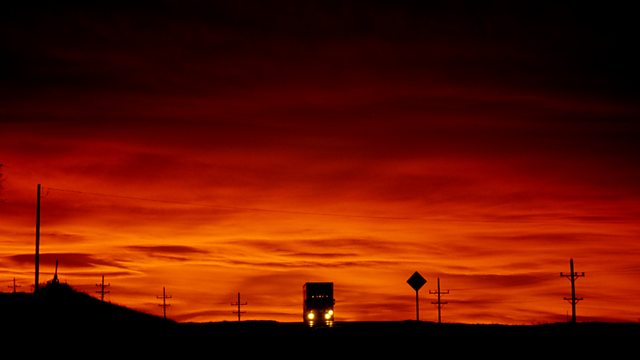 Fazil Say's Space Jump
Fazil Say performs his work Space Jump - a reaction to Felix Baumgartner's leap from a capsule at the very edge of space.
12:31 AM
Erkin, Ulvi Cemal [1906-1972]
Piano Quintet (1946)
Mariechristine Lopez & Vladimir Mari (violins), Anastasia Shugaeva (viola), Nikolay Shugaev (cello), Fazil Say (piano)
12:52 AM
Say, Fazil [b.1970]
Space Jump (Op.46) for violin, cello and piano
Mariechristine Lopez (violin), Nikolay Shugaev (cello), Fazil Say (piano)
1:04 AM
Schubert, Franz [1797-1828]
Piano Quintet in A major (D.667) "Trout"
Vladimir Mari (violin), Anastasia Shugaeva (viola), Nikolay Shugaev (cello), Kaveh Dan Eshmand (double bass), Fazil Say (piano)
1:38 AM
Raitio, Väinö (1891-1945)
Moonlight on Jupiter (Kuutamo Jupiterissa) (Op.24)
Finnish Radio Symphony Orchestra, Sakari Oramo (conductor)
1:51 AM
Beethoven, Ludwig van [1770 -1827]
Sonata quasi una fantasia in C sharp minor Op.27'2 (Moonlight) for piano
Louis Schwizgebel (piano)
2:08 AM
Debussy, Claude (1862-1918)
Clair de lune
Jane Coop (piano)
2:13 AM
Fauré, Gabriel (1845-1924) [text: Paul Verlaine]
Clair de Lune
Karina Gauvin (soprano), Marc-André Hamelin (piano)
2:16 AM
Vierne, Louis (1870-1937)
Clair de lune - No.5 from Pieces de fantaisie: suite for organ no.2 (Op.53)
Stanislas Deriemaeker (Schijen organ in the Onze Lieve Vrouwekathedraal, Antwerp)
2:26 AM
Diepenbrock, Alphons (1862-1921) text: Paul Verlaine (1844-1896)
Clair de Lune
Roberta Alexander (soprano), Rudolf Jansen (piano)
2:31 AM
Svendsen, Johan (1840-1911)
Octet for strings (Op.3) in A major
Atle Sponberg (violin), Joakim Svenheden (violin), Aida-Carmen Soanea (viola), Adrian Brendel (cello), Vertavo String Quartet
3:08 AM
Beethoven, Ludwig van (1770-1827)
32 Piano Variations in C minor (Wo0.80)
Antti Siirala (piano)
3:20 AM
Mozart, Wolfgang Amadeus (1756-1791)
Exsultate, jubilate - motet for Soprano & Orchestra (K.165)
Ragnhild Heiland Sørensen (soprano), Norwegian Radio Orchestra, Takuo Yuasa (conductor)
3:35 AM
Poulenc, Francis (1899-1963)
Litanies à la Vierge Noire - arranged for female/children's voices, string orchestra and timpani
Maîtrise de Radio France, Orchestre National de France, George Prêtre (conductor)
3:45 AM
Donizetti, Gaetano (1797-1848)
Quel guardo il cavaliere, Norina's Cavatina from Act 1, scene 2 of Don Pasquale
Adriana Marfisi (soprano), Oslo Philharmonic, Nello Santi (conductor)
3:52 AM
Stenhammar, Wilhelm (1871-1927)
Excelsior! - symphonic overture (Op.13)
Oslo Philharmonic Orchestra, Vassily Sinaisky (conductor)
4:05 AM
Chopin, Fryderyk [1810-1849]
Rondo in C (Op. 73) for 2 pianos
Dina Yoffe & Daniel Vaiman (pianos)
4:15 AM
Ovalle, Jayme (1894-1955) arranged by Peter Tiefenbach [Text by Manuel Bandeira (1886-1968)]
Azulão
Isabel Bayrakdarian (soprano), James Parker (piano), Bryan Epperson, Maurizio Baccante, Roman Borys, Simon Fryer, David Hetherington, Roberta Jansen, Paul Widner, Thomas Wiebe, Winona Zelenka (cellos)
4:17 AM
Stanford, (Sir) Charles Villiers (1852-1924)
The Blue Bird - from 8 Partsongs (Op.119 No.3)
BBC Singers, Stephen Cleobury (conductor)
4:22 AM
Ravel, Maurice [1875-1937]
Alborada del gracioso - from the suite 'Miroirs' (1905)
BBC Philharmonic, Juanjo Mena (conductor)
4:31 AM
Horneman, Christian Frederik Emil (1840-1906)
Ouverture til Helteliv (A Hero's Life - overture)
Danish National Radio Symphony Orchestra, Michael Schønwandt (conductor)
4:45 AM
Esterhazy, Pal (1635-1713)
Cantata - Ave, dulcis Virgo, No.43 from Harmonia Caelestis
Mária Zádori (soprano), Capella Savaria, Pál Németh (conductor)
4:49 AM
Haydn, Joseph (1732-1809) or possibly Pleyel, Ignace (1757-1831) arranged by Harold Perry
Divertimento in B flat Major (H.2.46) arranged for wind quintet
Galliard Ensemble BBC New Generation Artists
4:58 AM
Chopin, Frédéric (1810-1849)
Polonaise in A flat major (Op. 53) "Polonaise héroïque"
Jacek Kortus (piano)
5:05 AM
Strauss, Richard (1864-1949)
Ein Heldenleben Op.40
BBC Symphony Orchestra, Semyon Bychkov (conductor)
5:50 AM
Rosenmuller, Johann [c.1619-1684]
De profundis - Psalm 129 (130)
Johanna Koslowsky (soprano), David Cordier (countertenor), Gerd Türk (tenor), Stephan Schreckenberger (bass), Cantus Cölln, Konrad Junghänel (director and lute), Carsten Lohff (organ)
6:03 AM
Chopin, Fryderyk [1810-1849]
Polonaise no 5 in C minor (Op.40, No.2)
Cyprien Katsaris (piano)
6:11 AM
Sibelius, Jean (1865-1957)
Luonnotar, tone poem (Op.70) for soprano and orchestra
Soile Isokoski (soprano), Finnish Radio Symphony Orchestra, Jukka-Pekka Saraste (conductor)
6:19 AM
Vivaldi, Antonio [1678-1741]
Trio sonata for 2 violins & continuo (RV.63) (Op.1 No.12) in D minor 'La Folia'
Il Giardino Armonico.
Last on