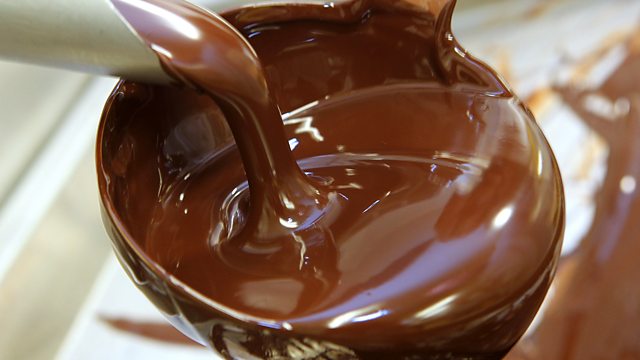 Recipes
A celebration of all things culinary and mixological, from an ancient recipe for chocolate to James Bond's iconic 'Vesper' Martini. Texts come from Charles Dickens, Enid Blyton and Fannie Flagg, while music includes morsels by Martinu, Bernstein and Rodrigo. Recipes, factual and fictional, basic and outlandish, read by Ben Miles and Emily Joyce.
Last on
Producer Note
If music be the food of love, read on: Words and Music heads to the kitchen (and the cocktail cabinet!) 
Savoury dishes range from the basic to the outlandish.  Fannie Flagg's Fried Green Tomatoes (which inspired a feature film with a fine soundtrack by Thomas Newman) could not be simpler or more delicious, while one suspects few will be tempted to try James Hamilton-Paterson's Otter with Lobster Sauce or a traditional Arabic stuffed camel feast at home!  Elizabeth David introduced the very idea of Mediterranean cooking to this country: her evocation of uccelletti, the Italian delicacy of roasted songbirds, feeds on an earlier description from the 19th century.
Enid Blyton meets J.R.R. Tolkien by way of her nephew, composer Carey Blyton: his spiky Little Frog Music gives way to an overture based on Tolkien's The Hobbit.   Further liquid refreshment of the literary sort comes from Ian Fleming's iconic 'Vesper' martini, concocted in Casino Royale by James Bond himself.  There's Charles Dickens' own recipe for Christmas Punch, while the Witches' brew from Shakespeare's Macbeth is evoked by the music of Smetana and Verdi.
Throughout, Martinu's perky jazz ballet La revue de cuisine makes its presence felt, along with Leonard Bernstein's La bonne cuisine which sets recipes by Emile Dutoit in Bernstein's own witty translations.  Along the way, we also hear Maurice Jarre's suitably epic soundtrack for David Lean's Lawrence of Arabia, Rodrigo's Fantasia para un Gentilhombre and the battle of opposing cooks in Britten's Paul Bunyan arguing the benefits of soup versus beans.
And for dessert…?  I hope you left room for some of William Bolcom's Lime Jello Marshmallow Cottage Cheese Surprise…!