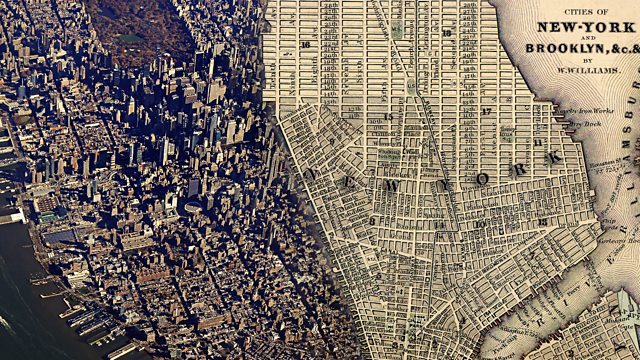 The Map That Made Manhattan
Listen in pop-out player
Just over two hundred years since the beginning of its construction, this feature explores the New York grid system as real and imagined: architectural matrix, psychic space and site of continuing cultural-political argument.
A "grid of money-making" devised by the kinds of "men who would have cut down the seven hills of Rome" was how the Commissioners' Plan of 1811, which would implement the infamous Manhattan street system, was described upon its unveiling. Instead, the grid was the great democratic leveller. The Plan concluded that New York was "to be composed principally of the habitations of men and that straight-sided and right-angled houses are the cheapest to build and the most convenient to live in" By shifting millions of cubic yards of earth and rock, it carved out modest but equal flat lots (mostly 25 by 100 feet) available for purchase. And if it fostered what de Tocqueville viewed as relentless monotony, its coordinates also enabled drivers and pedestrians to figure out where they stood, physically and metaphorically. "This is the purpose of New York's geometry," wrote Roland Barthes, "...that each individual should be poetically the owner of the capital of the world."
Filled with the sounds and atmosphere of New York, and hearing entirely from its residents (from city architects and historians to taxi drivers and subway engineers) this feature traces the evolution and impact of arguably the most important, far reaching and visionary piece of urban design. It explores the geometry of the grid on more than just an architectural level, but as the brilliant intersection of architectural vision with imaginary and cultural space. Political too: condemned for dehumanizing and effectively mechanising the city's inhabitants (Henry James, writing in the grid-free enclave of Greenwich Village would call it "a primal topographic curse") others saw it as a modern, rational system in step with the ethos of a young republic.
The debate continues: Urban critic Tony Hiss ('In Motion: The Experience of Travel') has written about the grid's primal orderliness: 'I still think it distances us from our natural surroundings and it has given us a spurious and diminished mental geometry' - that linear blocks replace neighbourhoods (and neighbourliness?), and New Yorkers themselves are of course a great source of wit and comment on the grid system. It's influence is linguistic too: to this day it constitutes the very language of movement, navigation and location around the city, destinations are referred to in terms of their street/avenue intersection - never their address. The 200 year evolution of the original block matrix (imposed on forests, farms, country estates and common lands) has been one of the most important, continuous forms of both artistic and commercial stimuli - one of extreme rigidity and concurrent malleability - shaping architecture, the arts, commerce and the mass movement of people.
Producer: Simon Hollis
A Brook Lapping Production for BBC Radio 4.