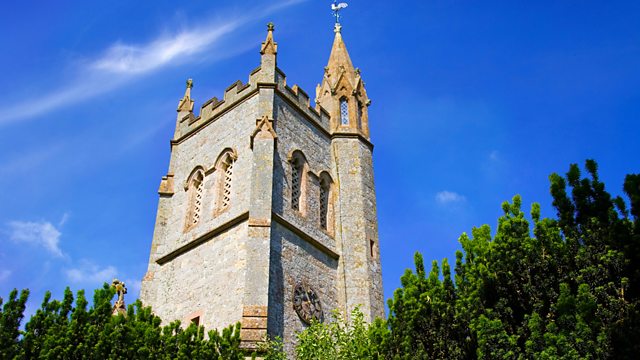 Communicating the Case for God
"Communicating the Case for God"
From Fisherwick Presbyterian Church, Belfast.
Led by the Revd. Michael Anderson
Preacher: The Revd. Dr Gordon Gray
With Grosvenor, directed by Edward Craig
Organist: Stephen Hamill
Exodus 3:1-6, 10 -15
Acts 17: 16 - 34
Cantate Domino (Pitoni)
The God of Abraham Praise (Leoni)
Nearer my God to Thee
Lord of Life to you we come (Eriskay Love Lilt)
How shall I sing that majesty (Coe Fen)
Gaelic Blessing (Rutter).
Last on
Sunday Worship - Script from Fisherwick Presbyterian Church, Belfast
This script cannot exactly reflect the transmission, as it was prepared before the service was broadcast. It may include editorial notes prepared by the producer, and minor spelling and other errors that were corrected before the radio broadcast.
It may contain gaps to be filled in at the time so that prayers may reflect the needs of the world, and changes may also be made at the last minute for timing reasons, or to reflect current events.
COMMUNICATING THE CASE FOR GOD
Sunday Worship
31 August 2014
From Fisherwick Presbyterian Church, Belfast.
Led by the Revd. Michael Anderson
Preacher: Rev Dr Gordon Gray
Grosvenor,
directd by Edward Craig
Organist: Stephen Hamill
Producer: Bert Tosh
Opening Announcement (from Continuity
BBC Radio 4. Time now for Sunday Worship which this morning comes from Fisherwick Presbyterian Church in Belfast. The service opens with a setting of verses from Psalm 149 by the Italian Baroque composer Giuseppe Pitoni – Cantate Domino
Rev Michael Anderson
Good morning from Fisherwick in the University area of Belfast. I'm Michael Anderson and I've been made very welcome in thus congregation since I became minister here about two moths ago and you are welcome too as you join us for our Sunday Worship.
We're joined by Grosvenor, a local Choir and by our preacher this morning, the Rev Dr Gordon Gray who, many years ago was an Assistant Minister in this congregation. He will be reflecting on how we communicate the case for God.
We've just heard Grosvenor sing Cantate Domino:
Sing unto the Lord a new song: Sing unto the Lord, all the earth.
Sing unto the Lord, bless His name; show forth His salvation from day to day.
And we all join in praise as we sing How shall I sing that majesty which angels do admire:
Hymn How shall I sing that majesty (Coe Fen)
Rev Michael Anderson
Let us pray
Lord God, we praise you for every way through which you reveal yourself to us.
In the wonder of your creation; in the guidance of your people throughout the centuries
In the promptings of your Spirit; in your word in the Bible
But supremely in your word made flesh for us, Jesus Christ.
WE praise you for his life and teaching, for His death on the Cross for us
For His resurrection defeating the powers of death and darkness.
And for his promise to be with us always.
To you, Father, Son and Holy Spirit belongs the Honour the Glory and the Praise for ever and ever.
Lord before you we acknowledge our many faults and failures.
We are often blind to your presence and deaf to your word.
We are often so wrapped up in our own concerns that we have little or no time for you.
We frequently display a reluctance to speak about you
and even when we do, our lives can make a mockery of our words.
For we fall far short of the standards Jesus displays:
In our selfishness, thoughtlessness and carelessness;
In our lack of love and refusals to forgive.
Lord we seek your forgiveness for you have promised that those who confess their sins
and turn to you for help will find your pardon.
So assure us of your forgiveness in Jesus Christ.
Almighty God, you call your Church to witness
That in Christ we are reconciled to you.
Hel us to proclaim the good news of your love,
That people everywhere may turn to you:
Through Jesus Christ our Lord, who lives and reigns with you
and the Holy Spirit, one God, now and forever AMEN
Rev Dr Gordon Gray
A distinguished newspaper columnist was reflecting on the Nativity Service he had attended on Christmas Eve:"I was there, as I always am, for the music and the whiff of myrrh. I love the stories, but I can't believe the story"—the 'story of God'. Far from being yet another attack on Christian Faith, his piece was a plea for Church leaders to present a convincing intellectual "case for God", as a counter to the creeping secularism of our times. I believe he was articulating a longing deep-seated in many hearts, even among church-going people – a longing for an authentic and robust faith.
For me to attempt to make such a 'case' this morning would be both presumptuous and impossible in a short sermon. But what of the language we use when we 'tell the story'? What 'image' of 'God' does our religious language convey? For we live today in a world of many 'gods'. Towards the end of last century it seemed 'religion' was dying out, especially in the sophisticated 'western' world. 'Wars of religion' were fast becoming a remnant of the past, it was thought, (except in a few seemingly-unenlightened places like Northern Ireland!) But instead, religious faith is a very evident feature of this early 21st Century. Some footballers kneel in prayer as they take the field, and some athletes point to the heavens thanking some deity for success. But more significantly – and dangerously -- today, as never before, religio-political movements claim divine motivation for their sometimes monstrous acts. The term 'God' requires urgent and radical definition in a world of false 'gods'. So let's turn to the Bible -- first to the Book of Exodus.
Rev Michael Anderson Exodus Chapter 3 reminds us of God's Holiness. God is the God of Holiness, of Wonder and Mystery, One whom we can approach only with awe and reverence.
Reading: Exodus Chapter 3 verses 1 to 7, and 10 to 15.:
Moses was keeping the flock of his father-in-law Jethro, the priest of Midian; he led his flock beyond the wilderness, and came to Horeb, the mountain of God. There the angel of the Lord appeared to him in a flame of fire out of a bush; he looked, and the bush was blazing, yet it was not consumed. Then Moses said, 'I must turn aside and look at this great sight, and see why the bush is not burned up.' When the Lord saw that he had turned aside to see, God called to him out of the bush, 'Moses, Moses!' And he said, 'Here I am.' Then he said, 'Come no closer! Remove the sandals from your feet, for the place on which you are standing is holy ground.' He said further, 'I am the God of your father, the God of Abraham, the God of Isaac, and the God of Jacob.' And Moses hid his face, for he was afraid to look at God. Then the Lord said, I have observed the misery of my people who are in Egypt
So come, I will send you to Pharaoh to bring my people, the Israelites, out of Egypt.' But Moses said to God, 'Who am I that I should go to Pharaoh, and bring the Israelites out of Egypt?' He said, 'I will be with you; and this shall be the sign for you that it is I who sent you: when you have brought the people out of Egypt, you shall worship God on this mountain.'
But Moses said to God, 'If I come to the Israelites and say to them, "The God of your ancestors has sent me to you", and they ask me, "What is his name?" what shall I say to them?' God said to Moses, 'I am who I am.' He said further, 'Thus you shall say to the Israelites, "I am has sent me to you." ' God also said to Moses, 'Thus you shall say to the Israelites, "The Lord, the God of your ancestors, the God of Abraham, the God of Isaac, and the God of Jacob, has sent me to you":
This is my name for ever, and this my title for all generations.
Dr Gray: Given this daunting commission -- to go back to Egypt and lead his people to freedom –Moses asks for God's 'Name', so he can tell them who had sent him. "I AM WHO I AM. This is what you are to say to the Israelites, I AM has sent me to you" -- an enigmatic reply that still teases the minds of the greatest scholars and the most devout of worshippers:
: God as 'Being Itself' – the essence of All Life?
: God as Energy: the creative energy that formed and flows through all things?
: The dynamic mystery at the heart of the universe?
At the very least God's withholding of his 'Name' is a warning against treating the concept of 'God' lightly -- against any attempt to domesticate or control or 'use' God. So the ancient people of God didn't Name God – they used four Hebrew letters Y (or J) H W H as a symbol, filled out in our Bibles with vowels to spell Yahweh/Jehovah—but it's a symbol not a name. God is the great I AM to be treated with reverence, awe and wonder, a reminder that
God is Other than ourselves, beyond description. Perhaps poetry and music alone can adequately express what's meant by 'God', as in the hymn with which our Service opened :
How great a Being Lord is thine, which dost all Being keep
Thy knowledge is the only line to sound so vast a deep.
Thou art a sea without a shore, a sun without a sphere.
Thy Time is now and evermore, Thy place is everywhere
But this God of the Bible, the God of Holiness and Mystery is also the God who is Near
Rev Michael Anderson: The hymn The God of Abraham praise combines the image of a God whom we are to revere, even 'fear' with the God who is Love
The God of Abraham praise, who reigns enthroned aboveAncient of everlasting days, and God of love
Hymn: The God of Israel Praise
Dr Gray:. Our human minds like everything to fit together neatly but faith learns to live with paradox: statements that appear self-contradictory, but each of which is necessary for the fullness of Truth. So, along with the Otherness, the Transcendence of God, the Bible invites us into INTIMACY WITH GOD.
Popular worship today seems to favour the language of intimacy over the language of transcendence, and a style of church life that favours fellowship over formality. But there's surely room for both. Some of our language can convey an image of God as austere and judgemental. But the true God also inspires adoration and devotion: like the charming Egyptian Coptic lady who said to some of us visiting her in her home one day "Jesus is my boyfriend! " – a little over-familiar perhaps, but spoken with dancing eyes! The God of the Bible is both 'far' and 'near', both exalted and personal. Our religious language needs to reflect both awe and love.
Rev Michael Anderson When St Paul's missionary Journey took him to Athens he found himself in a society where interest in religious matters was evident in the street furniture and the public discourse. SO Typically, Paul joined in, 'preaching the good news about Jesus and the resurrection'. This caused quite a stir and he was brought before the 'Areopagus' – the 'thought-police' of the times. Our second reading now, from Acts chapter 17
Reading: While Paul was waiting for them in Athens, he was deeply distressed to see that the city was full of idols. So he argued in the synagogue with the Jews and the devout persons, and also in the market-place every day with those who happened to be there. Also some Epicurean and Stoic philosophers debated with him. Some said, 'What does this babbler want to say?' Others said, 'He seems to be a proclaimer of foreign divinities.' (This was because he was telling the good news about Jesus and the resurrection.) So they took him and brought him to the Areopagus and asked him, 'May we know what this new teaching is that you are presenting? It sounds rather strange to us, so we would like to know what it means.' Now all the Athenians and the foreigners living there would spend their time in nothing but telling or hearing something new.
Then Paul stood in front of the Areopagus and said, 'Athenians, I see how extremely religious you are in every way. For as I went through the city and looked carefully at the objects of your worship, I found among them an altar with the inscription, "To an unknown god." What therefore you worship as unknown, this I proclaim to you. Acts 17: 16 – 23
Dr Gray: The question wasn't whether or not there is a God but rather what kind of God is 'God'? Who is God?
Years ago an Irish Presbyterian theologian gave a memorably helpful clue. Just retired from many years of distinguished missionary service in India, he described the beginning of inter-faith dialogue with the Hindu community there: "You tell us all your beautiful names for God and we will tell you ours". As Christians we use a number of Names: Heavenly Father, Almighty God, Holy Spirit, the Bright and Morning Star.....but our most 'beautiful name' for God is "Jesus"
The God's of the ancient world were entertainingly capricious – to be placated and traded with. Ancient Greek writings and mythologies are full of it. So to cover all eventualities they had this statue TO AN UNKNOWN GOD. "Now", says Paul," what you worship as something unknown I am going to proclaim to you". He speaks of the God who is behind and in all creation, but the God who has 'come near' in the person of Jesus of Nazareth— God in human form: God had become so intimately involved in human affairs that out of love for humanity he gave his life on the Cross, ultimately to be vindicated by the astonishing event of the Resurrection – God so 'near' that 'in him we live and move and have our being'. Nearer than the very breath we breathe. This is what Jesus claimed for himself: John's Gospel Chapter 14:
Reading Jesus said Do not let your hearts be troubled. Believe in God, believe also in me. In my Father's house there are many dwelling-places. If it were not so, would I have told you that I go to prepare a place for you? And if I go and prepare a place for you, I will come again and will take you to myself, so that where I am, there you may be also. And you know the way to the place where I am going.' Thomas said to him, 'Lord, we do not know where you are going. How can we know the way?' Jesus said to him, 'I am the way, and the truth, and the life. No one comes to the Father except through me. If you know me, you will know my Father also. From now on you do know him and have seen him.' (John 14:1 – 7)
Dr Gray: The term 'radical' is frequently used to mean 'extremist', but it comes from the Latin 'radix' meaning 'root'. And at the 'root' of Christian faith is the belief that 'God was in Christ'; that Jesus, in his life, death and Resurrection, was -- is! --- the authentic and full embodiment of the Divine "I AM", of Being Itself. Whoever has seen me has seen the Father, said Jesus. At the root of all things beats a heart of Fatherly Love – a truly radical belief! You seek God? Get to know me! AMEN
Anthem: Nearer my God to Thee
REV M ANDERSON Nearer my God to Thee, arranged by Jeremy Kinnen and the saxophone improvisation was based around the story of the Burning Bush
And now o
ur prayers of Intercession Let us pray
We pray for the Church, throughout the world. Help it to proclaim your truth and grace, intelligently and intelligibly and to respond with sensitivity and integrity to all who are seeking you or wanting to understand more of you that it witness yo your love and give itself in service to all people
CHORAL RESPONSE Verse 1 Lord of Life to you we come
We pray for your world, damaged by violence, riven by competing ideologies. We think of the situation in Israel and Gaza; in Syria and Iraq and in the Ukraine. We remember the thousands who are suffering from violence that often appears indiscriminate. Lord, bless the efforts and planning all who seek the ways that lead to peace.
CHORAL RESPONSE Verse 1 Lord of Life to you we come
And as this week, a new school term begins we pray for all who teach and all who learn that your Spirit would set them free from anything that might hinder their search for truth, and, finding truth, they may use it for the good of all and the glory of your Name,.
CHORAL RESPONSE Verse 1 Lord of Life to you we come
We pray for everyone for whom this week will be difficult.- the sick in body and mind, those drawing near the end of life and all who watch with them; the lonely and confused; those who feel betrayed; those whose anxieties and fears threaten to overwhelm them. And we think of all those for whom the report on child abuse in Rotherham has brought great trauma and the revival of horrific memories
Bless all who are suffering, anxiety, fear and pain be kept in your love from which they cannot be separated.
CHORAL RESPONSE Verse 2 Lord of Life to you we come
We offer all our prayers in the name and for the sake of Jesus Christ who taught us to pray.
Our Father who art in heaven, hallow'd be thy name.
Thy kingdom come. Thy will be done on earth as it is in heaven.
Give us this day our daily bread
and forgive us our trespasses as we forgive those who trespass against us.
And lead us not into temptation but deliver us from evil
for Thine is the kingdom the power and the glory for ever and ever. Amen
Hymn Praise my soul the King of Heaven
REV M ANDERSON
Thank you for joining us in Fisherwick this morning and we pray that you will have a blessed and peaceful day
And the Blessing of God……
Choir: Gaelic Blessing (Rutter)