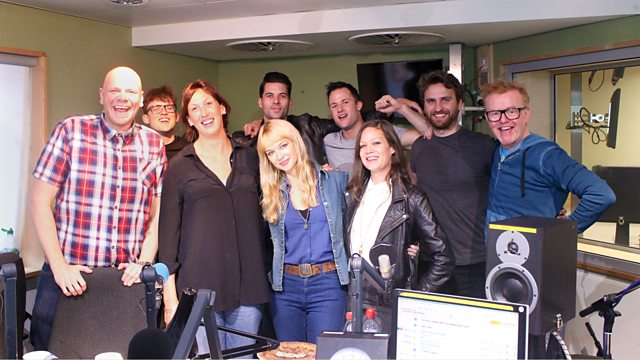 Miranda Hart, Tom Kerridge and the Pierces
Chris Evans presents a fully interactive show for all the family and is joined by Miranda Hart, Tom Kerridge and the Pierces.
Last on
Pause for Thought
From Rabbi Pete Tobias of the Liberal Synagogue, Elstree:
Being surrounded by this comic talent reminds me of my brief and rather humiliating venture into TV comedy. More than 20 years ago I was invited to take part in a TV programme called Joker in the Pack hosted by the lovely Marti Caine. She was the real joker-always smiling and ready to laugh with anyone.

The programme she was hosting involved two teams of four from different professions competing to see whose jokes were funnier. I was part of a team of University Chaplains, along with a Catholic priest, a Methodist vicar and a Baptist minister, which sounds a bit like a joke in itself…

Each team took it in turns to tell a joke. If your joke was deemed funny, you got a second chance. If not, you were out. As I recall, my first joke went like this:


'Two old Jewish men were sitting on a train. Haimi says: 'Moishe! Close the window! It's cold outside!' Moishe replies: 'And if I close the window it'll be warm outside?' This was though to be funny so I won another go for myself and my team.

My second joke was Moishe again - this time he was taking a letter to the post office. The post office worker said 'This letter is too heavy. You need to put more stamps on it.' Moishe replied 'And if I put more stamps on it, it will be lighter?'

I think I got thrown off for that one. And my team of University Chaplains went on to be eliminated by the Estate Agents. Estate agents! The shame! The humiliation!


After the show it was pointed out to me that all my jokes were the same. They ended with a question and a shrug. And it occurred to me that perhaps this is a feature not just of Jewish humour but perhaps of the Jewish attitude to the world.

Jews have always questioned and challenged God. Maybe a lot of the time we don't really like the answers we're given. But we ask the question anyway, turn it into a joke and then shrug when we hear the answer. And, as a philosophy of life, what's wrong with that?