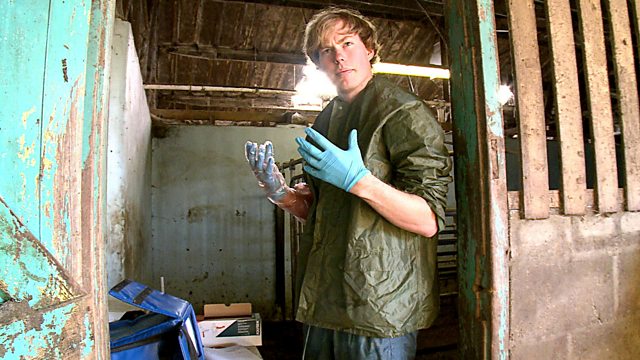 It's late summer at the Royal Veterinary College and the students have just 11 months to go before they qualify. They're under a lot of pressure as they need to master every discipline of veterinary medicine - whether it's first-opinion general practice or complex surgery. The students learn to diagnose and not make assumptions.
Judy Puddifoot is at the RVC's Queen Mother Hospital for Animals in Hertfordshire in the neurology department when Holly, a border collie who has jumped off a cliff and broken her back, is rushed into the ER. Holly's condition is critical - she cannot walk and is in considerable pain. Surgery is her only option or she will have to be put to sleep. Will the team at the RVC ever get her back on her feet? Judy must use all her animal skills and care to help Holly recover.
Charlie Tewson is back home in Norfolk on a farm rotation, where he learns how to treat a cow with an ovarian cyst, which has the side effect of making her friskier than usual!
Amy Clithero learns the tough lesson never to make assumptions when diagnosing patients. She tries to treat a spaniel with walking difficulties and develops key reptile skills when she helps a wounded tortoise get back on the move with a bit of ingenuity and some very useful wheels.
Dru Shearn is on his anaesthesia placement, where he has to look after a golden retriever puppy having lengthy life-saving surgery. Unfortunately for Dru, the machines and alarms are starting to give him nightmares.
Last on
Credits
| Role | Contributor |
| --- | --- |
| Executive Producer | Emma Read |
| Series Producer | Isobel Williams |