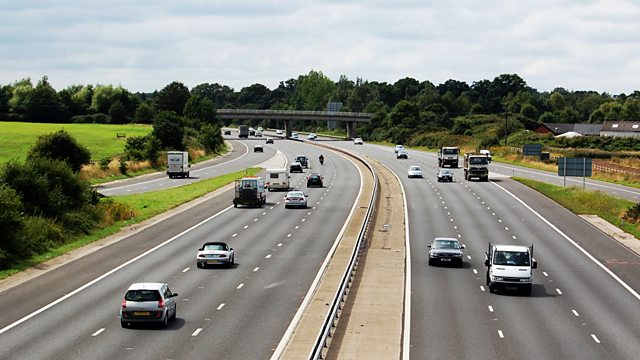 Riding into Trouble
PCs Dale Anderson and Doug Lofthouse receive a radio report of a serious motorbike crash and the cops respond to find a young rider of an off-road bike with life-threatening injuries. An air ambulance lands near the residential street in an attempt to save his life.
On the A1 motorway, PCs Michelle Rookes and Brian Harrison are parked up in a lay-by using a laser gun to check drivers' speeds. When a car speeds past at 98mph and the driver is pulled over, his name and account of his driving history doesn't match the information on the Police National Computer. The cops begin to get suspicious that the driver isn't who he says he is and after some probing questions he finally confesses, giving the cops a surprising excuse for trying to deceive them.
It's close to midnight and PCs Simon Ellis and Mark Maiden are patrolling the M62. They stop a young motorbike rider who explains that his insurance runs out at midnight, but after a quick check the insurance records show that in fact his policy expired the night before. The cops have no option but to confiscate the bike and give the rider a ticket, but not wishing to leave the young man stranded on the motorway, Simon and Mark give the rider a lift home.
In Dewsbury, PCs Richard Clarke and Andy Howarth are working the night shift when they spot a car drive past with a potentially illegal number plate. While the teenage occupants give the cops some banter, the cops smell something suspicious - cannabis. A search turns up a small amount of the Class B drug and when it's confiscated, the friendly driver is given a street caution.
In South Bradford, there's a report of a serious collision involving another motorbike and a car. PCs James Alderson and Dick Infield respond to find an injured rider being treated in an ambulance and the driver of the car missing. With the rider seriously injured, finding the car driver is critical in investigating who or what was at fault.
Back in Dewsbury, Andy and Richard are in pursuit of a known disqualified driver. The cops follow the car for twenty minutes, pushing twice the legal speed limit, before the chase leads into a cul-de-sac and the car is forced to stop. The driver switches seats with a passenger, but the cops are right behind it and arrest the driver, now claiming innocence sat in the back seat. The driver was convicted of dangerous driving and driving without a licence and sentenced to 15 months in prison.
Last on
Credits
| Role | Contributor |
| --- | --- |
| Narrator | Jamie Theakston |
| Executive Producer | Matt Holden |