RHS Wisley
Listen in pop-out player
Peter Gibbs is at RHS Wisley for the horticultural panel programme. Pippa Greenwood, Bunny Guinness and Matthew Wilson join him to answer audience questions.
Produced by Howard Shannon
A Somethin' Else production for BBC Radio 4
This week's questions and answers:
Q. Each year, some things in my allotment do well while others don't. This makes spring planning tricky. Any suggestions?
A. Keep a log of the vegetables that do well and those that don't and also keeping note of the weather conditions.
Q. What is the panel's opinion on using mycorrhizal fungus granules in annual hanging baskets and pots? Would the fungus help to release nutrients from the compost and would the plants still need feeding?
A. Mycorrhizal fungus can be useful in some situations but don't bother using it in pots and containers planted with annuals. It would make more sense to save the fungi for longer-term planting and use standard feed for the annuals.
Q. How can I propagate a deep purple Perennial Geranium (Psilostemon) from an existing root? There are pale pink Geraniums (Enderssii) taking over and I want more of this deep-purple variety.
A. Dig it up. Now is the time to propagate. Divide it into two or three plants, pot it up and plant it somewhere else.
Q. Should we give up on our potted black bamboo or try moving it to lower ground? It's currently on a sixth floor roof terrace, which is very exposed. It is very well fed.
A. You will need to divide the plant because it looks like the roots are getting too large for the pot. Divide the plant in two. Prune out the dead branches.
Q. What relevance do RHS Awards of Garden Merit (AGM) have to plant performance in situations with different cultural conditions to those at Wisely?
A. The RHS awards of garden merit are very useful as they are based on a number of trials in different conditions. However, due to the huge variety of gardening conditions in the UK it difficult to make them fully comprehensive. Trials are held all over the four corners of the country.
Q. How can I transform an old concrete-lined pond (underneath trees) into a bog garden?
A. You must allow the water to get out somehow so it doesn't go stagnant. Try drilling a few holes. If you don't think the location is ideal, your best bet might be to smash it up with a pickaxe and have a pond elsewhere. If you did want to try the bog garden, put some grit in the bottom and then fill it up with a loam baste compost or soil from the garden. Put a pond next to it to make it look seamless.
Q. What are these bugs on my Bay leaves? How can I treat them?
A. These bugs are called 'bay sucker'. They're very difficult to treat but they don't seriously harm the plant so just try to remove the leaves that are covered in the critters.
Q. Which plants do the panel like to show off best?
A. Pippa loves to show off her Sun Flowers, Liquid Amber trees and her Amelanchiers. Bunny loves her Merveille Sanguine Hydrangea and her Filariasis. Matthew loves his frilly Peony Inspecteur Lavergne.
Wisley garden boasts a Peony Rockii (Tree Peony).
Last on
Braving the rain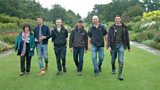 The GQT team are shown around the beautiful RHS Garden Wisley.
Seven things Prince Charles says you should do in the garden