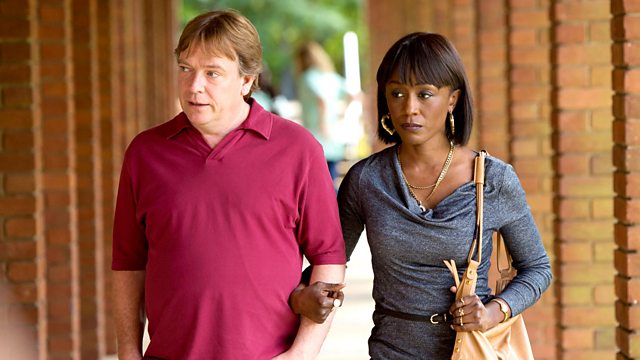 22/08/2014
Charlie wakes with a jolt when a siren sounds outside. Yvonne's worried; she thinks Nick's watching the flat and that the damage on Charlie's car was a warning from him. Charlie claims it could been Max but when Charlie gets another text from 'Dad' which reads 'I'm onto you' a suspicious Yvonne snatches his phone, confirming her suspicions. Yvonne panics; Charlie reminds her they did everything Nick asked but Yvonne thinks Charlie's blown it by lying and hanging round with Dot – when they realise he's a fake they might realise Nick's death was fake too. They have to go to Ireland. Today. Charlie doesn't want to go; he's angered when Yvonne threatens to tell Dot the truth but hates it when Yvonne suggests his temper is his father coming out in him. Yvonne insists she needs him, Dot doesn't. Charlie relents but won't go without saying goodbye. Yvonne instructs him to grab whatever petty cash he can from her office. At the care home, Charlie dodges Ian and Denise. When they get to the Square Yvonne heads straight for Dot's and tells her Charlie's moving to Ireland for work, tonight. Dot's pleased for Charlie but insists she'll miss him and makes him promise to come and visit. Later, Charlie's worried Nick will come looking for them - Dot knows where they are. Yvonne insists Nick won't harm Dot. Unhappy, Charlie follows Yvonne into the tube station. Later, a sad Dot's sitting all alone when Charlie walks in. He claims his work transfer fell through, and asks if there's room for one more. Dot hugs him, delighted. C/H
Ian and Denise visit several care homes but Denise isn't impressed by any of them. Denise shows Patrick all the care home details but then gets upset – bingo night and cocoa before bed isn't Patrick. Ian sends her out to get some air. Ian tells Patrick he loves Denise to bits. Their house is his house, if that means Patrick's wants to tell Denise everything then that's fine. Later, Denise is thrilled when Ian announces Patrick's coming to stay with them.
Lauren's still disgusted at Dean's treatment of Lola and can't believe that the fact she's a single mum who deserves a chance seems to mean nothing to him. Lauren and Peter have to work together at the restaurant. Lauren pulls Peter up on his bad placement of diners and he retorts rudely - what she thinks doesn't count for much lately. Dean calls a hostile Lola over to the salon. Later, looking much happier, Lola comes to the restaurant but Peter doesn't let her speak to Lauren. Lauren storms home after she's covered in ketchup when she and Peter bicker about unclogging a sauce bottle. Peter follows and she demands to know what's wrong with him. He says he doesn't like Dean and claims the press appeal has been getting to him – Lauren asks him why he didn't just tell her that. Peter agrees he's an idiot and admits Dean might not be so bad, revealing he's offered Lola a trial. Later, Peter's hopeful when he sees Lauren approaching the restaurant but his face falls when he realises she's heading to Blades. Dean asks Lauren if he gets another chance and she smiles. Lauren then heads back to work and Peter's very pleased to see her.
Whitney refuses to tell Bianca details about her and Lee. Linda approves of Whitney and is pleased to see Lee loved up. Johnny realises something's up with Whitney. She confides in him about Ryan explaining he's on the run and she hasn't heard from him in three years. She thinks he's got back in contact because she put a photo of Lily online. Whitney doesn't know whether to tell him about Stacey being in prison – Johnny thinks he has a right to know but Whitney's hopeful that Stacey will be out soon. However, Bianca then tells Whitney she thinks Stacey has no chance of successfully appealing and might even get time added to her sentence. At the Vic, Johnny makes Whitney tell Lee about Ryan. Whilst Lee's at the bar, Whitney reveals to Johnny she's told Ryan about Stacey.
After she repeatedly phones, Phil visits Rainie at a flat. Rainie wants rent money and slams the door in Phil's face when he reveals he's paid her landlord direct.
Linda's disappointed when no-one turns up for Fat Blasters at the Vic and Mick realises it's because of him.
Last on
Credits
| Role | Contributor |
| --- | --- |
| Dot Branning | June Brown |
| Charlie Cotton | Declan Bennett |
| Ian Beale | Adam Woodyatt |
| Denise Fox | Diane Parish |
| Patrick Trueman | Rudolph Walker |
| Peter Beale | Ben Hardy |
| Lauren Branning | Jacqueline Jossa |
| Lola Pearce | Danielle Harold |
| Dean Wicks | Matt Di Angelo |
| Johnny Carter | Sam Strike |
| Linda Carter | Kellie Bright |
| Mick Carter | Danny Dyer |
| Lee Carter | Danny-Boy Hatchard |
| Whitney Dean | Shona McGarty |
| Bianca Butcher | Patsy Palmer |
| Max Branning | Jake Wood |
| Phil Mitchell | Steve McFadden |
| Rainie Cross | Tanya Franks |
| Yvonne Cotton | Pauline McLynn |
| Nurse Christine Lewis | Janet Walker |
| Executive Producer | Dominic Treadwell-Collins |
| Director | Dominic Keavey |
| Writer | Steph Lloyd Jones |