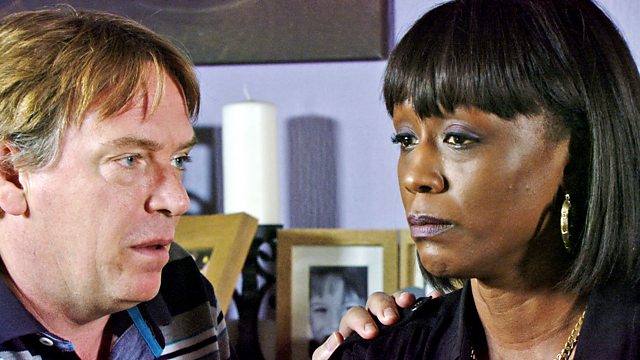 19/08/2014
Abi's still angry at Max for ruining her lunch - how could he talk to Dot like that? Charlie helps Dot sort out jumble. Max visits and apologises to Dot but not Charlie. Max bumps into Emma Summerhayes and notes she hasn't been answering his calls. She claims she's been busy trying to prove herself to her new boss. Charlie spots them together. When he calls over to Max, Emma asks who he is. Max tells her Charlie's name and that he's a policeman but that he thinks he's shifty. When Emma suggests he's jealous, Max retorts maybe it's a good job she's too busy to see him. Max apologises to Abi for spoiling lunch. She's pleased to learn he's already apologised to Dot and persuades him to come and help sort jumble. While Dot's out buying bin bags, Max tells Charlie he doesn't like the way he's trying to push his way into the family. Charlie insists he's just trying to help. He's never had a grandparent before, his mum's parents are dead. He asks if Max has a girlfriend and when Max claims he's too busy working Charlie tells him to get back to the office. Dot's pleased that Charlie and Max seem to have sorted things out. Later, Emma Summerhayes visits Max and reveals she's checked Charlie out and found no record of him in the force – he's not a police officer... C/H
Denise's adamant that she won't turn her back on Patrick – he's not going into a home. She and Ian argue but Ian's unmoved, even when Denise insists she'll go and live with Patrick at his house and Ian won't have to deal with any of it. Denise's late for work and snaps when Shabnam reminds her she's taking the afternoon off for an appointment. Shabnam complains to Masood about what she's having to cope with at work because of Denise's situation. Masood talks to Denise; he's supportive of her plan to look after Patrick at home and wishes he could have done the same for his mum. Later, Ian walks in as Masood and Shabnam discuss Denise. At the hospital, Denise's pleased to find Patrick out of bed. Shabnam misses her dentist appointment because Denise is late back to work. Shabnam's frustrations all spill out and when she tells Denise she can't carry on like this, especially with Helen only working mornings in the summer holidays, Denise calls her selfish. Later, Dot comes into the shop and asks if Patrick liked the socks she knitted him. Denise discusses her dilemma about Patrick's care, she now appreciates how hard it will be to look after Patrick at home after realising it took two men to lift him. Dot talks about Jim and tells Denise she thinks Ian's right. Denise returns home and tells Ian if Patrick's to go into a home it has to be the very best one. Ian promises it will be.
Lee and Whitney are eagerly anticipating their evening together. Whitney wants Bianca to take the kids to see Sonia. Bianca doesn't think Lee's good enough for Whitney and warns him if he hurts her, she'll hurt him. Bianca's impressed when Lee replies that if he did hurt Whitney he'd deserve it but it's not going to happen. Bianca's annoyed that Kat's lounging at home and Whitney reminds her Kat's got two newborns. Bianca and Whitney discuss Tony. Whitney gets cold feet about her evening with Lee and phones Alfie. When Lee arrives, Whitney apologises but tells him there's been a change of plan – Alfie was desperate for a babysitter and she's looking after Lily.
Peter's unenthusiastic when Lola suggests a trip to the cinema. Later, Lola's not impressed when she discovers that Jay's moving to Bolton with Abi but he's still determined to go.
Last on
Credits
| Role | Contributor |
| --- | --- |
| Max Branning | Jake Wood |
| DC Emma Summerhayes | Anna Acton |
| Charlie Cotton | Declan Bennett |
| Dot Branning | June Brown |
| Abi Branning | Lorna Fitzgerald |
| Jay Brown | Jamie Borthwick |
| Lola Pearce | Danielle Harold |
| Phil Mitchell | Steve McFadden |
| Ian Beale | Adam Woodyatt |
| Peter Beale | Ben Hardy |
| Denise Fox | Diane Parish |
| Patrick Trueman | Rudolph Walker |
| Shabnam Masood | Rakhee Thakrar |
| Masood Ahmed | Nitin Ganatra |
| Donna Yates | Lisa Hammond |
| Pam Coker | Lin Blakley |
| Bianca Butcher | Patsy Palmer |
| Whitney Dean | Shona McGarty |
| Lee Carter | Danny-Boy Hatchard |
| Lily Branning | Aine Garvey |
| Executive Producer | Dominic Treadwell-Collins |
| Director | Dominic Keavey |
| Writer | Daran Little |