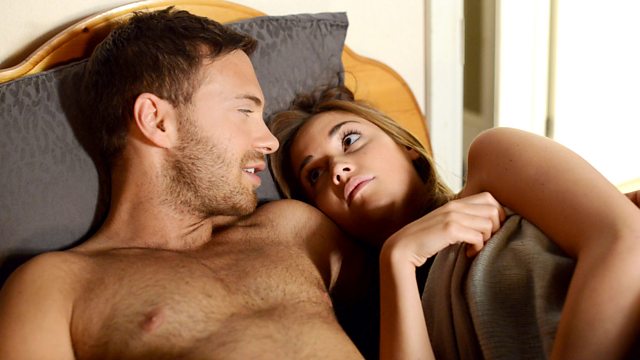 18/08/2014
Denise's downloaded some Mighty Sparrow onto an MP3 player for Patrick. At the hospital, she makes Patrick do his exercises. When Ian tries to give him a drink, Patrick angrily swipes the glass away but Denise presumes it's an accident. Ian's on edge when he and Patrick are left alone together. Ian offers to send him on holiday when he's back on his feet and asks him not to spoil Denise's happiness, Patrick becomes agitated. Ian isn't thrilled when Denise reveals the doctors think Patrick will make better progress at home. Away from the hospital, Ian leaves a message for Anthony then video calls Kim and suggests Patrick comes to stay with her; Kim's insistent the boat's no place for a sick man and that she can't come home. Later, Denise tries to go through some flashcards with Patrick but he's tired. Ian sends Denise off for coffee then informs Patrick if he wants to tell Denise about Rainie, to go ahead. Later, in front of Patrick, Ian tells Denise he's talked to Kim and Anthony and they agree that maybe the best place for Patrick is in a home. C/H
Jay changes the radio station after an announcement that the police are still looking for the man wearing the beanie hat on the bus with Lucy. Phil reckons the man must have something to hide. Carol's still recuperating at Sonia's but pops back to the Square to visit Jim with Dot; Max's put out that Charlie's driving them. Abi's still not found a university place. Jay persuades her to keep trying and Abi manages to secure a place at Bolton to study Animal Biology. It's not the course she wanted but she'll still get to be a vet eventually. Jay announces that he's going to come with her. Max hosts a family lunch to celebrate Abi's results and invites Carol and Dot. Lauren's late and Max isn't pleased when Dot brings Charlie along. Max asks Carol why she's a fan of Charlie and is annoyed when she admits he helped them out. Max's convinced Charlie's up to something. Jay makes Abi explain to the family that she's not going to Liverpool. Max immediately blames him until Abi explains she didn't get the grades. When a sympathetic Dot suggests it's not Abi's fault, Max snaps at her then shouts at Charlie when he defends Dot. Jay and Abi eventually reveal that she's going to Bolton and he's going with her. When Max objects, Abi insists it's her life and nothing to do with him.
Lauren admits to Whitney she's slept with Dean. She hides when Dean passes. Dean's given Mick some Blades gift vouchers for Linda. Linda's scrubbing the kitchen, she's avoiding coming down to the bar and refuses Mick's offer of a cuddle. Mick realises it's because of what happened at Fat Blasters. She's thrilled with the vouchers until she realises they're for Blades. Linda confronts Dean – whatever this is, it stops here. A dressed up Lauren walks in. Dean's distant and it's not until Lauren's on the verge of leaving when he relents and invites her back to his flat. Later, in bed, Lauren's disappointed when Dean insists they're too young to settle down but she agrees to a drink later in the week. Linda overhears Mick telling Lee about when they got together, and giving him advice about Whitney. When Dean comes in, Linda tells him to stay away from her. Linda's unsettled when Dean coolly tells her she's got her wires crossed – he's flattered but it was just a drunken kiss, he's with Lauren now.
A sweaty Lee claims that the Vic shower is broken in the vain hope Whitney will invite him to use hers. Later, Whitney avoids Lee. She admits to Lauren she really likes him but doesn't want to jump in head first like she normally does. Carol asks Whitney about Lee and, suspecting Whitney's trying to find problems, tells her to go out and have some fun. Lee apologises to Whitney for being pushy and she invites him round for dinner the following night.
Last on
Credits
| Role | Contributor |
| --- | --- |
| Ian Beale | Adam Woodyatt |
| Denise Fox | Diane Parish |
| Patrick Trueman | Rudolph Walker |
| Mick Carter | Danny Dyer |
| Linda Carter | Kellie Bright |
| Lee Carter | Danny-Boy Hatchard |
| Dean Wicks | Matt Di Angelo |
| Lauren Branning | Jacqueline Jossa |
| Abi Branning | Lorna Fitzgerald |
| Jay Brown | Jamie Borthwick |
| Max Branning | Jake Wood |
| Dot Branning | June Brown |
| Charlie Cotton | Declan Bennett |
| Carol Jackson | Lindsey Coulson |
| Whitney Dean | Shona McGarty |
| Phil Mitchell | Steve McFadden |
| Kim Fox-Hubbard | Tameka Empson |
| Executive Producer | Dominic Treadwell-Collins |
| Director | Dominic Keavey |
| Writer | Matt Evans |