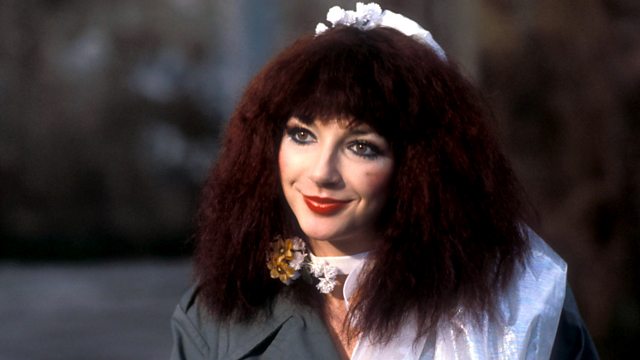 Vicky Beeching; Enduring appeal of Kate Bush
Listen in pop-out player
Christian rock star, Vicky Beeching explains her decision to come out at 35. Are women the new action heroes? 1 in 5,000 women is born without a womb or a vagina. How does that impact their lives? Does providing women only spaces in gyms encourage more of us to exercise? And the enduring appeal of Kate Bush.
Presenter : Emma Barnett
Producer : Kirsty Starkey.
Last on
Vicky Beeching
Vicky Beeching is a broadcaster, and a theologian. She is also one of the best known musicians on the Christian rock scene, getting her first major music deal at 17, and signing to EMI at 23.  She's been a committed Christian all her life, her music sung in churches all over the World, and she's been particularly popular with evangelical churches in the Bible Belt of the United States. Vicky has also always known she was gay, but for a long time lived with the secret, afraid of the effect it would have on her life. At 35, and after a serious illness, she made the decision this month to come out. Vicky Beeching joins Emma Barnett to discuss the support she's received, the people who can't accept her choice and a future outside of Christian music. 
Women and Exercise
Only last week we were celebrating the success of the English women's rugby team in winning the World Cup, but what about ordinary women? Figures show that once they leave school women are less likely to take part in sport than men. So what are the barriers which discourage women from exercising, and how do we break them down? We've been to two London gyms to find out whether creating women-only exercise spaces might help.The Clissold Leisure Centre is mixed but has recently introduced some women-only sessions, and The Bridge only caters for women. Emma is joined by Katie Ellis from GLL, an independent social enterprise which is the UK's largest leisure provider, and by the blogger Julie Creffield, who has created The Fat Girls' Guide To Running.
Born Without a Womb
One in five thousand women are born without a vagina or a womb. The condition is called Mayer Rokitansky Kuster Hauser, or MRKH, and it can have a major impact of the lives of those who have it – the absence of a womb makes it impossible to carry a baby, and because there is no vagina, penetration during sex is pretty much impossible. Dr Alice Evans has the condition and joins Emma Barnett, as does Nuala Dixon - a Clinical Nurse Specialist working with women with MRKH at Queen Charlotte's & Chelsea Hospital in London. 
Are Women the New Action Heroes?
Action film The Expendables 3 opened in the UK this month and featured the biggest roster of action stars ever cast in one film.  The line-up includes Sylvester Stallone, Harrison Ford, Arnold Schwarzenegger, Mel Gibson, Wesley Snipes, Dolph Lundgren and just about anyone who was anyone in 1980s and 1990s action films.  But despite its star-studded cast, the film only reached third place at the box office and attention has turned this weekend to Lucy, a critically acclaimed sci-fi action film starring Scarlett Johansson.  So are these all male, all action films best left in the past?  And what do the new breed of female action stars tell us about our changing taste in heroes?  Emma is joined by journalists Tom Fordy and Helen Lewis.
Kate Bush
From tonight Kate Bush kicks off her series of sell-out concerts, in her hugely anticipated return to the stage 35 years after her last performance in 1979. So what's behind the powerful popularity of the enigmatic writer and performer of such unique and hugely admired classics like Wuthering Heights, Running Up That Hill, and Babooshka? Music writer Jude Rogers joins Emma Barnett to discuss Kate Bush's incredible 36 year recording career and what makes her such a stand-out musical force.
Kate Bush's series of Before The Dawn concerts starts tonight, 26 August, at the Eventim Apollo in London
Credits
| Role | Contributor |
| --- | --- |
| Presenter | Emma Barnett |
| Interviewed Guest | Vicky Beeching |
| Interviewed Guest | Helen Lewis |
| Interviewed Guest | Tom Fordy |
| Interviewed Guest | Alice Evans |
| Interviewed Guest | Nuala Dixon |
| Interviewed Guest | Katie Ellis |
| Interviewed Guest | Julie Creffield |
| Interviewed Guest | Jude Rogers |
| Producer | Kirsty Starkey |