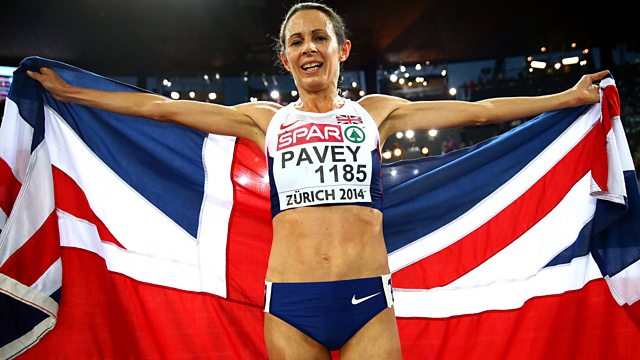 Jo Pavey, Helen McCrory
Listen in pop-out player
Jo Pavey discusses what it's like to be the oldest female European Athletics champion after winning gold in the ten thousand metres in Zurich. Austin Mitchell, Labour MP for Grimsby joins Jane Garvey to discuss his comments that women MPs were more likely to be interested in "small problems rather than big ideas".
What is it like to suffer from an eating disorder when you're in your 40s and 50s and how can women be helped? We talk to two women who've suffered from anorexia, and consultant psychiatrist Paul Robinson. Nia Reynolds on Claudia Jones the civil rights activist who in the wake of the Notting Hill riots established the first major celebration of Afro-Caribbean culture in 1959.
How can more young women and girls be encouraged to take a vocational route into male dominated careers like IT and engineering? The actress Helen McCrory on her new role playing the ultimate anti-heroine, Euripides's Medea. And she tells us what it's like to be married to a heartthrob. Susanna White, Anna Keel and Amy Walker discuss the lack of female directors in television and why it matters.
Producer: Rabeka Nurmahomed
Editor: Jane Thurlow.
Last on
The Feminisation of Politics
Austin Mitchell, MP on the 'feminisation' of politics with Isabel Hardman and Ivana Bartoletti.
Jo Pavey
In August Jo Pavey became the oldest female European Athletics champion after winning gold in the 10,000m in Zurich. The extraordinary win came just ten days after winning a bronze medal at the Commonwealth Games in Glasgow. At the age of forty and only eleven months after giving birth to her second child, Jo was unsure if she would even qualify for the championships, let alone win it. Jo joins Jenni to discuss her thrilling win and why she puts her success down to being a busy mum.
Eating Disorders in Older Women
Last year the actress Briony McRoberts died when she threw herself in front of a train on the London underground. She was 56. Her husband, the Downton Abbey actor David Robb, has more recently attributed her death to her eating disorder, which she had battled with since she was a teenager. He said "She was murdered by anorexia. It isn't a self-centred, teenage disease. It kills people — middle-aged women… If it gets its hooks in, it suffocates the person."
So why, even in the wake of cases like Briony's, do we still see eating disorders as a young women's disease? Julie Kirkwood is aged 43 and from Dumfries, and Aimee Yates is aged 40 and from Cambridge. Both have been treated for anorexia and Aimee is still battling her binge eating disorder. They join Jane along with Dr Paul Robinson, consultant psychiatrist at the Eating Disorders Unit at St Ann's Hospital in London.
Beat is the UK's leading charity supporting anyone affected by eating disorders or difficulties with food, weight and shape. It provides information and support through its helplines and online support.
Helpline: 0845 634 1414
The Origins of the Notting Hill Carnival
This weekend hundreds of thousands of people will flock to London's Notting Hill Carnival. Since 1966 this corner of London has dedicated a weekend in August to a massive celebration of Caribbean culture, but the origins of this celebration are even older. Film maker Nia Reynolds tells us the story of Claudia Jones, the civil rights activist who staged the first major celebration of Afro-Caribbean culture in 1959, and who spent her life fighting tirelessly for the rights of black people.
Girls and Vocational Courses
Thursday is GCSE result day and often the first time that young people seriously start considering their next steps and thinking about career options.  Research shows young women are still being discouraged from traditionally male-dominated careers like IT and engineering.  If they're taking a vocational route how are those stereotyped choices being challenged?  Jenni speaks to Marion Plant OBE, Joint Principal of North Warwickshire & Hinckley College and South Leicestershire College and Tiana Locker, youth engagement officer for City and Guilds.
Helen McCrory
Over a lengthy career, Helen McCrory has played an impressive range of roles. On stage she's been Rosalind in 'As You Like it'; and Libby in 'The Last of the Haussmans'; her film roles have included Cherie Blair in 'The Queen', Narcissa Malfoy in the Harry Potter movies and Clair Dowar in the James Bond film, Skyfall. On the small screen she has played a raft of roles including the older woman who falls for a much younger man in Tony Marchant's Leaving.
Now she stars as the ultimate anti-heroine, Euripides's Medea, in a new National Theatre production. Medea tells the story of a jilted wife, who breaks the ultimate taboo by murdering her children as a way of revenge against her ex-husband. Jenni Murray talks to Helen about playing the title role in one of the most horrifying of the Greek tragedies.
The production  will be broadcast from the National Theatre live to over 550 cinemas in the UK on 4 September. 
Female Directors
In May 2014, 
Directors UK
 published a report highlighting the overwhelmingly low numbers of women directors working in British television, and showed that the numbers are dwindling. When they presented it the industry was shocked. So why are there are so few women behind the camera in the UK, and does it matter? Jane discusses with Susanna White, director of Bleak House and Parade's End, with Amy Walker,
factual series producer and founder of 
Media Parents
, and with factual director Anna Keel.
Credits
| Role | Contributor |
| --- | --- |
| Presenter | Jane Garvey |
| Interviewed Guest | Jo Pavey |
| Interviewed Guest | Austin Mitchell |
| Interviewed Guest | Isabel Hardman |
| Interviewed Guest | Ivana Bartoletti |
| Interviewed Guest | Paul Robinson |
| Interviewed Guest | Nia Reynolds |
| Interviewed Guest | Rachael Carr |
| Interviewed Guest | Tiana Locker |
| Interviewed Guest | Marion Plant |
| Interviewed Guest | Helen McCrory |
| Interviewed Guest | Susanna White |
| Interviewed Guest | Anna Keel |
| Interviewed Guest | Amy Walker |
| Producer | Rabeka Nurmahomed |
| Editor | Jane Thurlow |