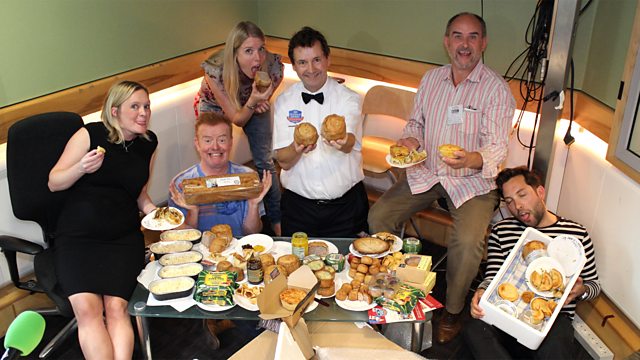 TFI Pie Day
Chris celebrates TFI Pie Day, the annual pastry party that comes around every year on the final Thursday of August.
With top pie tips from Tom Kerridge and James Martin, we also chatted to Melton Mowbray mogul Stephen Hallam and the winner of CarFest South's Cake v's Pie competition, Alan Mash! And Mary Berry dishes all the gossip from the Great British Bake Off.
Today's show is dedicated to all pie lovers...
And today's show is entitled: At the end of it all, if you get a choice between going to regular heaven or pie heaven, choose pie heaven! It might be a trick, but if it's not...num, num, num, num, num, num, num, num, num...It's worth the risk!
Last on
Pause For Thought
From Rev Ruth Scott, Anglican Vicar in Richmond:
Recently, there's been a somewhat heated Twitter discussion about whether or not a woman should abort her pregnancy if the baby she was carrying had Downs Syndrome. Those who thought a termination was the answer upset others who know and love a person with the Syndrome. One pro-abortion contributor was sympathetic to their distress but suggested it was an emotional point, not a logical one, and therefore it was flawed. The assumption seemed to be that human emotions can play no part in decision-making because they always lead us astray. I don't think that's the case. I'm reminded of a professor friend in the States who told me that Drones are being developed now that will be able to make decisions without human intervention. They'll respond logically to data they pick up in a conflict zone. I find the thought chilling. What decisions will they make without the human capacity to feel empathy, for example? Good decisions depend as much upon emotional awareness as rational thought. We need to understand the emotional impact of our words and actions so we can add to the sum of human happiness rather than hurt others unnecessarily. And I wonder why some people make such a God of logic. I think it's over-rated. Some of the most profound acts of humanity are committed by people who make illogical choices. British Ebola sufferer, William Pooley, chose not only to stay in Sierra Leone when the virus broke out there, but to work in the unit dealing directly with Ebola victims, despite the lack of protective equipment and medical necessities. Along with other health staff, William acted utterly illogically when it came to his own personal well-being, but compassion alongside the knowledge he has, moved him beyond logic to something far more humane and life-giving. Those whose lives he helped save will be profoundly grateful for that, as am I.