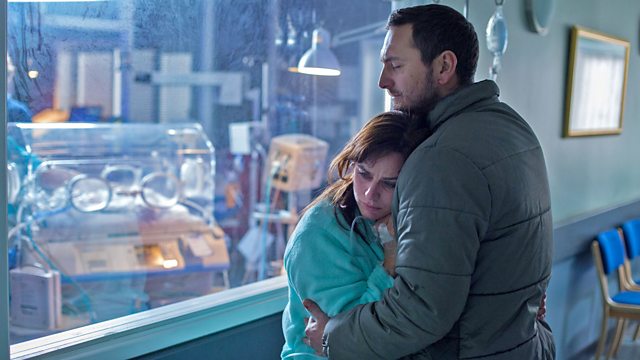 With her husband on the run from the police, Diane struggles to cope with the consequences of Rick's actions. Upset and alone, she turns to Roanna for support. But the stress is causing her Braxton Hicks contractions to return... or are the twinges more than just practice labour?
Unknown to Diane, Rick is hiding out at Jasmin and Dev's house. But when the police turn up, Jasmin is shocked to learn the real reason Rick is there. With no way to turn, Rick is pushed to the edge in more ways than one.
Meanwhile, in the aftermath of Rosie's dad's accident, Kim feels increasingly responsible for her. And when social services come to talk to Rosie about her baby's future, Kim's caring nature is stretched to the limit.
Last on
Credits
| Role | Contributor |
| --- | --- |
| Roanna | Hermione Norris |
| Kim | Katherine Parkinson |
| Diane | Jill Halfpenny |
| Vicky | Christine Bottomley |
| Jasmin | Taj Atwal |
| Rosie | Hannah Midgley |
| Rick | Will Mellor |
| Dev | Sacha Dhawan |
| Simon | Luke Thompson |
| Susie | Tara Fitzgerald |
| Neil | Jonathan Kerrigan |
| Jude | Daniel Breeze |
| Dr Bellingham | Brendan Patricks |
| Ellie | Lily Pickering |
| Sam | Lewis Hardaker |
| Geraldine | Lorraine Cheshire |
| Fiona | Shobna Gulati |
| Sean | Calum Hardy |
| Louise | Jacqueline Boatswain |
| Ed | Mark Quartley |
| Emma | Victoria Carling |
| DS Jackson | Will Thorp |
| DC Roberts | Jeff Alexander |
| WPC Wallis | Jemma Gates |
| Yvette | Keicha Greenidge |
| Writer | Kay Mellor |
| Director | Kay Mellor |
| Producer | Yvonne Francas |
Writersroom: The Birth of 'In the Club'
Buy online
Buy online
Available on: DVD or Video download
From suppliers including: Amazon Video, BBC Store, iTunes