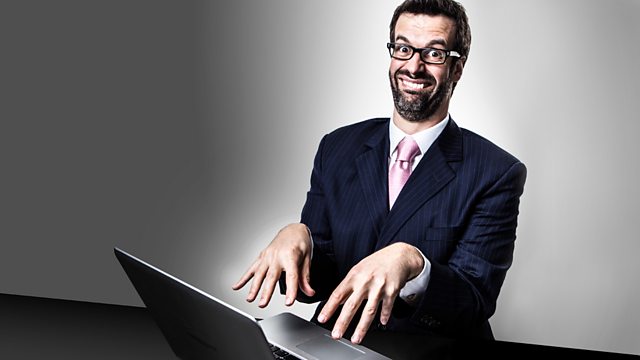 Uh-oh - Marcus Brigstocke has been put in charge of a thing! Each week, Marcus finds he's volunteered to be in charge of a big old thing and each week he starts out by thinking "Well, it can't be that difficult, surely?" and ends up with "Oh - turns out it's utterly difficult and complicated. Who knew...?"
This week, Marcus has grasped the bull by the horns and become a farmer. After all, what could go wrong? As he himself puts it, "Dairy, livestock, cattle - it's all grist to my mill."
Helping him to plough the fields and scatter will be Rufus Jones (W1A, Holy Flying Circus), William Andrews (Sorry I've Got No Head) and Margaret Cabourn-Smith (Miranda).
The show is produced by Marcus's long-standing accomplice, David Tyler who also produces Marcus appearances as the inimitable as Giles Wemmbley Hogg. David's other radio credits include Jeremy Hardy Speaks To The Nation, Cabin Pressure, Thanks A Lot, Milton Jones!, Kevin Eldon Will See You Now, Armando Iannucci's Charm Offensive, The Castle, The 3rd Degree, The 99p Challenge, My First Planet, Radio Active and Bigipedia.
Written by Marcus Brigstocke, Jeremy Salsby, Toby Davies, Nick Doody, Steve Punt and Dan Tetsell.
Produced by David Tyler
A Pozzitive production for BBC Radio 4.
Last on
Credits
| Role | Contributor |
| --- | --- |
| Presenter | Marcus Brigstocke |
| Ensemble | Rufus Jones |
| Ensemble | Margaret Cabourn-Smith |
| Ensemble | William Andrews |
| Producer | David Tyler |
| Writer | Marcus Brigstocke |
| Writer | Jeremy Salsby |
| Writer | Toby Davies |
| Writer | Nick Doody |
| Writer | Steve Punt |
| Writer | Dan Tetsell |