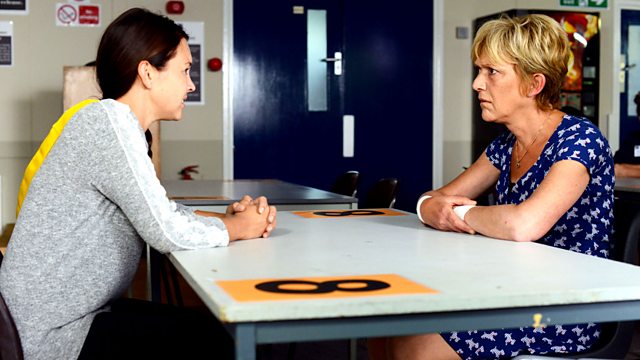 11/08/2014
Linda's still angry about Cora's public accusations about Mick and the prostitute. She's also worried - the Vic's takings were down over the weekend. Lauren complains to Cora that she hasn't heard from Nancy or Johnny because of her. Linda and Mick are determined to front it out and Linda decides to put the kids to work.
Everyone stares as the Carters scrub the outside of the pub; Shabnam blanks Linda and even Sharon seemingly hasn't got time to stop and talk. Linda's downhearted but Shirley, Mick and Lee bolster her and, head held high, she opens the pub. Linda's surprised to find Lauren on the doorstep but makes her stay for a drink after Johnny cancels their planned cinema trip. At the Minute Mart, Linda overhears Shabnam and Denise talking about Mick's alleged indiscretion.
Angry, Linda declares she'll be shopping on the High Street from now on. Outside, Linda's even more aware than ever of the locals' looks and whispers. Tearful Linda bumps into Dean, who takes her back to Blades, comforts her and gives her wine. Happier, she heads home. Back at the Vic, Lauren and Nancy argue - Lauren defending Cora and Nancy defending Mick. Mick holds Nancy back and asks Lauren to leave. Linda's tempted to tell Denise the truth but Mick insists he doesn't want her to. Cora confides in Lauren that Rainie was the prostitute Mick was with. Linda's haughty when Sharon comes into the Vic for a drink, especially when Sharon starts talking about Ian.
Meanwhile, at the Beales', when Ian snaps at Denise, she puts it down to nerves about the upcoming televised appeal. Ian apologises and sends her off to visit Patrick. When Linda later decides to pay Ian a visit, she finds him alone trying to choose a photo of Lucy for the appeal. Revealing she knows it was actually him with the prostitute, Linda gives Ian an ultimatum - tell everyone the truth – or she will...
Alfie offers to take the twins out so Kat can have a rest but she's determined to tidy up for Ollie and Jean's visit and to look after Lily. Alfie heads out, claiming he's going to buy Jean's favourite ginger nut biscuits but actually visits Stacey. Alfie tells Stacey Jean's got a bed at a psychiatric hospital in Brighton. Stacey gives him advice to pass on to Ollie about how to look after Jean. Alfie asks if she's had time to think about the appeal. He tells her how worried Kat is and how hard she's working for the family – can Stacey honestly say she's doing the same?
An apprehensive, Jean's released from hospital but Ollie's there to take her arm. They visit Kat on their way back to Brighton. Kat assures Jean she's happy to look after Lily and Jean apologises for being a burden. Alfie arrives home having forgotten the biscuits and reveals that Stacey's asked to see Jean. At the prison Stacey's angry, sure Jean sent Alfie to persuade her to appeal. Stacey accuses Jean of hurting herself on purpose to manipulate her. Jean admits looking after Lily was too much, she couldn't cope and should have asked for help but didn't want to cause Stacey more anxiety.
Jean insists she doesn't want Stacey to lie to the authorities – but to tell the full truth of what it's like in her head, they need to know she's fighting an illness every single day. Stacey worries she'd end up in hospital but Jean insists she's stronger than she thinks. Mother and daughter talk about the past, times when Stacey was too little to reach the kitchen cupboards but looked after Jean and went supermarket shopping on her own. Jean reminds Stacey that if Archie hadn't died he'd be in the dock too. She's a Slater, she has to fight and show Lily how to live her life. As Stacey's led away, she tells Jean she loves her. Later, Stacey phones Kat and tells her she's going to appeal.
Last on
Credits
| Role | Contributor |
| --- | --- |
| Stacey Branning | Lacey Turner |
| Kat Moon | Jessie Wallace |
| Alfie Moon | Shane Richie |
| Jean Slater | Gillian Wright |
| Shirley Carter | Linda Henry |
| Mick Carter | Danny Dyer |
| Linda Carter | Kellie Bright |
| Nancy Carter | Maddy Hill |
| Johnny Carter | Sam Strike |
| Lee Carter | Danny-Boy Hatchard |
| Dean Wicks | Matt Di Angelo |
| Denise Fox | Diane Parish |
| Ian Beale | Adam Woodyatt |
| Sharon Rickman | Letitia Dean |
| Cora Cross | Ann Mitchell |
| Lauren Branning | Jacqueline Jossa |
| Shabnam Masood | Rakhee Thakrar |
| Lily Branning | Aine Garvey |
| Ollie Walters | Tony O'Callaghan |
| Executive Producer | Dominic Treadwell-Collins |
| Director | Michael Owen Morris |
| Writer | Pete Jordi Wood |
Lee's Story: Working with Samaritans