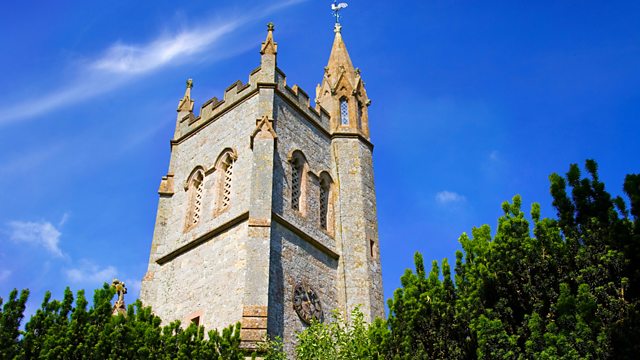 A Sabbath-Rest
At the height of the holiday period, The Very Revd Stephen Lake (Dean), The Revd Canon Neil Heavisides (Precentor), and The Revd Canon Celia Thomson (Canon Pastor) consider the importance of rest and relaxation in the context of scripture and the Church's own traditions. Live from Gloucester Cathedral with the Royal School of Church Music's Millennium Youth Choir directed by David Ogden.
Last on
Gloucester Cathedral 17/08/2014
Please note:
This script cannot exactly reflect the transmission, as it was prepared before the service was broadcast. It may include editorial notes prepared by the producer, and minor spelling and other errors that were corrected before the radio broadcast.
It may contain gaps to be filled in at the time so that prayers may reflect the needs of the world, and changes may also be made at the last minute for timing reasons, or to reflect current events.
Radio 4 Opening Announcement:  
BBC Radio 4.  It's ten past eight and time to go live to Gloucester Cathedral for this morning's Sunday Worship.  The Royal School of Church Music Millennium Youth Choir is spending the week there for their summer school and sings for today's service, reflecting on rest and recreation.  They begin with music  by John Bell, Be still and know that I am God.
Choir:   Be still and know – John Bell
Neil Heavisides: On behalf of all of us at the Cathedral in Gloucester, good morning and welcome. It is not easy today to focus on the necessity for rest and relaxation when there is so much unrest and chaos in our world at the present time. But we may be able to pray:
 Lead us from death to life,
from falsehood to truth;
lead us from despair to hope,
from fear to trust;
lead us from hate to love,
from war to peace.
Let peace fill our hearts,
our world, our universe.
Hymn: I heard the voice of Jesus (Kingsfold)
H. Bonar (1808-89)
Neil H Now in some moments of quietness let us call to mind all those ways in which we have disfigured God's world and marred her beauty  
 For the times we have allowed diversity to divide us and have sought to be justified more than we have sought to be just.....
All Forgive us
  
 For the times when we have valued land more than lives, power more than peace.....
All Forgive us
  
 For the times we have retaliated rather than reconciled, …..
All Forgive us
Neil H May God heal us and help us.
All Amen  
Celia T Genesis 2.vv1-3 (NRSV)
 The first reading is from the book Genesis, chapter two from the first verse.
 Thus the heavens and the earth were finished, and all their multitude. 2And on the seventh day God finished the work that he had done, and he rested on the seventh day from all the work that he had done. 3So God blessed the seventh day and hallowed it, because on it God rested from all the work that he had done in creation.
Neil H The Dean of Gloucester Stephen Lake reflects on the mystery of God's resting.
Stephen Lake  There are many people in the world today who have no break from their daily needs, from their challenging situation, or from the simple need for survival. Watching or listening to the news at the moment is not very restful.
The wonder of creation is that we have been made for rest as well as activity. 'And on the seventh day, he rested from all the work he had done.'  God has loved us into existence and this human life with all its challenges and pains is meant to have moments of joy and refreshment. It is easy to see this as a western luxury when we reflect upon the trouble spots of our world but God wants rest for those whose lives are full of toil, perhaps most especially for those who see no end to their situation. So when we do get to rest, we should not feel guilty but make the most of it, for there will be plenty of times when there is not rest. Certainly, rest is a blessing, and those who do get to rest must use it as a blessing in the help for others, not just in the pursuit of hedonism. If you are listening to this on holiday this August weekend, enjoy your time, but come back to a renewed commitment to work productively and to help those who may need your time and your commitment. God rested so that he could continue to create, and to recreate, and to love what he created. This love was not an expression of luxury but led to the cost of the cross, with loving arms spread wide in unconditional grace. The cost of loving means that we all need to rest in the Lord. After all, the word holiday, is all about making each day that the Lord has made, holy and full of his love.
 One popular hymns calls us from our foolish ways to a proper understanding of balance so that we can truly hear what God is trying to say to us.
Choir  Dear Lord and Father
J. G. Whittier (1807-92)
Celia T Jesus certainly needed time to listen to that still small voice of calm in his own life. He often slipped away from his disciples and the crowds to find a quiet place. Jesus invites us to learn from him. 
Neil H Matthew 11.vv28-end (NRSV)
Come to me, all you that are weary and are carrying heavy burdens, and I will give you rest. 29Take my yoke upon you, and learn from me; for I am gentle and humble in heart, and you will find rest for your souls. 30For my yoke is easy, and my burden is light.'
Choir  Prayer of Mother Teresa - Ogden
  
 May today there be peace within.
May you trust God that you are exactly where you are meant to be.
May you not forget the infinite possibilities that are born of faith.
May you use those gifts that you have received, and pass on the love that has been given to you. May you be content knowing you are a child of God.
Let this presence settle into your bones, and allow your soul the freedom to sing, dance, praise and love.  It is there for each and every one of us."
Stephen L God's liberating presence is indeed there for each and every one of us, but sometimes we get in the way or ourselves, and of God's love.
Whenever we go on holiday as a family, there is always the great debate about how much stuff to take. I like to go with something for every eventuality, although that rarely gets into the small suitcase allowed for aircraft cabins. Just having what you need, so that your time off is not cluttered by possessions or decisions about what to wear, is an important lesson in living daily with all we need to be in the company of God in Jesus Christ. His burden is light.
Being held back by the clutter of life is bad for our relationships with each other and with God. It is all too easy to be keeping up with emails and to be constantly available. But to be free of such distractions, even just for a short while, refocuses our lives on what is really important, that is living our lives in community and sharing in the community that is God the Trinity. Clutter that takes up the hours moves our focus away from God and the different ways in which he communicates with us. I heard on the news recently that the average adult in the UK now spends more time each day looking at a mobile or a tablet screen than sleeping. [Perhaps It gives a whole new meaning to the saying …  there is no rest for the wicked!]  But resting in the Lord is vital if we are going to be aware of him and his love for us. Baggage can literally, weigh us down and hold us back from hearing God or sharing our lives with him.
The greatest danger of the baggage of modern life is that it fills up every moment, becomes falsely important and that at worst, we stop praying.  If we stop praying, then we cannot hear the God who answers prayer. So we need to travel light, and make space in our lives, for the God who made us and wants to remake us from glory into glory, trusting in him, the Lord of all hopefulness.
Hymn  Lord of all hopefulness (Slane)
Jan Struther (Joyce Placzek) (1901-53)
Neil H Our final reading reminds us that the rest we can enjoy now is a glimpse of another world – but not, as a famous Bishop of Durham once said, "an endless idle harping upon harps of gold, reclining on clouds or wandering aimlessly through the paradise of God, clad in white robes and with crowns on our heads. " Rest from pain, rest from weariness, but not rest from participating in God's eternal loving purposes.  Isaiah looks forward to that world, transformed in ways we cannot possibly imagine.
Celia T Isaiah 32.vv15-end (NRSV)
16 Then justice will dwell in the wilderness,
   and righteousness abide in the fruitful field.
17 The effect of righteousness will be peace,
   and the result of righteousness, quietness and trust for ever.
18 My people will abide in a peaceful habitation,
   in secure dwellings, and in quiet resting-places.
19 The forest will disappear completely,*
   and the city will be utterly laid low.
20 Happy will you be who sow beside every stream,
   who let the ox and the donkey range freely.
Stephen L Every priest or minister is often asked what heaven is going to be like. I hope it is restful, but I also hope that it won't be boring. Nothingness is not rest, there is no refreshment in nothingness. Eternal rest, rest in the Lord, must, I hope, be about the best kind of loving relationship possible. Heaven cannot just be about the absence of things but the perfection of things. When we die, we hope, through the resurrection, that life is changed not taken away and that our hope is fulfilled in a way that we cannot now know. That's why we create the image of heaven. But if we believe in a God of creation, of gradual development and springing forth, then we must believe in a God who can change death into something unexpected and fulfilling, again in a way that cannot be imagined now. Or to put it another way, the rest of eternity is not constant activity but the taking away of our human restlessness, the need for us to be constantly doing and surviving. In heaven, survival is not needed, there is a different order of rest. And in heaven, whatever that is, we move into the divine timeframe, which again we cannot now imagine. The God of creation has a wholly different concept of time from us ordered and framed creatures. This is again why we must spend time in prayer, resting in the Lord, for it begins to tune us in to the divine understanding, into the mind of Christ, and enables us to not only make the most of our time here but also to consecrate time so that it becomes shared with God in Christ. In this sharing, God can share his will with us, rather than just us sharing our needs and desires.
This cathedral stands as a sign of God's timelessness, and in its daily worship, we seek to draw ever closer into that presence which is both here and now, and yet to come. The God of rest, of re-creation is also the God of recreation, and we can take pleasure in the fact that in rest, we can find refreshment and renewal.
Neil H: That timelessness is evoked in the music of the anthem which the choir will now sing – a vision of rest in heaven.  Justorum animae by Stanford.
Choir  Justorum animae (Stanford)
Neil H/Celia T Eternal God,
we give you thanks for the rhythms of rest and recreation that permeate the seasons and inspire the grace and beauty of creation. Help us to balance the responsibilities of work with our desire to be creative that we may be your people in all we do and all we are and combine the urgency of working for your Kingdom with the joy of Sabbath rest. We ask this in the name of Jesus Christ.
All Amen.
We pray for those places around the world
where the destructiveness of hatred, fear and violence silence the voice of creativity, we pray for those who have no rest from the relentlessness of suffering; we pray for creative solutions and for courageous reconcilers; we pray that we may not turn away our eyes from what is overwhelming but be compassionate in our praying and generous in our giving.
To you Lord of Love,
All We entrust our prayers.
CHOIR Calm me Lord as you calmed the storm,
still me Lord, keep me from harm.
Let all the tumult within me cease;
enfold me Lord in your peace.
(Margaret Rizza)
We pray for those who are so driven by their work that they have lost the ability to rest; those who so hide behind their work that they are afraid to rest and those for whom the responsibilities of work drain them of all creativity.
To you Lord of Love,
All We entrust our prayers.
CHOIR Calm me Lord as you calmed the storm,
We give thanks for those whose creativity inspires and enriches us; for those artists and poets whose calling means they live on the edges of light and darkness.
We pray for ourselves that we would have confidence in our own gifts and be encouragers of others.
To you Lord of Love,
All We entrust our prayers.
CHOIR Calm me Lord as you calmed the storm,
We pray for your church that she would show the world a different way as she seeks to be your hands and feet and reach out to those in need. May she model a rhythm of being and doing, of resting and working that reflects your heart and your longing.
To you Lord of Love,
All We entrust our prayers.
CHOIR Calm me Lord as you calmed the storm,
God of all creation, you have made us for yourself, and our hearts are restless till they find their rest in you. Teach us to offer ourselves to your service, that here we may have your peace, and in the world to come may see you face to face; through Jesus Christ our Friend and Saviour.
All Amen.
Neil H The childlike simplicity of our final hymn points us to the unceasing creativity of God which, like all creativity, is infinitely vulnerable.
Hymn  Morning has broken (Bunessan)  
Eleanor Farjeon (1881-1965)
Neil H May the God of stillness and busyness, the God of silence and music
 so inspire in us a rhythm of creativity and rest that we may not miss the gifts of being in our urge to keep on doing. May the blessing of God, Father, Son and Holy Spirit be upon you and remain with you always.
All Amen.