Pan Intercultural Arts
Juliet Stevenson presents The Radio 4 Appeal for Pan Intercultural Arts (PAN), empowering vulnerable, hard-to-reach young people to change their lives using the arts.
Registered Charity no 295324
To Give:
- Freephone 0800 404 8144
- Freepost BBC Radio 4 Appeal, mark the back of the envelope ' Pan Intercultural Arts '.
Last on
Pan Intercultural Arts
Pan Intercultural Arts uses theatre, music and other art forms to help some of the most marginalised and disadvantaged groups find a voice to re-claim their place in society and re-imagine their lives.
Trafficked women, refugee victims of torture, and those close to gun and knife crime all benefit from engaging with creativity to overcome anxiety and trauma and find better futures.
Research suggests that their involvement in the arts leads to less crime, greater social harmony, more people in education and employment, and a massive increase in trust and wellbeing.
Pan's expansion across the UK will involve 10,000 participants in the coming years and our AMIES project for trafficked women is at the heart of this.
Building confidence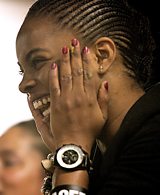 Nicole was trafficked from Nigeria aged 14 and worked as a domestic slave until she escaped years later. When she joined Pan's AMIES project for victims of trafficking she lacked confidence and had difficulty making friends and trusting people around her.
Slowly her confidence and self-expression grew and she began to imagine a new life. After a year Nicole was in college studying IT and had a part time office job. The following year she volunteered with AMIES providing encouragement to new group members.
Now Nicole has a daughter. She cares for her, works part-time and is proud she can teach her to be a strong and independent woman with high aspirations. 
Moving beyond the trauma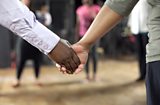 Pan's AMIES groups meet weekly throughout the year using arts activities to move its members beyond the trauma of slavery and achieve fulfilling lives.
They role-play what they would like to be and how to overcome obstacles in their way. By the end of the year the great majority are ready to enter education, training or employment.
Many still fear being recaptured (and will not consent to being photographed), but they can begin to enjoy their lives and their new-found friends through the bonding of singing, performing and planning concepts together.
Supporting victims of torture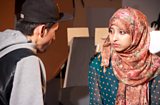 Pan's work also supports victims of torture (the FORTUNE) group, unaccompanied minors requesting asylum (the FUTURE group), young people likely to offend, and those who have offended (the WEAPON OF CHOICE group).
These groups, who feel they have little or no voice in society, find in the arts a way of discovering pride in themselves and showing themselves in a positive light to others.
Investing relatively small amounts in their engagement with Pan avoids taxpayers having to spend millions if they become long-term benefit-dependent or if they enter the criminal justice system. Pan also has a far-reaching international programme.