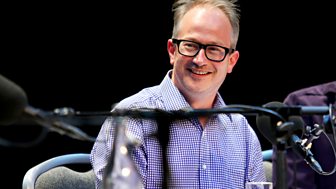 Heal Thyself: A History of Self-Help
Robin Ince explores our timeless fascination with the self-help shelf.
On radio
There are no upcoming broadcasts of this programme
Last on
Wed 20 Aug 2014 21:00
BBC Radio 4
Heal Thyself: A History of Self Help 3/3 - Programme Transcript
Downloaded from www.bbc.co.uk/radio4<?xml:namespace prefix = o ns = "urn:schemas-microsoft-com:office:office" />
THE ATTACHED TRANSCRIPT WAS TYPED FROM A RECORDING AND NOT COPIED FROM AN ORIGINAL SCRIPT.  BECAUSE OF THE RISK OF MISHEARING AND THE DIFFICULTY IN SOME CASES OF IDENTIFYING INDIVIDUAL SPEAKERS, THE BBC CANNOT VOUCH FOR ITS COMPLETE ACCURACY.
HEAL THYSELF – A HISTORY OF SELF HELP
            Programme 3.
TX:  19.08.14  1530-1600
PRESENTER:  ROBIN INCE
PRODUCER:  ALEX MANSFIELD
Montage
Top of the breath, number two.  Out breath, number three.  Bottom of the breath, number four.  Okay, so now when you breathe I want you to break it down into those four parts.  Okay?  Just breathe with me for a bit.
I'm out of sync, hang on a minute.  I breathed at the wrong – when you started counting I was already halfway through a breath.
Alright okay.
This is a lot more difficult than I imagined…we'll start again, start again, okay brilliant.
One, two, three, four….
Music - Help
When I was younger, so much younger than today I never needed anybody's help in any way.  But now these…
Dealing with people is probably the biggest problem you face, especially if you're in business.  Yes and that is also true if you are a housewife, architect or engineer.
Help us, if you can, we are feeling down.  And we do appreciate your being round.  So help us get our feet back on the ground, won't you?
On Facebook there are some people that live like my words are the written word of God or something, they're not, they're just my ideas that I find helpful.
…will pass among you and no foreign coins please.
In general self-help culture is a part of secular culture, although it has many interwoven threads with traditional religious cultures.
What's interesting about self-help books is they are the pack animals of the publishing world.  If you go into someone's house, you look on their bookshelf, you rarely see one self-help book, if you see one you'll see lots and that's the first indication that the initial one wasn't particularly helpful.
Ince
So far in this series we've looked at the literature and philosophies people used to help themselves before self-help declared itself an industry on its own.  We've seen how the ideals of ancient philosophy were translated through a religious Middle Ages via theology into a genre aimed at lay people with the idea that improvement in one's lot in life was both possible and desirable.  Now some way into the 21st Century we all have an idea of what self-help means but with so many sub-categories you can become lost in its vastness.
Micki McGee is the author of Self Help Inc.
McGee
Self-help culture that we see in the United States and now in the global context as well, is a move away from more traditional modes of seeking advice.  People are no longer turning to their rabbi or their priest or their minister or their congregation for advice and support but are looking for support in some other sort of way, either through self-help groups which are increasingly common or through the burgeoning industry of bibliotherapy where people just read a book and get advice and then act upon that.
Ince
Do you think, though, that – is it trying to give people freedom and independence or is it hoping that they then become hooked on the consumable items of more self-help books, more tapes, that each one, if it actually did give you absolute freedom, would perhaps backfire for the book industry?
McGee
Well absolutely if it worked, if self-help books worked as effectively as they claim that they do then the industry would be short-lived wouldn't it, right?  There would be – a person would write an effective self-help book, people's problems would be solved and that would be that.  But in fact self-help culture is part of consumer culture, that paradoxically by proposing that it can help you also suggests that you have problems that need to be addressed.  And so in this process creates a kind of never ending cycle of what I call the bully bird self – a continuous work on the self so that one can remain continually employable and continually marriageable.
Burkeman
My name's Oliver Burkeman, I write a column for the Guardian on psychology called This column will change your life and I wrote a book called The antidote: happiness for people who can't stand positive thinking.  The size of the self-help industry is one of those things like many of the psychological myths of the self-help industry, it's incredibly hard to put a figure on.  I think its boundaries are constantly changing, so there may have been a certain time in the 20th Century when it was a very distinct kind of genre, I think prior to that it merged with religious writing and since then it's become – there are brainier versions of it and more sort of socially acceptable versions of it and books about ideas but actually the reason you're reading them is for the self-help value.
Ince
The standard business model came from an actor who discovered it was far more profitable to play yourself - Dale Carnegie.  Dale had also worked as a salesman and with the coupling of pitching product and projecting he found the way to create one of self-help's most famous and enduring works:  How to make friends and influence people.
Clip – Dale Carnegie
During the first 35 years of the 20th Century the publishing houses of America printed more than a fifth of a million different books, most of them were deadly dull and many were financial failures.  Why then did I have the temerity to write another book….?
Shapiro
Dale Carnegie sort of happened into self-help.
Ince
Jessica Lamb Shapiro is the author of Promise Land.
Shapiro
When he was teaching public speaking he sort of happened upon these theories of how to influence other people and part of it was the timing – it was the end of the Great Depression, people had really lost everything and Dale Carnegie came along and said:  "You don't need anything but yourself to succeed.  Be interested in other people and they will be interested in you."  And it was a very simple concept, it was one that anyone could grasp and it was also something that they really needed to hear at that particular time in history.
Clip – Dale Carnegie
How to understand and get along with people.  How to make people like you.  And how to win others to your way of….
Burkeman
What you really get reading that book is the sense of it being addressed to travelling salespeople, people who are just starting in the lower rungs of organisations where being able to ingratiate yourself with the person who's answering the door that you're trying to sell encyclopaedias to is the absolute be all and end all of you having an income, be able to pay the rent.
Clip
The moment I saw that I realised selling was the greatest career a man could want.  When he died – he died the death of a salesman.
Burkeman
And so I think that's why to modern ears and eyes it can come across as very cheesy, it's all to do with making sure you use people's first names over and over again in conversations and making sure you always make the conversation about the other person instead of yourself.  And I think some of it in moderation is not such a bad idea, but as always you get the message is sent that this is a magic key to all success.
Clip – Dale Carnegie
In the hay day of his activity John D Rockefeller said that the ability to deal with people is as purchasable a commodity as sugar or coffee.  And I will pay more for that ability, said John D, than for any other under the sun.  Wouldn't you suppose that every college in the land would conduct courses to develop the highest priced ability under…
Ince
Here was a work offering that most precious commodity and the possibility of infinite riches for the price of a paperback.  The book sold well but that wasn't all – this was a major advert for Carnegie's classes and courses, the self-help speaking circuit was most definitely open for big business.  The book was just one part of it.
Gray
I did the Broadway show but right now we have an ongoing show in several European countries…
Ince
John Gray, author of Men are from Mars, Women are from Venus, also offers advice on human relationships, and he travels the world giving talks, seminars and lectures in symbiosis with his books.
Gray
In America we have a travelling show that's – a hundred different cities we've run the show because it's very funny, you can talk about gender differences in a humorous way and also put in some really good insights, it will help people without being too preachy.
Burkeman
It does seem that once you've made someone laugh then to some extent some of their defences are dropped and you can – ideas do become more eager to be received at that point.
Gray
People say they laughed their way through a Men are from Mars because they see themselves and they see their partners quite often.  A lot of writers are not necessarily seminal leaders but I have a gift for speaking and audiences and you have to – in 90 minutes you have to make your message very concise and very simple and basic.
Ince
I wondered how many other titles you went through before you actually found that one?
Gray
I'm very grateful for that title, it took seven years to find it, I kept looking for a niche because I was teaching the ideas of gender differences and people would keep misunderstanding me, as if I was saying men should be this way, women should be this way and I was saying no I'm not saying women should stay pregnant and barefoot in the kitchen, that's not my message, I couldn't find a way to soften it, I kept saying can I find a fun way of doing it.  And I'd just seen the movie ET by Stephen Spielberg and so I integrate my life into my talks and I said to the women, I said women, imagine your husband's ET and I didn't even finish my point and they all burst into laughter and I realised wow, this is it and then some woman said, where's my husband from and I just said, he's from Mars and they all laughed.  And I said this is great, no man is embarrassed from being from Mars and what would flatter women would be Venus, it was a fun way to introduce these ideas that at the time were being taken very seriously, too seriously.
Ince
So Dale Carnegie's original business model, like John Gray's, is not just about the bibliotherapy.
Burkmann
I think in terms of the business model of most self-help gurus today the book is really a calling card, it's a way of establishing some kind of authority. It is not necessarily the main source of your income.  I went to a big seminar in Texas called Get Motivated, which had thousands of people in a basketball stadium listening to various self-help speakers tell us to eliminate the word "impossible" from our vocabulary, George Bush was the keynote speaker that day telling us about how optimism had made his life such a success.  And what's very clear from that is that this event exists primarily to, as they say, upsell people to other events.  So it's not expensive to attend that motivational seminar but there are people waiting with clipboards outside each session ready to take your credit card details.
Ince
These conferences and talks can be the big money in self-help now.  You could even go to a motivational conference about how to write your very own self-help book.  As Jessica did with her father a few years ago.
Shapiro
My father is a child psychologist and he's been writing self-help books since I was born and his focus is children's development and parenting.  So I was one of his subjects.  And even though he's been doing it for 40 years and has written about as many books he never really had the success of someone like Mark Victor Hanson who wrote Chicken Soup for the Soul or Dr Phil, who's very popular here in America but he still managed to have a career, it was just sort of never on that level.
Clip – Actuality
Mark Victor Hanson…….
Well my dad was the one who found out about the conference.  He had never had that level of success.
Clip – Actuality
Everyone say wow…………
Chicken Soup for the Soul's a huge, huge book, I think they have over a hundred titles – Chicken Soup for the Ocean Diver's Soul and it's gotten really specific.  And they're basically just inspirational stories, little sort of hopeful anecdotes and people really love them, it's a huge bestselling series.  So my father thought that he might be able to learn something from this other self-help writer and so we ended up in Atlanta, sometime in 2003, with 600 other aspiring self-help writers.  But one thing I was immediately struck by was the almost religious quality both of Mark Victor Hanson, the way that he was sort of preaching a gospel of self-help and really seemed to believe that inspirational stories have this very transformative power and could really change people's lives and also the sort of almost ecstatic experience that some of the participants were having.  They were crying, they were shouting, they were calling people on their cell phones and telling them how excited they were and so that's what kind of made me so curious about it, was why was this level of emotion infused into what was basically a weekend conference on writing self-help books.  Another really interesting thing about it is that so many of the people didn't really have a specific book in mind, they just sort of liked the idea of being a self-help author and they felt that they could be a self-help author but they didn't really have a topic, which was really strange to me.
Ince
Much of the impact of a self-help bestseller comes from the title alone – Who Moved My Cheese? – was a bestseller business fable.  Classical Natalie Haynes elucidated the finer nuances of this particular tale.
Haynes
I think there's a mouse and the mouse's cheese has moved and then I think that it's basically about adaptability, if you are prepared to say oh okay the cheese isn't where I expected it to be, so I need to find a new way of getting some new cheese and blah, blah, blah, then you will thrive and adapt, survival of the fittest, yadi yada.  And if on the other hand you simply sit there, unlike a mouse, pining for your lost cheese then you will never be happy because all you're doing is looking back at what you used to have and have no longer got.  And what you need to do is of course be setting yourself new cheese related projects and moving forwards into other cheese avenues and thus – I think basically the idea is that a sort of entrepreneurial level you need to be constantly trying to find the next thing and the next thing, if you can't adapt to changing times and needs that you'll die out.
Ince
So don't think of the cheeses that were….
Haynes
Think of new cheese.
Ince
… think of the cheeses yet to come.  So Limeswold…
Haynes
Think of future cheese, that's right…
Ince
…. Which was made by the Milk Marketing Board in the 1980s and briefly was a popular cheese…
Haynes
Don't miss it Robin, don't miss it.
Ince
But you can't get it anymore.
Haynes
You've got embrace garlic yard instead.
Ince
Who Moved My Cheese sold 25 million copies, you can imagine how managers loved it and yes a company was set up to deliver change management consultation.  Perhaps the biggest trend in recent self-help makes extraordinary claims on the boundaries of physics, but these claims go back quite a way.
Shapiro
Phineas P. Quimby founded what he called the New Thought Movement and he was not trained in medicine at all but he just fashioned himself as a healer.  And by the 1840s, 1850s people were familiar with him and his mind cure.  When you read about him he sounds like a little bit of a quack but he also had a huge influence, one of his students was Mary Baker Eddy who founded the Christian Science Movement and you can see some of the through lines between the Christian Science Movement and the New Thought Movement.  And the New Though Movement went on, they liked what they called mottos.  A very popular author named Henry Wood published a book that was just these mottos, such as divine love fills me, there is no death and I am not body.  And he was read by Queen Victoria and Henry Ford and people were just obsessed with these books.  In 1922 a Frenchman named Émile Coué introduced the Coué Method, it was something called auto-suggestion and it was very similar, they were affirmations.  And one of the really famous ones was:  Day by day, in every way, I'm getting better and better.
Burkman
Émile Coué was right at the start of anything that resembled modern psychology, he was a French pharmacist who offered this service that he called auto-suggestion, prescribing to people certain ways of thinking to deal with their physical ailments.  And the success of this operation, commercially speaking, not as a way of getting better necessarily, was enormous, there are these stories about long, long, long queues of people at his clinic in France, just lining up for hours and hours, days, to receive this kind of prescription which is essentially positive thinking.  And in one way you can look at that and see it as preying on desperation but in another sense clearly that was a message of great hope.
Clip – Pink Panther
I am perfect.  Every day and in every way I'm getting better and better. 
I'm afraid this is just not your day my friend.
Shapiro
The idea continued through the 20th Century, Norman Vincent Peale came out with The Power of Positive Thinking in 1952 and it was on the bestseller list for 186 consecutive weeks.  He says things like you should become a possibilitarian and not developing obstacles in your imagination.  He was a preacher who was also a self-help writer.
Clip – Norman Vincent Peale
It teachers positive thinking, not as a means to fame, riches or power but as a practical way to use faith to overcome defeat and accomplish worthwhile goals.
He was kind of at the intersection of religion and self-help and they have so much in common and then he sort of doubled his audience in that way.  He also had a weekly radio show called The Art of Living, which ran for 54 years and in 1984 Ronald Reagan awarded Norman Vincent Peale the Presidential Medal of Freedom.
Burkman
I think what gives rise to the really successful characters of the early 20th Century self-help like Norman Vincent Peale, above all, firstly there's this idea that comes out of American Christianity, this kind of Calvinist idea that your responsibility to work hard in life, the Protestant work ethic, extends to your inner world, to your psyche, that you have a sort of responsibility to be bright and happy and optimistic and that this is something that you need to work on.  And you need to do that if you want to succeed.  I think that what happens also, especially in the wake of the Depression, is this idea that in a situation where social structures and economic structures are just leaving people completely feeling abandoned at the bottom of the heap it's clearly a very powerful message, whether or not it's true to be able to say to someone look all you need to make something of yourself is inside you, keep focused on optimistic future then this will make it real.  You can completely see why that would be so seductive.
Ince
Can you keep a secret?  Well according to one of the 21st Century's bestsellers the greatest minds of the last few millennia have been keeping schtum, until 2006.
Shapiro
The Secret basically came out of these theories.  In the very beginning of the book the author says that her daughter gave her a book and it explained the power of the mind and she doesn't name the book but I'm pretty sure that it was The Science of Getting Rich by Wallace D Wattles, written in 1911.
Burkman
The premise of it has always amused me because the idea is that it communicates a deep historical secret that has been passed on and kept secret from Plato to the Buddha to Jesus to Leonardo Da Vinci to Einstein and then somehow apparently has ended up with a former daytime television producer from Australia who's put it all into a book and told everyone about it.  The premise of this book and of other books promoting what they call the law of attraction is that if you demand certain things from the universe, the universe will provide and that in practice means focusing your thoughts on the things you want.  It is straightforwardly a kind of magical thinking.
Shapiro
The basic idea of the law of attraction is that your mind can draw things to you and this idea has been around since New Thought with the power of the mind, the power of positive thinking, but The Secret takes it a step further which the Wallace D Wattles book also did in 1911 by saying that the mind is literally a magnet that can draw cars, houses, yachts, anything you want.  So it takes the law of attraction very literally whereas other people took a more liberal abstract interpretation of if you have a positive attitude then it's easier to achieve things.
Ince
To my sceptical mind the law of attraction is repulsive, though not all positive thinking is negative.
Burkman
I definitely don't think and have never suggested that self-help is inherently a bad thing.  Firstly, I think the urge to want to improve yourself, to want to be a little happier, to want to have more successful relationships is a wonderful urge and then secondly I think there's a very large number of books written to answer that need that go a long way to helping.  And there are plenty of people I think publishing in the self-help industry today for whom that's true.  I think books like The Road Less Travelled by Scott Peck or the books of Susan Jeffers – Feel the Fear and do it Anyway – I mean these are actually very good messages and I think they do have a lot of satisfied customers.  Unfortunately it is – it's in the nature of the industry that it's absolutely ripe for people who don't have those same motivations who either don't want to help ultimately, they just want to get rich or they do want to help but actually their philosophies of helping are terrible.  It has this sort of built in logic, especially with positive thinking where if you buy a positive thinking book and you put it into practice and it doesn't work or it only works for a little while, which I think is the more normal result, it's very easy to conclude that what you need to do is think more positively and so you need to replenish your levels of positivity by buying another book from the same author, by buying his or her DVDs and tapes and so this dynamic is established where precisely because their products don't do what they promise they are guaranteed a whole lot of repeat custom.
Ince
Richard Wiseman is professor of psychology at the University of Hertfordshire.
Wiseman
It depends the form positive thinking takes, probably the most popular form of it is the positive visualisation, so you just imagine the perfect you, you're in the perfect career, best ever partner, living in the part of the world you want to live in.  There has been a huge amount of research looking into that notion and what it shows time and again is that if you engage in that process you are far less likely to achieve those goals.  The reason is you engage in this fantastic fantasy driven world, it makes you feel great, when it doesn't emerge as a reality you become demotivated, you think well I tried that there's nothing else I can do.  Visualisation is a strong tool but what you need to do is visualise process – you visualise what you need to do to achieve the goal not the goal itself.  And so if you're studying for exams don't visualise yourself opening an envelope and taking out an A grade certificate, you visualise yourself studying, revising, asking questions, you visualise process not end point.  Psychologists have known that for years, it should be common knowledge, unfortunately it's not.
Burkman
And you find this kind of finding again and again, this sort of ironic backfiring effect of what really ought to work.  There was a study about positive affirmations, what happens when you ask people to say, repeat to themselves, phrases like I am a loveable person, it turns out that people with low self-esteem who are the people who are in the market for those kinds of affirmations end up feeling worse because their minds reject the message, they come up with counterarguments about why they think they're not a loveable person and you know all of this goes back to this mistaken notion that the human mind is just a simple machine, you can feed it commands, think happy thoughts, ignore the negative, and it will do that and it just – it's much more complicated than that, thank goodness.
Ince
Is it that we also need to just get used to our own flaws, I mean sometimes we're being sold things that say you can be – it can be a new you and as far as I can see being a new you only happens if you perhaps have an enormous lobotomy or something.  The idea that suddenly reading 200 pages and you go oh I'm entirely different now…?
Wiseman
I think people can change, I don't think it's easy otherwise we'd be doing it all the time, I think that sometimes it is helpful to have some kind of guidance on it.  I also think though that one of the best ways of being happier is simply to set the bar low, just know that life will be difficult and that you are not going to be joyous throughout the whole of your life and then your expectations are a bit more realistic and life isn't such a struggle.  But I do think there are things that people can do.  So in terms of happiness, for example, one of the areas I talk about is whether you spend your money on experiences or goods, I mean often we think oh we'll be particularly happy if we buy that new smart phone or pair of shoes or whatever it is, actually goods age really quickly, experiences – spending money on going to the cinema or a good meal or a holiday or whatever – they get better over time and they normally connect us to other people.  And that finding is very well established and not very well known, even within the happiness literature.
Music – George Harrison
Ince
The most famous band in the world had all the material things they wanted but at the height of their fame they sought more interesting experiences.  They weren't alone – a young John Gray, like many others alive during the summer of love, was seduced by these ideas.
Gray
Well I think the most important teacher to me was the Maharishi in the beginning, he sort of said you have a potential to be greater than you are and he certainly was living that potential for himself, he was a guru and what I really learnt from him is I don't want to be a guru and I saw how people gave away their power to gurus as opposed to finding it within themselves.
Clip – Maharishi
Someone one day they started to meditate, next day he gave - was checking - and he said I feel wonderful, I slept very deep and the whole thing is good but tell me what you have taught to me… I said nothing because the process of thinking has not to be learned, we are used to think – we know how to think from birth.
Wiseman
First of all is it backed up by academic work but second, and perhaps more importantly in some ways, don't go into the bookstore until you've spoken to other people who've had similar issues and see what they recommend.
Ince
What is the secret of happiness?  Is happiness an illusion?  And is there only one secret or are there many?  Do we lower our expectations, heighten our experiences?  How do we choose a guru, is one guru enough, do we need a guru in the first place?  Personally I think the secret of bibliotherapy is to read widely, critically and curiously – that's just my opinion and I don't even know what colour my parachute is.  But perhaps this is the start of something.  I'm wondering if this series is the basis for a longer book that I could do or perhaps a tour, maybe some tapes as well, some seminars and a T-shirt and maybe some kind of helpful slippers….
Music