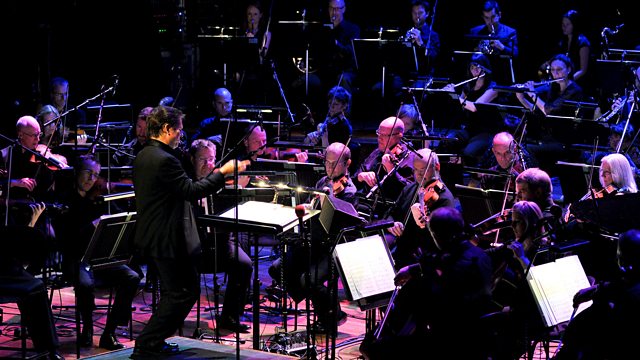 Disco Night
Friday Night is Disco Night - get ready to Hustle and do the Funky Chicken - as Ken Bruce presents an evening of disco hits with the BBC Concert Orchestra.
How would you sum up the seventies - space hoppers, choppers and klackers? Do you have memories of the long hot summer of 1976 or the cold bitter winter of discontent of 1978? The passing of Elvis, the coming of Thatcher, colour television,hot pants, flares, platform shoes, steak and black forest gateau - the decade was packed with new innovations,and on the dance floor - disco.
But the history of disco goes back much further, to war torn France in the 1940s. Under Nazi occupation all jazz, swing music and dancing was prohibited so secret groups formed in underground dance clubs ,dancing to a jukebox or record turntable. Disco comes from the French word discotheque meaning a library of records. By the mid forties it was a word to describe a club where there is no live music. In the 1960s Annabels opened in London - but it was in the 1970s and New York venues like Studio 54 and The Loft plus a film called Saturday Night Fever that disco reached its peak.
Saturday Night Fever won John Travolta an Oscar nomination for his portrayal of Brooklyn born Tony Manero - who works in a dead end job in a hardware store by day but by night is King of the Disco.
Tonight, Ken Bruce squeezes back into his flared trousers to present a special disco themed Friday Night is Music Night. Stephen Bell conducts the BBC Concert Orchestra with singers Annie Skates, Hazel Fernandes, Lance Ellington and Andrew Playfoot. The show includes hits by Kool and the Gang, Sister Sledge, Earth Wind and Fire, Gloria Gaynor and, of course, the Bee Gees.
This show was first broadcast in August.
Last on