Liverpool Giants

The giant marionette show commemorating World War One came to a close with a spectacular river boat finale.

 

The three giants pulled huge crowds to Liverpool over three days.

 

Grandmother, Little Girl and Xolo the dog sailed out of the city on the River Mersey in a special leaving ceremony.

 

Read a selection of features and visit the photo galleries relating to this event on the BBC News website.

Lord Derby's Pals

World War One saw 5,000 Liverpool men sign up to serve their country, 2,800 of whom died in the war.

 

The men formed the Liverpool Pals battalions and were recruited by Lord Derby to answer Lord Kitchener's appeal for voluntary recruits.

 

Read the stories of some of the men who served on the BBC News website..
Credits
Presenter

Sue Johnston
Producer

Helen Wakefield
Producer

Michelle Mayman
World War One on TV and Radio

Marking the centenary of World War One across the BBC
How did WW1 change your world?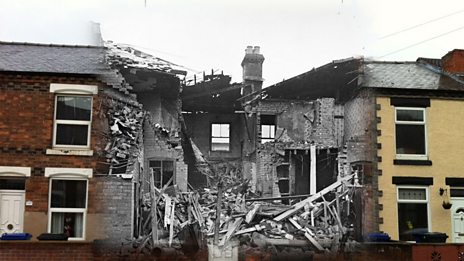 Discover how war changed the people & places of the UK: stories, clips, galleries, search