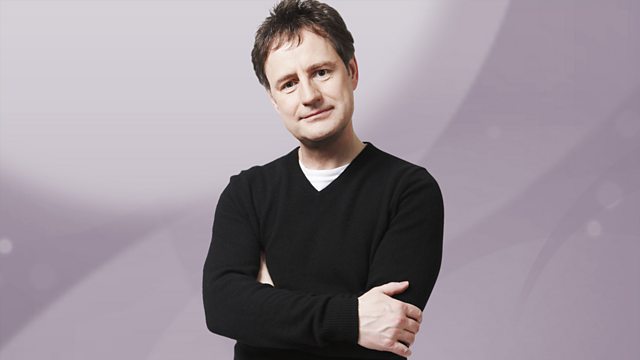 Richard Allinson sits in
Richard Allinson sits in for Chris Evans with your chance to win VIP tickets to the BBC Proms In The Park...
We go bonkers for conkers talking to the organiser of the World Conker Championships in Northamptonshire, St. John Burkett and the current champion, Sophie Knox...
The Top Tenuous takes in your desperate claims to the fame of Jane Seymours throughout history and from across the land, and today's Pause For Thought comes courtesy of Rabbi Pete Tobias.
Last on
Pause For Thought
From Rabbi Pete Tobias of the Liberal Synagogue, Elstree:
We live in a world ridden with conflict. Conflict begins when one group of people decide that their view of the world – religious, political, whatever – is better than an opposing view. Leaders emerge to promote that view – and elsewhere others appear to speak out against it. It's a depressingly familiar sequence of events.

So we end up with a world where people seem to be either battling to promote an idea or organising themselves to fight against one. A constant alignment of us and them, where we're either in favour of one particular world view or we are against it. Us and them – and of course 'we' are the good guys with our story while 'they' are the opposition, with a different story, the wrong story and it's up to 'us' to put it right. That's pretty much what our world looks like today, don't you think?
Robin Williams, in the film Dead Poets' Society, said: 'No matter what they tell you, words and ideas can change the world.'
Well here's an idea.

How about we redefine what we mean by 'us' and 'them'? Instead of making the dividing line religious or political or geographical or whatever other ways our leaders might seek to divide us, let's try something different.

How about we put all those who draw up those lines and tell us that we need to stand firmly on one side or the other in one camp? It doesn't matter what lines they've drawn and what side they happen to be on. The warmongers, the haters, the ones who deny that others have rights – we know who they are. They can be 'them'.

Then, on the other side, let's gather all those who recognise that all people have basic rights that deserve to be honoured, that seeking to live together in peace is better than constant conflict. I'd like to be in this group, so I'll call this group 'us'.


Robin Williams also once said
: "What's right is what's left if you do everything else wrong." We certainly seem to be doing things wrong at the moment.  Maybe redefining what we mean by us and them might help to make things right.