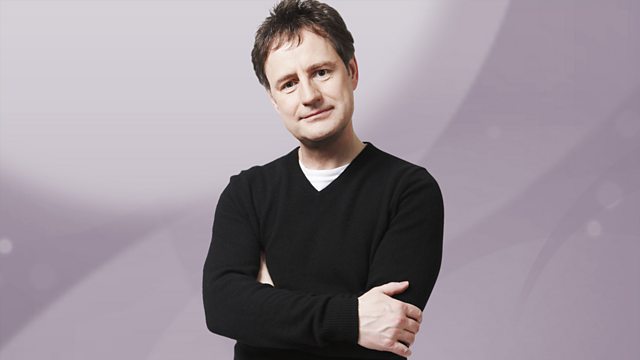 Richard Allinson sits in
Richard Allinson sits in for Chris Evans with a chance to win VIP tickets for BBC Proms In The Park on Saturday 13th September...
We head to the delights of Derbyshire and ponder over poultry with the organiser of the World Hen Racing Championships, Colette Dewsbury...
And today's Pause For Thought pays tribute to Robin Williams with comedic writer Paul Kerensa.
Last on
Pause For Thought
From comedian & writer Paul Kerensa:
Some knew Robin Williams as Patch Adams, Mrs Doubtfire, Mork or Aladdin's Genie. But he was never better than as himself: unpredictable, unmatchable and intensely funny. 30 years ago, comics like him paved the way for alternative comedy to reach everywhere – I even did a show recently at a church conference, and it's this ecclesiastical gig that I wanted to talk to you about today. It was me, and a roomful of vicars. With a couple of bishops, moving diagonally.  So I kept things biblical in my routine...

"I'm going to create a woman!" said God. And Adam replied, "Do you think I was born yesterday?" And God said, "Well you were." Then Eve came along, thinking, "If you were the last man on the planet... oh you are." Cos she didn't know him from... him.

All the vicars fell silent. Not a laugh. You could have heard a cassock drop, and you'd have noticed it too. Had I offended them? No. They were all writing it down for their sermons. Thanks vicars! "Thou shalt not steal" – that includes jokes.

There's perhaps a stereotype that Christians are a miserable lot, which is odd, since it's a faith of joy and love. I know Muslim comedians who do mosque gigs, and Jewish comics with shows for synagogues. In an ideal world, we'd all be mingling together at comedy clubs, but I know some churchgoers think the comedy circuit is all sex, drugs and rock 'n' roll – which is nonsense... I've not heard a rock 'n' roll joke for years.

I'd love for the general world to see that people of faith are just people too, who laugh. Yes we're irrational, and we love it. But we're not going to shove the Scriptures down your throat and shout "Repent!" Because to be honest, you can't repent out loud with a Bible lodged in your gullet. Good people of faith want to serve the community, shine a light on the world, and generally be nice. And people of faith... it's good to laugh a little! Embrace culture. Get to a comedy club. Laugh and the world laughs with you. Unless they're vicars, in which case they're writing it down for their sermons.

Sometimes of course, those making us laugh are hurting most of all. So I'm dedicating this Pause For Thought to the ultimate court jester of our times: Robin Williams.
The Overall Most Popular Tracks
Most added tracks from this show