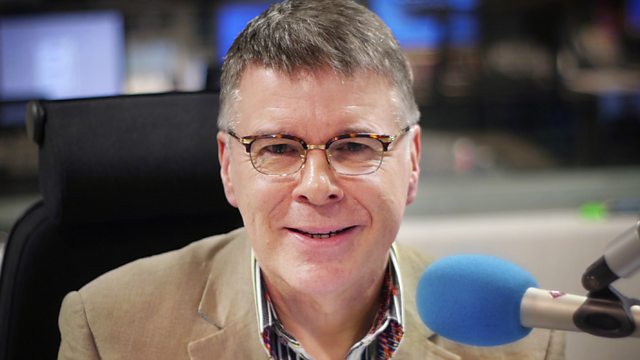 Còmhla ri Iain Mac'ille Mhìcheil
Dà uair a thìde de cheòl air leth agus còmhradh inntinneach cuide ri Iain Mac 'ille Mhìcheil, a' craoladh beò à stiùdio a' BhBC ann an Glaschu. Bidh Iain a' cur fàilte an t-seachdain-sa air Mark Wringe, òradaiche agus stiùiriche cùrsa aig Sabhal Mòr Ostaig. Tha luchd-èisteachd Radio nan Gàidheal cuideachd eòlach air Mark mar an neach-aithris air an t-sreath Leugh an Leabhar. Chuir Mark seachad òige ann an Grimsby. B'ann san Oilthigh ann an Dun Èideann a ghabh e ùidh mhòr ann an cànain, leithid Rusanais, agus mu dheireadh rinn e ceum ann an Ceiltais. Bha e ochd bliadhna deug ann an Eirinn, ag obair aig Oilthigh Ghallaibh, mus d'thàinig e gu Sabhal Mòr Ostaig ann an 1997. Gach mìos, cluinnear Mark agus diofar aoighean a' beachdachadh air litreachas agus taghadh de leabhraichean ann a Leugh an Leabhar. Tha Mark dèidheil air siubhal, agus diofar cheòl gu h-àraid opera agus Gàidhlig. Cluinnear ceithir de na roghainnean ciùil pearsanta aige, agus a bharrachd air seanchas Mark, bidh ceòl na phailteas aig Iain dhuinn - eadar Americana, folk, ceòl Ceilteach is Country & Western, le seann òrain agus feadhainn a tha buileach ùr air an clàradh.
Two hours of chat and music with John Carmichael broadcasting LIVE from the BBC studios in Glasgow. John welcomes Mark Wringe, college course leader at Sabhal Mòr Ostaig. He is also well known as the regular presenter on the book review show on Radio nan Gàidheal, Leugh an Leabhar. Brought up in Grimbsy, Mark also spent 18 years in Ireland. He enjoys travelling and music especially Opera and Gaelic songs. Tonight, he chooses his favourite four pieces of music and John also presents an exceptional array of music including Americana, folk, Celtic and country and western. Stand by for some old classics and newly released songs.
Last on