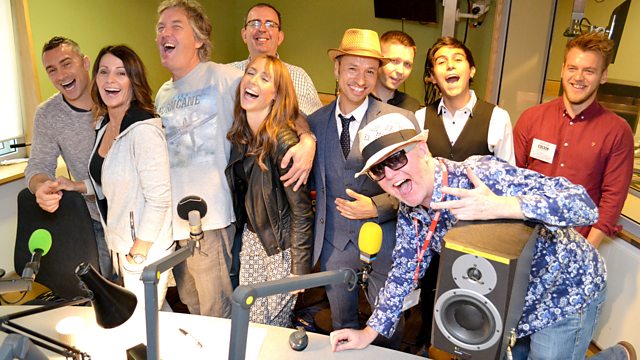 Sir Michael Caine, Alex Jones, Nadia Comaneci, Sebastian Stella and Si Cranstoun
Chris gets that Friday feeling going with iconic British actor Sir Michael Caine, stars of the BBC's new acrobatic entertainment show 'Tumble': Alex Jones, Nadia Comaneci, and Sebastian Stella. Plus, super singer/songwriter Si Cranstoun plays live in the studio.
Last on
Pause For Thought
From Rev'd Richard Coles, cleric and broadcaster:
A recent survey showed that vicars have one of the highest levels of job satisfaction in Britain – good news – but that bare statistic fails to capture the downsides of this life, like having to wear black in midsummer, people expecting you to do something when it all goes pear-shaped on public transport, making strangers feel guilty.
I would add to these trying to buy a car. This week I turned up in my dog collar to test drive a modest estatecar, suitable to my station in life (too lazy for gears, and with room for three dachshunds and a George III tallboy).
The salesman who looked after us was unfailingly polite and professional, but I steeled myself for the look of disappointment that would follow when I said, "just the basic spec, please". If he felt disappointed he didn't show it. What he did show me, as he cunningly led me through the showroom, was the top of the range model, glossy and black, two turbocharged litres crammed under its sleek bonnet, its interior clad in softest hide smelling of Alan Sugar. "And this one?" I croaked… By the time he'd finished, I had in my mind sold the church silver to make it mine, all mine, because I'M WORTH IT!
…and at that moment I remembered the words of Jesus; "what does it profit a man if he gains the whole world but loses his soul?" A moment's satisfaction, I guess; perhaps the more lasting pleasure of going about in a machine that does its job beautifully well; but is it really suitable to turn up in a funeral cortege driving a growling V6, number plate RIP 1?
No, I concluded, and turned away from the gleaming beast in the showroom and configured something vicarish instead (with one concession to the devil – the dogs get cup holders)