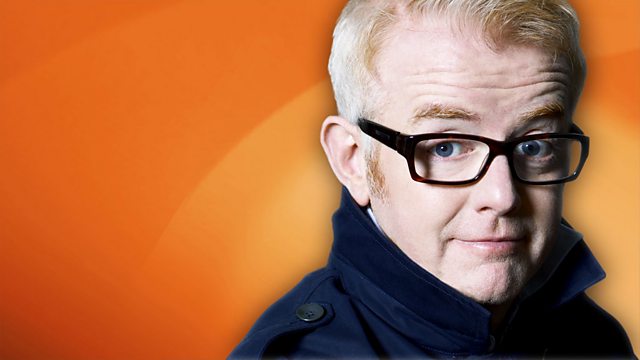 The Great British Bake Off begins!
It's a 'Bake Off' bonanza as master baker Paul Hollywood joins Chris on the phone to talk about the new series of the Great British Bake Off...
Cool Kaitlin from the Isle of Wight tells us all about her very first time in London, where she got to see the Crown Jewels, Big Ben, and the beautiful ceramic poppies at the Tower of London...
Our Mystery Guest takes us behind the scenes of the BBC as she is the corporation's top tour guide, Louisa Ferrari...
And after Chris heard a delightful documentary about auto-tuning tendencies in music, our Top Tenuous takes us to your desperate claims the fame of electronic hits!
Today's show is dedicated to anyone who regularly wakes up before their alarm (which is so annoying)...
And today's show is entitled: creativity can always benefit from technology, even Chopin would have struggled without his sustain pedal!
Last on
Pause For Thought
From comedian & writer Paul Kerensa:
Delighted to be here for my pausing debut with you – long time listener, first time pauser. Mum's listening in at home, and my dad's listening... in hospital. If you're wondering what he's in for: about a day and a half.
It struck me that almost every news story links back to hospital. The after-effects in Gaza, the terrifying Ebola spread, First World War remembrances. When the journalists leave these stories, doctors and nurses stay with them.
I've been in and out of hospitals my entire life. I was born with this rare condition, bladder exstrophy, meaning I was born with inside bits outside. After my last op, I had morphine, with this little button they give you so you can top it up yourself. Trouble is, they never tell you it adds morphine. I honestly thought I was calling the nurse. Clicking away, thinking, "She's ignoring me. I'm in pain! Actually not so bad any more. Just a cup of tea when you're ready, for me and my unicorn friend here...", because you start to see things. Holding this button, I was convinced I was a weather presenter clicking onto the next map. Fellow in the next bed had one as well – we played Scalextric for ages on a track that wasn't even there.
On every ward I've stayed on, there are patients visited – with a bunch of grapes, balloons or relatives – and those not visited. My belief is that God's with every patient, and he's not bound by visiting hours, though he may need us to let him in. I said marriage vows a few years back, and I like to think that God made those vows first, to us. He has us and holds us, in sickness, as well as health, if we're richer or poorer. Not till death do us part – but I think beyond it. He'll stand by us, whether or not we stand by him.
So all those in hospital beds: you're in someone's caring hands – whether you think they belong to a loving creator, or those amazing unsung medics working in warzones, or up against the strongest of viral strains, or looking after my dad in Guildford. You're in good hands, while in your hands, you might have got that clicky thing making you think you're a weather presenter.
Today's Most Popular Tracks
Most added tracks from this show