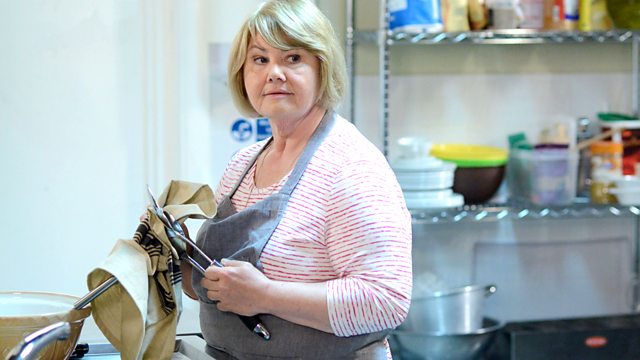 31/07/2014
Dean's horrified to find Blades has been broken into and the weed gone. Aunt Babe stops him going after Shirley - she'll deal with her. Later, the Carters are surprised to find Aunt Babe busy in the Vic kitchen, claiming she's changed her mind about Mick's job offer and is cooking dishes for the new menu. Tina's still moping that Tosh won't talk to her. Shirley arrives at Blades, tells an outraged Dean she took the weed for his sake, and asks him to attend the family dinner. Later, Tosh goes to the park in response to a text from Tina, and is surprised to find Aunt Babe waiting. Babe remarks she knew a lot of stubborn, lonely women like Tosh in the merchant navy, but knows Tosh loves Tina and invites her to the family meal. Tina's delighted when Tosh arrives for dinner. Tosh hugs Tina but insists Tina must never deceive her again. Babe is surprised that Shirley's not run; Shirley insists if Babe is going to tell Mick the truth she wants to be there. When Dean arrives, Shirley suddenly falters. She's about to bolt when Aunt Babe reveals she has an announcement to make after pudding. In the kitchen, Shirley pleads with Babe, protesting she was protecting Dean like Babe taught her – she's the only real mum she ever had. Babe admits she knows it broke Shirley's heart to give up Mick, but thinks Shirley wouldn't have known how to mother him. Shirley pleads Babe's the only person who knows what she's been through, but Babe remains unmoved. Back at the table, Tosh asks Tina what happened to their mum. Babe says she hasn't heard from Sylvie for years. Babe makes her announcement; to Shirley's relief, she merely thanks the Carters for welcoming her after she's lived alone for so long. Later, Dean thinks that Babe's let Shirley get away with it. Aunt Babe defends Shirley. Later, Nancy's amused that Lee stole Aunt Babe's trifle. Babe recalls Mick once stole a Christmas cake and got back at him by making him his own special cakes which kept him running to the toilet - revenge is something to be savoured. Later, Aunt Babe arrives home. Pouring a bottle of bitter into two half glasses, she calls into the living room that Lady Di sends her love – Aunt Babe doesn't live alone after all… C/H
Carol wakes in hospital, groggy and sore. At the Butchers', Charlie treats the family to a pancake breakfast. Liam reveals he's getting a caution from the police for possession. Bianca's grateful that Charlie's paid off her debt. Dot plans to visit Carol later, to Charlie's alarm. In hospital, Carol informs the girls the operation was a success. Bianca informs her Charlie's taking care of the family. At the Butchers', Liam's frustrated when he burns dinner. Charlie tells Dot he won't be able to attend her centenary memorial, lying he has to go away for work. In hospital, the chaplain calls to see Carol. Carol seeks his advice on lying; he makes Carol consider that people often lie to be kind. Meanwhile, Charlie's helped Liam make the family dinner. Tiffany asks Charlie to take Carol her trifle. In hospital, Dot tells Carol that Charlie's been pulling the family together but is going away for work. Carol's surprised to see Charlie, who insists he wanted to be there for Dot. Carol makes a decision and tells Charlie her family clearly love him - it would be a shame if he had to go away. Relieved, Charlie thinks he can stick around after all.
Sharon insists on cooking a family meal and tells Roxy to invite Aleks, claiming she's grateful for everyone's support. Over dinner, Phil's pleased when Sharon chats brightly about the wedding plans. After dinner, Phil moves in for a kiss. Sharon stiffens, and suggests waiting until their wedding night. When Phil's worried that she's still too fragile, Sharon grits her teeth and leads him upstairs.
Lee's worried that he's done something wrong after Whitney failed to meet him. Whitney explains her family need her after Carol's operation. In the Square gardens, Liam's despairing that he's burned the family's dinner; Whitney's touched to overhear Lee advising him that if you love someone, you do whatever it takes to makes amends. Liam's delighted when Lee calls round with a trifle nicked from Aunt Babe for him to pass off on his own. Whitney agrees they can try again but must keep it a secret.
Last on
Credits
| Role | Contributor |
| --- | --- |
| Executive Producer | Dominic Treadwell-Collins |
| Director | Audrey Cooke |
| Writer | Pete Lawson |
| Stan Carter | Timothy West |
| Mick Carter | Danny Dyer |
| Babe Smith | Annette Badland |
| Linda Carter | Kellie Bright |
| Dean Wicks | Matt Di Angelo |
| Shirley Carter | Linda Henry |
| Tina Carter | Luisa Bradshaw-White |
| Fiona 'Tosh' Mackintosh | Rebecca Scroggs |
| Lee Carter | Danny-Boy Hatchard |
| Nancy Carter | Maddy Hill |
| Whitney Dean | Shona McGarty |
| Liam Butcher | James Forde |
| Bianca Butcher | Patsy Palmer |
| Carol Jackson | Lindsey Coulson |
| Sonia Fowler | Natalie Cassidy |
| Phil Mitchell | Steve McFadden |
| Sharon Rickman | Letitia Dean |
| Roxy Mitchell | Rita Simons |
| Aleks Shirovs | Kristian Kiehling |
| Charlie Cotton | Declan Bennett |
| Dot Branning | June Brown |
| Rebecca Fowler | Jasmine Armfield |
| Dennis Rickman | Harry Hickles |
| Tiffany Butcher | Maisie Smith |
| Reverend Chris Skinner | Mark Letheren |