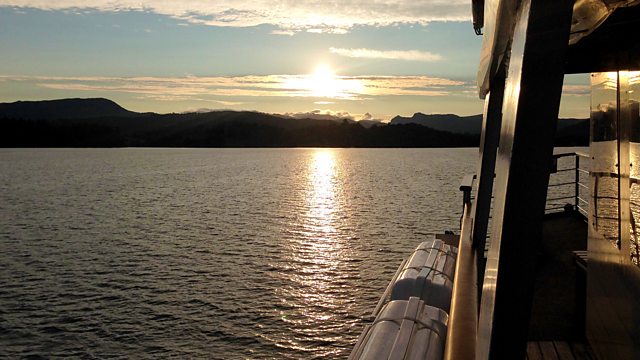 Windermere
Listen in pop-out player
Eric Robson chairs a special edition of Gardeners' Question Time from Windermere. Joining him aboard the ferry to answer passenger questions are Bob Flowerdew, Pippa Greenwood and Bunny Guinness.
This week's programme features the National Council for the Conservation of Plants and Gardens. More information can be found on their website: www.nccpg.com/
Produced by Howard Shannon
Assistant Producer: Darby Dorras
A Somethin' Else Production for BBC Radio 4
This week's questions and answers:
Q. Is deadheading really necessary?
A. It depends on what you're growing. It's worthwhile for summer bedding but when it comes to shrubs, it's probably not worth it. Deadheading does help to clean up the appearance of your plants though.
Q. Can we fill the dips and hollows in our lawn with soil and grass seed?
A. Where you have bumps or dips, make a slit, peel back the turf, level the soil and lay the turf back down again. If you want to start again, put a layer of topsoil over the whole thing and plant grass seed.
Q. I have an enormous hedge that I trimmed recently. A third of it has now died. What went wrong?
A. It looks like it has suffered from disease, perhaps seiridium canker. If this is the case, you must cut out all the diseased branches. However, this might also be due to drought or waterlogging.
Q. Can the panel recommend some colourful shrubs to plant on a very shady side of the house?
A. Paniculata hydrangeas will tolerate shade. One called Limelight is particularly nice. Try hardy varieties of Roses such as May Flower. Lilac could also work. Mahonia has coloured leaves and bright yellow flowers and it does well in the shade. Climbing Tropaeolum Speciosum has attractive foliage and bright flowers. Clematis will sprinkle colour through the other plants.
Q. Do the panel have any top tips for starting an allotment.
A. Get rid of the weeds. Don't be overambitious - stick with six of your favourite things. Start with plants rather than seeds the first year. Try raised beds and mini greenhouses. Try to work the allotment throughout the year.
Q. How do we deal with the invasion of the Himalayan balsam and prevent it in future years?
A. Cut it down before it goes to seed. Try glyphosate weed killer. Be careful where you apply this, particularly if it's near water. It's an easy weed to uproot, so this might be a more ecologically sound way of dealing with the problem. It also makes brilliant compost.
Q. We have large-leaved Rhododendrons that are ten years old and they still haven't flowered. What is going on?
A. It sounds like moisture levels are low and the shade might be too dense. Get more light in and be sure to keep the plants moist and you should get some flowers.
Q. Which native wildflowers would the panel recommend planting?
A. Campanula (Harebell), Wild Orchids which can be sewn in plugs, Yellow Rattle can be planted to prevent the grass from taking over and Wild Chicory and Campion flowers are lovely.
Q. Can the panel recommend a potted plant for the roof of my boat?
A. In the summer, plant rows of dwarf Sun Flowers. A stretch of wild flower meadow would be nice. Trailing Pelegoniums or Balcony Geraniums could work as would House Leeks and a Nasturtium variety known as Empress of India.
Last on
Five gardening tips from Henry VIII