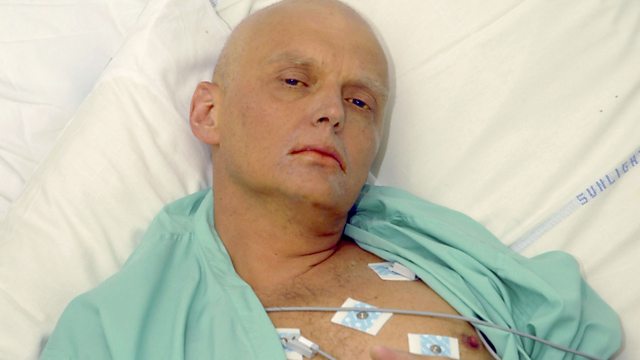 Litvinenko: The Miniature Nuclear Attack
Listen in pop-out player
It was a death in Britain like no other seen in living memory.
The gaunt and agonised face of the former Russian security service officer, Alexander Litvinenko, stared out of television screens and newspaper front pages in November 2006 as his painful end approached in London's University College Hospital. His poisoning by a radioactive isotope was a bizarre death. It baffled the experts and transfixed a horrified nation.
Nearly eight years on from his death, Litvinenko's relatives - as well as lawyers, scientists, diplomats, politicians and the public at large - are still waiting to find out how this British citizen met his end in such an alarming and public way. After patient but unyielding pressure from his widow, Marina, and a High Court ruling earlier this year, the Home Secretary finally accepted in July that the inquest into the death needed to be replaced with a public inquiry. Under the senior judge, Sir Robert Owen, it will probe aspects of the case which the inquest was unable to scrutinise.
Peter Marshall reported on the Litvinenko story as it first unfolded. Now, he speaks to Marina Litvinenko about the questions she thinks should lie at the centre of Sir Robert's inquiry and what she wants it to achieve. He also speaks to lawyers, scientific and security experts about the unusual life and death of the former security officer in Russia's FSB - the successor body to the Soviet-era KGB.
Marshall discovers how far Alexander Litvinenko's decision to flee to Britain, the special work he undertook and the enemies he had all affected how he died. And he questions how far the Russian state and its president, Vladimir Putin - already under pressure over Ukraine and the downing of Malaysia Airlines flight MH17 - should be under examination too.
Last on
Featured in...
From police complaints to unsolved murders: The Report investigates all areas of the law