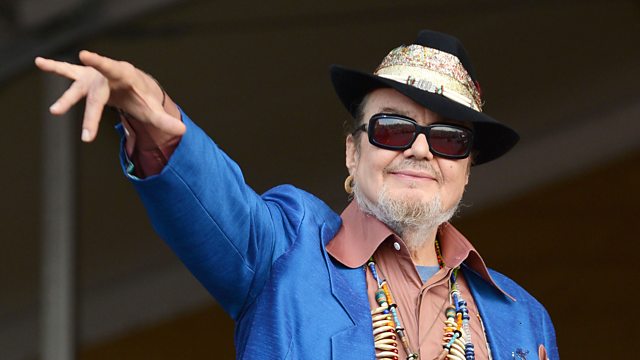 Dr John
He's been known as Dr. Creaux and Dr Night Tripper, but the man born as Malcolm John "Mac" Rebennack, Jr is best known by the stage name Dr. John and stands as one of the more remarkable figures to emerge from America.
Now 73, he stands a witness to the very birth of popular music - as a child he sneaked into recording sessions by Little Richard at the studio in New Orleans his father worked in. He soon became a leading figure in the 50s New Orleans R&B scene, firstly as a guitarist then keyboardist (after one of his fingers was shot off during a fight) going onto play on classic recordings by Professor Longhair, Frankie Ford, and Joe Tex - all of which he talks about in this very rare interview with Matt Everitt
Mac also recalls how his career developed, as he became a hugely respected songwriter with his 1968 album Gris Gris - a record steeped in the sound of New Orleans blended with voodoo imagery and psychedelic sonics which defined a unique sound and potent mysterious image that continues to surround him this day. He also discusses his work with Sonny and Cher, Van Morrison, Aretha Franklin and playing on The Rolling Stones' "Exile On Main St." as well as featuring The Band's classic film The Last Dance.
He also covers his breakthrough 1973 hit, 'In the Right Place', working with Spiritualized, Keith Richards, his acclaimed recent album Locked Down recorded with The Black Keys' Dan Auerbach.
Last on