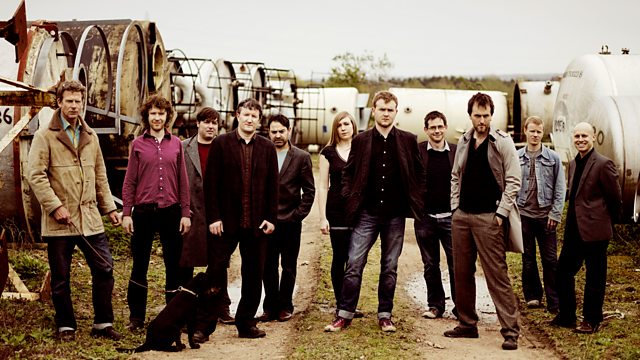 Commonwealth Connections Final Concert - BBC at the Quay
From BBC at the Quay in Glasgow, the culmination of World on 3's 35 part Commonwealth Connections series. Lopa Kothari presents with a concert of bands from England, Northern Ireland, Scotland and Wales. Edinburgh-based Shooglenifty, originators of 'acid-croft', mix contemporary styles with Celtic folk; 9 Bach, whose name can be roughly translated as 'loveable grandmother', are fronted by the Welsh vocals of Lisa Jen; uilleann pipes player Jarlath Henderson comes from Dungannon, County Tyrone - he performs with Scottish bagpiper Ross Ainslie; and following the final Commonwealth Connections Heritage Track from Belize, England's Bellowhead bring their big brassy sound to the BBC's stage by the River Clyde.
HERITAGE TRACK- BELIZE
The Hon. Dolores Balderamos Garcia is a politician, lawyer and broadcaster. The only woman of the 31 members of Belize's House of Representatives, she is particularly interested in improving the rights of women and children and in supporting those living with HIV and AIDS . Before she became so involved in politics she hosted her own jazz show on the radio and owns an enormous jazz collection of well over 1,000 CDs. Here, she chooses the music of the Lord Rhaburn Combo to express her deep love of the close-knit communities of Belize and to give us a sense of the Belizean zest for life.
World on 3 is part of the BBC at the Quay, the BBC's cultural celebration running alongside the Glasgow 2014 Commonwealth Games. The pop-up festival site is outside BBC Scotland's headquarters at Pacific Quay on the banks of the Clyde.
Last on
Seven pioneering figures in world music
BBC Introducing on World on 3