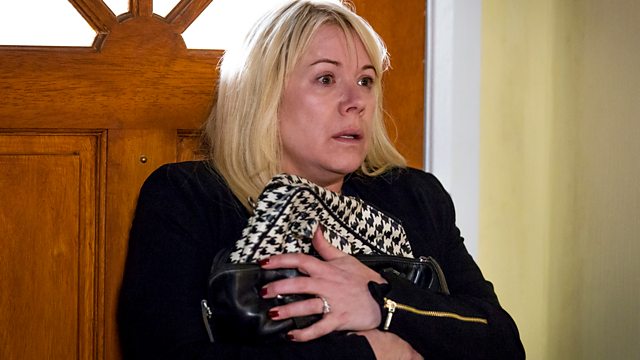 24/07/2014
In the middle of the night, Linda lies wide awake, unable to get the image of seeing the gun in Sharon's bedroom out of her mind. When Linda ignores a call from Sharon, Mick assumes that the pair have fallen out. Linda confesses to Mick that Sharon needs help but decides not to tell him about the gun, and instead covers, saying it's because Sharon won't take her medication for her anxiety. Over at Phil's, Dennis begs Sharon to take him to school but she tells him that she doesn't feel well enough.
Phil takes Dennis to the Minute Mart on the way to school – where he sees Shirley, and assures her that Sharon is getting better. Later, Shirley passes this on to Mick and is surprised when Mick informs her that actually, Sharon isn't being honest – Phil assumes she's on pills when she isn't. Linda heads round to see Sharon – it's initially awkward as Linda challenges Sharon about the gun. Sharon admits that Phil doesn't know about it and assures Linda that she'd never use it. Linda reminds Sharon that it's not safe having a gun in the house with Dennis about. Sharon breaks down on Linda, feeling like a terrible mum.
Sharon pointedly assures Linda that she will get rid of the gun; today. When Sharon plucks up the courage to leave the house with the gun, she overhears Shirley telling Phil about Sharon not taking her pills. As the conversation continues, Shirley points out that Sharon's attack was Phil's doing – and the pair hear footsteps moving away from the back gate. Back inside the house, Sharon is a distraught – she heard everything...
Tina is disappointed when Aunt Babe arrives with her next lot of gear in brownie form. Babe reassures Tina that it's the best way to keep under the radar – she doesn't want to put the business at risk. Tina relents and agrees that they should be a good sell.
Carol and Bianca are up early, altering Tiffany's leaver's disco dress for her. Tiffany is ecstatic with how the dress has turned out. Lee turns up at the Butcher's and tells Whitney that he was hoping she would skip work to spend time with him. Whitney plays hard to get, much to Bianca's amusement. Carol tells Whitney that life is too short to play games – if she likes him, she should go for it. Liam walks Tiffany and Morgan to school. En route, Tiffany remembers that she was meant to bring cakes in for her leaver's party, but that Bianca was too stressed about Carol's operation to remember.
Tiffany is gutted – her perfect day is ruined. Liam tells the kids to head on whilst he tries to sort something and heads into the café for inspiration. Whilst a busy Tina is away from the till he spies her hash brownies in a Tupperware and takes them, before catching up with Tiffany and handing over the brownies. Tina panics when she realises that the brownies are missing, especially when Babe claims to know nothing about it. Whitney finds Lee in Walford Park who suggests they could head into Camden for a gig. Lee confesses to Whitney just how much he likes her, and the pair end up sharing a kiss. At school, Tiffany hands over the brownies to her head teacher and agrees when he asks whether they were made by her mum.
As he takes a sniff, he is shocked to smell weed. Bianca confesses to Kat how concerned she is about Carol's operation. Kat suggests her taking the day off and spending it with Carol. Bianca arrives at the café and takes Carol home with her. Whilst they drink wine, they receive a call from Tiffany's school to head there, and are seated in the head teacher's office. Carol and Bianca are shocked when he purports that Bianca sent Tiffany to school with hash brownies. He tells them that Tiffany must stay with another family member that night and that he is going to have to inform social services.
Denise leaves a message on Anthony's voicemail - she empathises that it must be hard for him that Patrick didn't recognise him, but assures him that Patrick would like to see him again. She and Ian visit Patrick in hospital. Denise is fraught, whilst Ian is anxious of his secret coming out and suggests them not needing to be at the hospital so much. Masood heads to the hospital and confesses to Denise that he saw Patrick acting strangely in the café on the day of his stroke; he feels he should have mentioned something. Masood offers to keep Patrick company for a while so that Denise can go home and rest – much to Ian's relief.
Last on
Credits
| Role | Contributor |
| --- | --- |
| Executive Producer | Dominic Treadwell-Collins |
| Director | Claire Winyard |
| Writer | Laura Poliakoff |
| Sharon Rickman | Letitia Dean |
| Phil Mitchell | Steve McFadden |
| Shirley Carter | Linda Henry |
| Linda Carter | Kellie Bright |
| Mick Carter | Danny Dyer |
| Lee Carter | Danny-Boy Hatchard |
| Whitney Dean | Shona McGarty |
| Bianca Butcher | Patsy Palmer |
| Carol Jackson | Lindsey Coulson |
| Liam Butcher | James Forde |
| Tina Carter | Luisa Bradshaw-White |
| Babe Smith | Annette Badland |
| Ian Beale | Adam Woodyatt |
| Denise Fox | Diane Parish |
| Patrick Trueman | Rudolph Walker |
| Masood Ahmed | Nitin Ganatra |
| Shabnam Masood | Rakhee Thakrar |
| Kat Moon | Jessie Wallace |
| Dennis Rickman | Harry Hickles |
| Morgan Butcher | Devon Higgs |
| Tiffany Butcher | Maisie Smith |
| Simon Ackroyd | Alex Avery |