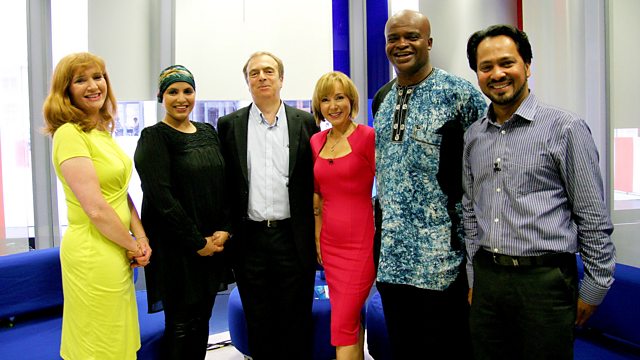 Sian Williams gets to the heart and soul of the big stories of the week, with guests in the studio and other contributors from a live roaming camera.
Last on
Does having women leaders matter?
This week the Church of England has voted to allow women to become bishops for the first time in its history. It comes more than 20 years after women were first allowed to become priests. More than one in five priests in the church are now female.
In the government reshuffle, there were high-profile promotions for Nicky Morgan and Liz Truss as secretaries of state, with other elevations bringing the number of women attending Cabinet meetings to eight. It was dismissed as tokenism by some critics.
But Employment Minister Esther McVey told the BBC the success of "high-achieving" female politicians would inspire women across the country. What's your view?

You can have your say by voting on the question now online or via SMS during the live show: Does having women leaders matter?
*Please note that we've changed the wording of the vote from the original question (Do women need positive discrimination to succeed?) to the current one*
This week's panel
Joining Sian Williams in the studio this Sunday are: 
Peter Hitchens: Columnist, The Mail on Sunday
Saleyha Ahsan: A&E doctor and presenter
Angela Epstein: Freelance Journalist
Ajmal Masroor: Imam and writer
Also on the programme...
Israel and the Palestinians
This week also saw thousands of Israeli troops moved into parts of Gaza backed by tanks and artillery fire, as fighting continued between Israel and Hamas. The figures for fatalities keep rising, and thousands are already displaced from their homes. An Egypt mediated ceasefire did not work, so can a peaceful solution be found?
Kriss Akabusi
He went from the Army to athlete, from finding God, to losing his faith in organised religion; and from an abandoned child to a motivational speaker. 
He has won 10 medals for Britain and England as a record breaking hurdler and sprinter. As the Commonwealth Games comes to Britain, Kriss Akabusi joins Sian to talk about his remarkable life.   
What comes first: God or country?
The date of Ramadan this year means Muslims will have to abstain from food and water for up to 19 hours a day. Muslim athletes are facing the dilemma of whether or not to fast during the Commonwealth Games. Are such athletes putting their personal faith above that of the country and their team? Or should faith always come first?
Queens Baton Relay
Alison Walker is live in Glasgow, as the Queens Baton Relay makes its way to the host city of the Commonwealth Games.  Alison will capturing the spirit of the day as well as sampling people's views on the debates on the programme.
Credits
| Role | Contributor |
| --- | --- |
| Presenter | Sian Williams |