The Palme Assassination
In the first of the new series of Document, Gordon Corera travels to Stockholm to investigate theories about the 1986 assassination of Swedish Prime Minister Olof Palme.
He begins with newly-discovered documents written by the late novelist and investigator of the far-right, Stieg Larsson.
But the trail leads him to the role of various secret services, to questions about elements of the Stockholm police, to South African dirty tricks, and ultimately back to Britain, where he makes a surprising discovery.
Producer: Phil Tinline.
Last on
Gordon Corera in Stockholm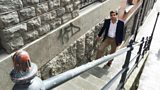 Document presenter Gordon Corera on Stockholm's Tunnelgatan steps – up which Olof Palme's assassin escaped.