Turks and Caicos Islands: The Pygmy Boa Constrictor
Listen in pop-out player
The Living World is a natural history strand that revels in rich encounter, immersion in the natural world and warm, enthusiastic story telling.
As boa constrictors go the Caicos Islands pygmy is unlikely to frighten even the most committed herpetophobe. It may belong to the same family as the South American anaconda, but at 25cm long the pygmy (or dwarf) boa is small enough to be gobbled up by house mice. The island of North Caicos 200 miles east of Cuba is one of the last large undeveloped islands in the Caribbean. Amongst the ruins of a slave plantation a healthy population of pygmy boa is watched over by local naturalist Bryan Naqqi Manco. At dusk in the crumbling plasterwork of the plantation well it's easy to spot the heads of these endemic snakes poking out, waiting patiently for baby frogs and tiny geckos to hop into range.
In the first of two programmes from the Turks and Caicos Islands Tom Heap joins Bryan for a night safari. In the tropical dry forest of Wade's Green Plantation they find tailless whip scorpions, contemplate the Milky Way and enjoy the astonishing chorus of katydids and tree frogs.
Presented by Tom Heap
Produced by Alasdair Cross.
Last on
Looking for the pygmy boa constrictor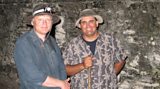 Tom Heap (L) with Bryan "Naqqi" Manco (R), a Senior Conservation Officer for the Turks & Caicos National Trust.
Professor Stephen Hawking on Black Holes