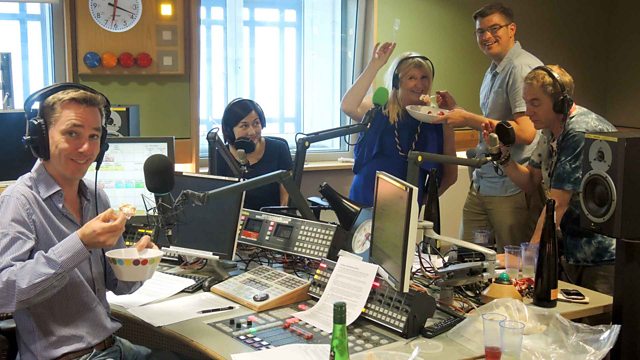 Ryan Tubridy sits in
Ryan Tubridy sits in for Simon with Resident Chef Nigel Barden dishing up a right Eton Mess! Plus Rebecca has money news and Chris Latcham all the latest sporting action.
Last on
Eton Mess with Strawberries & Elderflower
By Marcus Verberne from Roast – A very British Cookbook (Absolute Press)<?xml:namespace prefix = o ns = "urn:schemas-microsoft-com:office:office" />
Traditionally served with strawberries, it also works well with other fresh summer fruits.
Serves 4
Prep time 10 mins
Cooking time 5 mins
Ingredients
500g strawberries, hulled (Nigel also used raspberries & blackberries)
50g caster sugar
½ vanilla pod, seeds scraped
400ml whipping cream
50ml concentrated elderflower cordial
50g icing sugar
4 small meringue nests (see recipe below)
Method
Grade the strawberries into 2 even piles.  Save the best presentation strawberries for the mess, & place the remaining half of the strawberries into a saucepan with the caster sugar. 
Add a couple of tablespoons of water & cook over a medium heat.  As the strawberries cook they will release all their juices & boil down into a sauce. 
Push the sauce through a sieve using the back of a spoon, leaving only the seeds behind. 
Allow the strawberry sauce to cool in the fridge.
Put the vanilla seeds into a large bowl with the whipping cream, elderflower cordial & icing sugar. 
Using a whisk, whip the cream until it reaches the soft peak stage.  To check it's at the correct stage, when lifting out the whisk, the cream should stand to a peak with the tip just curling over.
Cut the remaining strawberries in half & if there are any large ones, into quarters.
To serve, crush the meringue nests into pieces & add to the whipped cream (see recipe below for meringues).
Add a good drizzle of strawberry sauce, & most of the halved strawberries (saving a few for decorating the top). 
Fold the mess together to create a rippled effect & spoon into your serving dishes.
Top with the reserved strawberries & a little more strawberry sauce.
For the meringue nests
Prep time 10 mins
Cooking time 2hrs
Ingredients
4 medium egg whites
1 tsp white wine vinegar
2 tsp boiling water
200g caster sugar
Method
Preheat the oven to 110C.
Whisk the egg whites with the vinegar & boiling water using an electric mixer for 1 minute. 
Add the sugar slowly, whisking constantly, then continue to whisk for 8-10 mins until stiff & shiny.
Line a baking sheet with greaseproof paper.
Spoon the meringue mix on to the sheet in blobs roughly the size of a lemon.
Space them well apart to allow them room to expand.
Dry out in the oven for 2 hours.  Allow to cool.
Meringues can be made well in advance & keep for ages in an airtight container.