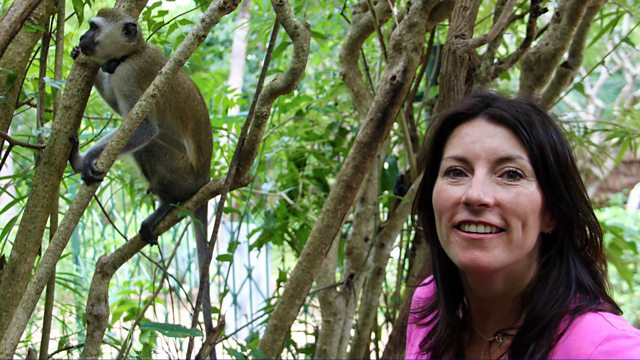 Lucy Cooke is a zoologist and animal explorer on a worldwide quest to crack the animal code. In programme two, Lucy meets up with scientists who are finding out how animals communicate with their friends and enemies - and even what they say to the neighbours.
Lucy's first stop is in Africa, where she meets the spotted hyena and discovers just how complex their calls are. She learns that they call for help when they're outnumbered and can count how many adversaries they face just by listening to their enemies' calls. Next, Lucy says hello to the chippy chickadee in California - Lucy learns that this little bird has a sophisticated alarm system that rates the level of threat depending on the predator they face.
In Kenya, Lucy uses an ornamental leopard, a wooden snake and a hawk-shaped kite to trick some vervet monkeys into warning each other of danger. When the monkeys' calls and behaviours are different for each fake predator it's clear they can identify the threat and issue each other with detailed escape plans. Lucy is introduced to the only bat in the world that can eavesdrop on frogs, and she witnesses the first recorded instance of animals communicating using infrared - a heated discussion between a Californian ground squirrel and a rattlesnake.
Next, Lucy wants to explore how animals communicate with their friends. She learns that horses recognise their friends and that dolphins don't just greet each other - they all have unique signatures or names. For the final leg of her journey, Lucy meets two incredible birds who talk to their neighbours - the fork-tailed drongo mimics other species to trick nearby meerkats into giving up their food. But it's the greater honeyguide's conversation with its human neighbours that Lucy finds particularly profound and moving.
Last on
More episodes
Next
You are at the last episode
Credits
| Role | Contributor |
| --- | --- |
| Presenter | Lucy Cooke |
| Executive Producer | Cate Hall |
| Director | Kim Maddever |