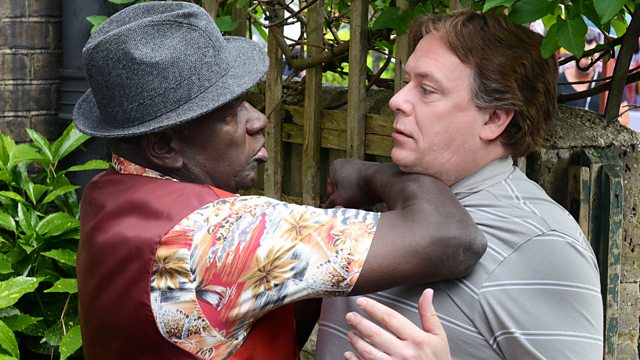 18/07/2014
When Denise notes 'R' calling Ian's mobile, Ian lies it's a supplier, then furiously rings Rainie, forbidding her to contact him. Patrick has a funny turn as he bends to collect the post, and anxiously checks his face in the mirror. In the café, Peter apologises for his outburst the previous evening. Ian admits he's been up all night reading wedding magazines, unable to sleep. At the Minute Mart, Shabnam notes Ian's throwing himself into wedding preparations, and insists Denise can't marry him out of pity.
Ian calls in, enthusing about a beach wedding, and Denise gently suggests pressing pause on their wedding plans in light of the recent news about Lucy's murder investigation. Later, Patrick guilt trips Denise into having lunch on his allotment; she soon realises Ian's talked him into speaking to her about the wedding. Patrick insists she needn't marry Ian just because he's in a bad place – he needs to know that she's happy. Denise claims she is. At Beales, Ian tells Peter he's not sure there'll be a wedding anymore. He's horrified when a wired Rainie arrives, demanding more cash. Ian throws a tenner at her, telling her to crawl away and die. She slinks out just as Denise arrives with Patrick. Denise agrees that the wedding's back on, on the condition she chooses the first dance.
While Ian hugs her, Denise's smile slips. Patrick approaches the doctor's surgery but bottles it. Heading home, he's shocked to recognise Rainie hammering on the Beales' front door, searching for Denise. Later, Denise and Ian are surprised to find Patrick waiting in the back yard, insisting he speak with Ian privately. Amused, Denise heads inside. Fuming, Patrick grabs Ian and pushes him up again the fence – he knows all about Ian's filthy little secret!
When Dennis claims he's ill, Sharon keeps him off school. She nervously checks the gun in her chest of drawers. Billy heads to the police station to give a formal statement. Phil pays Lola to cheer Sharon up with a beauty treatment. Jittery, Sharon snaps at Dennis for playing football in the house and tenses when Lola lets herself in, but agrees to a manicure. Lola urges Sharon not to rush back to work, enthusing about how well Roxy is managing The Albert. Later, Sharon's horrified to find Dennis rummaging in her chest of drawers and pulls him away, shaking him violently. Dennis bolts from the house.
Sharon feels awful but can't bear to leave the house to go after him. Lola's in the Arches fetching Phil and Jay when Shirley arrives with an upset Dennis. Phil hurriedly sends Dennis off with Lola as Shirley berates him – Sharon's a bag of nerves and it's Phil's fault. Meanwhile, Sharon moves the make-up bag containing the gun to her bedside table. Phil calls a doctor, who prescribes Sharon medication for her anxiety. Given her addictive past, Sharon's worried. Phil advises her to take the pills.
In the café, Lauren overhears Tosh's phone call from Jake – he's been released from prison. Later, a hooded Jake arrives at the flat to fetch his belongings. Tina wishes he'd stay but Jake explains he's breaking bail by being in Walford, and vows to stay sober from now on. He's surprised when Lauren arrives, desperate to apologise. Jake forgives Lauren, insisting she did him a favour – he would never be able to get Bella back if he was still drinking. Jake vows not to mess up being a dad, bids Lauren goodbye and leaves Walford.
Abi's touched when Jay calls round with the apology chocolates. Having moved back in, Lauren moans at Abi for using all the hot water. Once alone, Jay rounds on Max, revealing that he saw him kissing Emma. Max begs Jay not to tell Abi – he's only just got his girls back. Later, Jay promises to keep Max's secret for Abi's sake. Max claims he'll stop seeing Emma but then phones her to arrange another rendezvous.
Last on
Credits
| Role | Contributor |
| --- | --- |
| Patrick Trueman | Rudolph Walker |
| Ian Beale | Adam Woodyatt |
| Denise Fox | Diane Parish |
| Peter Beale | Ben Hardy |
| Lola Pearce | Danielle Harold |
| Jay Brown | Jamie Borthwick |
| Abi Branning | Lorna Fitzgerald |
| Lauren Branning | Jacqueline Jossa |
| Max Branning | Jake Wood |
| Jake Wood | Jamie Lomas |
| Billy Mitchell | Perry Fenwick |
| Phil Mitchell | Steve McFadden |
| Sharon Rickman | Letitia Dean |
| Shirley Carter | Linda Henry |
| Tina Carter | Luisa Bradshaw-White |
| Fiona 'Tosh' Mackintosh | Rebecca Scroggs |
| Shabnam Masood | Rakhee Thakrar |
| Masood Ahmed | Nitin Ganatra |
| Rainie Cross | Tanya Franks |
| Dennis Rickman | Harry Hickles |
| Dr Callow | Max Dowler |
| Executive Producer | Dominic Treadwell-Collins |
| Director | Rupert Such |
| Writer | Nick Fisher |