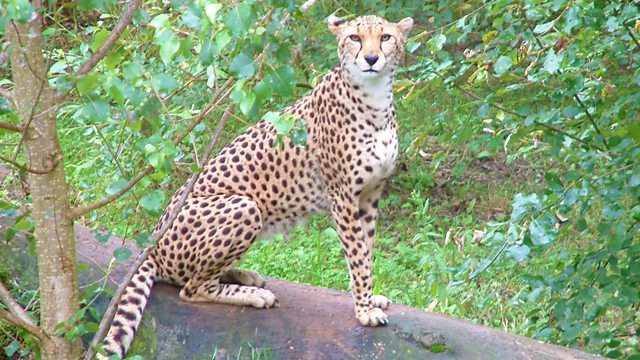 Chester Zoo
Listen in pop-out player
Eric Robson chairs the horticultural panel programme from Chester Zoo. Christine Walkden, Matt Biggs and Anne Swithinbank answer questions from the audience.
Produced by Howard Shannon
Assistant Producer: Darby Dorras
A Somethin' Else production for BBC Radio 4
This week's questions and answers:
Q. Why am I so unsuccessful growing Delphiniums and Hollyhocks due to slug damage when my neighbour is so successful? Is this due to differing microclimates?
A.Microclimates are incredibly local and your neighbour might be a bit more rigorous in his slug patrol.
Q. I put all my fruit and vegetable waste into a trench before I plant beans and this seems to work well. What benefits are my plants getting from this composting technique?
A. The plants are getting nutrients from the vegetable waste and the bacteria in the waste are helping to release nutrients from the soil. Some say this method of composting can be detrimental as it can affect the nitrogen levels in the soil, but generally it is very effective. You can also compost your old cotton and woollen clothes.
Q. Why has my potted Yellow Courgette developed blossom end rot?
A. Fluctuating temperatures can cause condensation, which can lead to rot. You can raise the pot on bricks to get the air circulating around the plant, but once the temperatures level out the issue should resolve itself.
Q. I think my Clematis has Clematis wilt, what can I do to save it?
A. This might not be a case of Clematis wilt, rather a case of slugs and snails. Hopefully the plant will produce new shoots, so cut the plant right down, look after the soil and keep an eye on slugs and snails. Don't put down too much feed. You could put a clay tile pipe over the stems to protect them.
Q. I've tried growing Scadoxus (Blood Lily) bulbs in pots with John Innes number two. I started them in the greenhouse in March, but they just haven't grown. What have I done wrong?
A. There is no clear reason. Perhaps this is due to the temperatures in which the bulbs were stored. It might be worth going back to the supplier and raising this issue.
Q. What plants could the panel recommend for a six-foot planter with trellis in a small yard? We are looking for something evergreen to provide all year round privacy.
A. You could go for a Trachelospermum Jasminoides (Star Jasmine), Clematis Macropetala or Clematis Alpina.
Q. Should I remove the Agapanthus plants that are growing near the foundations of my house?
A. It is unlikely that they will do any real damage to the house's foundations.
Q. How and when do we prune a Hydrangea?
A. If this is the Macrophylla Hydrangea, prune immediately after flowering or wait for the following spring when buds develop along the stems. If it's the Annabelle variety, you don't need to prune much, just remove any diseased branches. If you are looking to thin the plant, you can do so at any time over the period of three years, removing one third of the plant at a time.
Q. Any tips for a greenhouse novice?
A. Leaf Lettuce, Beetroot and Spinach can be grown as early as February and are fast growers. Put in a Peach tree. You can sow hardy winter Lettuces in August - Marvel of the Four Seasons and Black-Seeded Simpsons are good varieties. Rocket and Mizuna can also be grown for the winter, as can Physalis fruits. You can put in low raised beds. Interesting varieties of Tomatoes such as Sungold can be grown as early as July. Peppers and Chillies, French Beans and Amaranthus are good to grow in the greenhouse. It is worth keeping a diary to make a record of what grows well.
Last on
Seven things Prince Charles says you should do in the garden