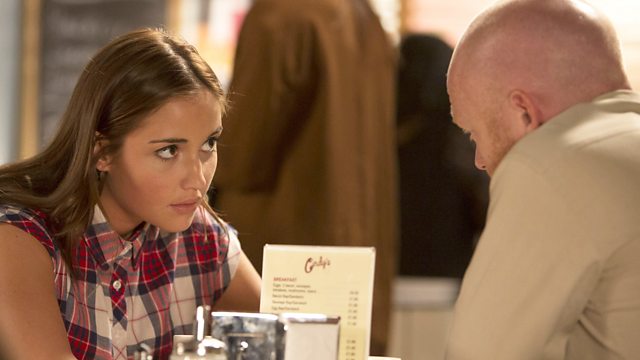 14/07/2014
Lee informs a surprised Billy he saw him with Lucy on the night she died. Billy pales and lets Lee, Tina and Tosh in, packing a suspicious Lola off with Lexi and Janet. Billy claims not to remember rowing with Lucy, then recalls they argued because Lucy didn't want to wait for chips. Tosh isn't convinced, especially as Billy's not informed the police. Billy's hurt that Tina would think him capable of murder and throws them out. Once they're gone, Billy grabs a bin bag; he's retrieving a plastic bag from the freezer when Lola returns with Pam Coker, who has a casserole for them. Billy makes an excuse and swiftly exits, to Lola's surprise.
At the Vic, the Carters discuss Billy; Nancy's adamant they go to the police but Lee's torn. Mick warns that the police will question why Lee's changed his story now. Meanwhile, Billy pales on seeing Emma Summerhayes on the Square, and hurries to Phil's house – he's in trouble. Worried, Lola phones Billy but gets no answer. Billy admits what really happened on Good Friday to Phil and Jay – Lucy caught him stealing fish from Beale's Plaice and threatened to tell Ian. Billy also reveals he had a key to Aleks' flat to run his electricity off their meter, and the Carters think he was involved in Lucy's murder. Phil heads to the Vic and spins the Carters a story, claiming Lucy tried to take money from the chip shop till on Good Friday – Billy panicked and lied. Lee's left in a quandary – is it worth upsetting Ian?
Billy bolts abruptly Phil's when Jay muses Billy shouldn't worry as his fingerprints won't be in the kitchen where Lucy's blood was found. In the Vic, Lee decides not to go the police. Tosh storms out, furious. In Aleks' flat, Billy's hurriedly wiping down kitchen surfaces when Tosh walks in. Billy claims he's returning their keys and legs it. Tosh returns to the Vic and insists now they must go to the police. Meanwhile, Phil rages at Billy for being so stupid; ashamed, Billy explains he stole food from their kitchen too. Phil phones Ritchie Scott as Lola enters.
In the Vic, Lee decides to tell the police; Linda persuades him to go tomorrow. At Phil's house, Lola's upset, adamant that she should've been earning money to help. At Billy's flat, Pam breaks a cup while babysitting Lexi and Janet. As she clears up, she's shocked to find a folder down the side of the fridge full of photos of Lucy. Meanwhile, Ritchie thinks Billy could be accused of framing Jake. Phil points out he wasn't the only one who had access to the spare key – Peter did too. Billy's horrified at Phil's suggestion but he insists Billy has no choice– it's him or Peter…
Max waits on Cora's doorstep to apologise to Lauren, although she shouts from the window he can stay out there all night. Max is leaving Emma a voicemail inviting her over when Lauren emerges; she agrees to give him five minutes to explain. In the café, Lauren bluntly asks Max why he slept with her best mate, just as Emma enters. Max is wary of Emma overhearing, but admits he took advantage of Lucy when she was vulnerable. Disgusted, Lauren recalls Max's past affairs, including sleeping with his son's girlfriend. Max pleads for one last chance. Lauren tentatively agrees, witnessed by Peter. Lauren's grateful when Peter understands that she's building bridges with Max. Later, Emma arrives – Max's surprised to see her after what she overheard. Emma insists it's not for her to judge, and kisses him passionately, ignoring a call on her mobile.
Peter asks Dean to give Lola a trial at Blades; Dean refuses and is surprised Peter's tying himself down to a girl like Lola with a child. Peter thinks Dean an idiot but is riled by his remark and avoids going home. Peter goes to the Vic with Lauren instead and laments he had plans to go travelling. On seeing Peter with Lauren, Dean gives him a wink - that's more like it.
Dean asks Linda to be a model at a Blades photo-shoot but she's unenthusiastic. Later, she apologises for being short with him, and repeats her request to keep quiet about her and Mick not being married. Dean hints that Linda owes him a favour in return. He's surprised to learn Linda used to be a model and convinces her to do the photo-shoot.
Last on
Credits
| Role | Contributor |
| --- | --- |
| Billy Mitchell | Perry Fenwick |
| Phil Mitchell | Steve McFadden |
| Sharon Rickman | Letitia Dean |
| Shirley Carter | Linda Henry |
| Dean Wicks | Matt Di Angelo |
| Tina Carter | Luisa Bradshaw-White |
| Fiona 'Tosh' Mackintosh | Rebecca Scroggs |
| Mick Carter | Danny Dyer |
| Nancy Carter | Maddy Hill |
| Lee Carter | Danny-Boy Hatchard |
| Linda Carter | Kellie Bright |
| Max Branning | Jake Wood |
| DC Emma Summerhayes | Anna Acton |
| Peter Beale | Ben Hardy |
| Lola Pearce | Danielle Harold |
| Jay Brown | Jamie Borthwick |
| Lauren Branning | Jacqueline Jossa |
| Pam Coker | Lin Blakley |
| Janet Mitchell | Grace |
| Ritchie Scott | Sian Webber |
| Executive Producer | Dominic Treadwell-Collins |
| Director | Rupert Such |
| Writer | Paul Quiney |