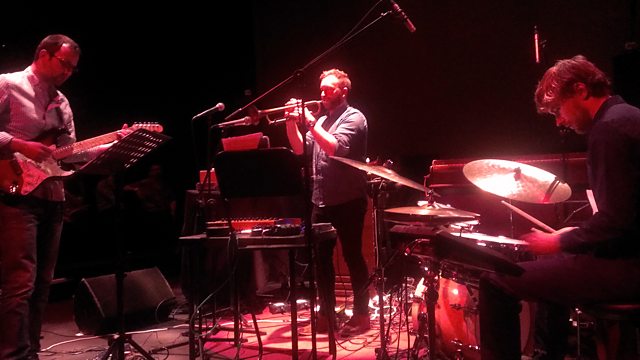 Loop Collective at Jazz in the Round
Jez Nelson presents three acts from the London-based Loop Collective at his monthly Jazz in the Round night.
Trumpeter Rory Simmons brings his trio Monocled Man featuring guitarist Chris Montague and drummer Jon Scott, in which fiery lines and hard-hitting post-rock grooves meet with expansive, brooding soundscapes. Keys player and electronics expert Dan Nicholls performs an intriguing solo set on a one-of-a-kind instrument - his self-made 'kalimba keyboard', an upsized and amplified thumb piano, manipulated through effects and processing. Plus we've time for some Wedding Music, the title of Kit Downes and Tom Challenger's organ and sax collaboration that explores the subtle nuances of improvised textures, here in the intimate setting of the Cockpit Theatre in Marylebone, London.
Presenter: Jez Nelson
Producer: Chris Elcombe
Last on