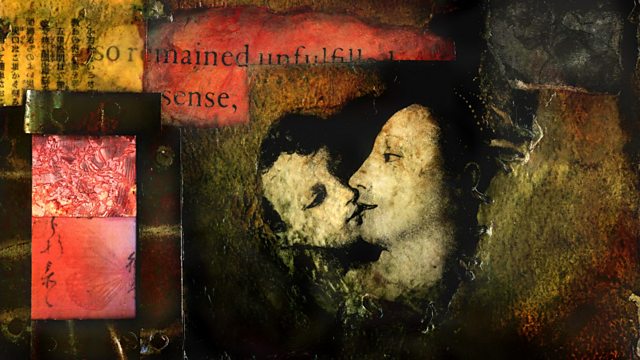 The Kiss
Pippa Nixon and Jonathan Cullen read poems and prose about kisses, from Shakespeare's famous scene in Romeo and Juliet to Fleur Adcock's poem on 'Kissing', and from Herrick's romantic kisses to Sylvia Plath's warning, 'Never try to trick me with a kiss'. There are many types of kisses: the innocent first kisses of a baby, kisses of affection, the first romantic kiss, ritual kisses and the kisses of betrayal.
Music includes Stravinsky's 'The Fairy's Kiss' and Irving Berlin's 'Kiss me Honey'.
Last on
Producer Note
Kissing is a universal part of life that is richly expressed in every culture.  This edition of Words and Music portrays many types of kisses, from the innocent first kiss of a baby for its parents to the awkward first romantic kiss; there are friendly kisses, playground kisses, affectionate kisses, slimy kisses, ritual kisses and the kisses of betrayal.
One thread that runs through the programme is the duet, which I use as a musical symbol of two people embraced in a kiss.  The programme begins light-heartedly with a 'Teasing Song', one of Bartok's 44 Duos for two violins, which sets up Bobbi Katz's wonderful image of feline kisses as an alarm clock first thing in the morning.  'I saw Esau kissing Kate' is an anonymous playground rhyme read and sung by Pippa Nixon and Jonathan Cullen.  It leads directly into Haydn's setting of Johann Georg Jacobi's poem Der erste Kuss beckoning 'liebe Chloe' for the first kiss that will bind them together.   The second duet of the programme, from Martinu's Madrigals for Violin and Viola, opens with a soft shimmering effect that fits perfectly under the rustling leaves at the end of Karl Shapiro's poem The Kiss (Eden Retold III) – the moment when 'they jumped up from the fourth caress and hid'.
Literature is full of kisses and the first that sprung to my mind was Shakespeare's scene when Romeo kisses Juliet 'by the book', which is accompanied in this programme by the love theme from Zeffirelli's soundtrack to the film Romeo and Juliet.  Another equally famous literary kiss is Rhett Butler's heady scene with Scarlett O'Hara in Gone with the Wind.  Dvorak's florid Quartettsatz complements the 'swimming giddiness' experienced by Scarlet as she realizes that she is kissing Rhett Butler back. 
From high romance to the prospect of a kiss being the only cheer in the cold world of Helen Hoyt's poem, 'The Office Building', which is accompanied by the measured, percussive sounds of John Cage's Sonata # 10 for prepared piano.  The only cheer being the prospect of a kiss is a theme that runs through the Dowland lute piece, Loth to Go, and Thomas Campion's poem 'Kisses'.  The mood of the programme lightens with Beth Tate's vintage recording of Berlin-Snyder's Kiss me my Honey, Kiss me, which is followed by the first of three short poems by Robert Herrick that I use in this programme, almost like short kisses in themselves. 
Chopin's Nocturne in C minor, Op.Posth, leads into the heavenly warm kiss of a child in Arthur Weir's poem, and then the third duet, a Romance by Poulenc for clarinet and bassoon, rocks gently out of the innocent kiss – the gift of an acorn button – of Peter Pan for Wendy and into the first poem in a sequence of more erotic kisses – Jo Shapcott's poem, 'Muse'.  The laid-back, slightly melancholic sound of Charlie Byrd's version of 'Prelude to a Kiss' is a perfect preamble to Kerrigan's poem, 'Elvis kissed me'.  And Herrick's revolting description of the slimy kiss is followed by Safri Duo's arrangement of a sarabande from Bach's English Suite No.4. 
Sylvia Plath warns readers not to trick her with a kiss, a misfortune which does fall upon the young man in Stravinsky's Le Baiser de la Fée after dancing with his fiancée by the mill.    The fiancée leaves the mill to put on her bridal gown and then the Fairy appears instead dressed in bridal guise.  She confuses the young man with her supernatural power and tricks him into leading her to the Land of the Eternal Dwelling. 
Perhaps the most notoriously deceitful kiss is that given to Jesus by Judas Iscariot in his moment of betrayal.  This reading from the Gospel of St Luke is accompanied by James Macmillan's austerely beautiful Kiss on Wood, which refers to the Good Friday custom of kissing the wood of the Crucifix after it is unveiled at the Good Friday Mass.  James Macmillan says that the piece can 'equally represent a gesture of love'. 
The programme ends with the last of the five duets - La Precipité for viola da gamba and theorbo by Saint-Colombe, Fleur Adcock's poem 'Kissing' and Charles Trenet's cheerful chanson Que Reste-t-il de nos Amours from the film Baisers Volés.
Elizabeth Arno (producer)