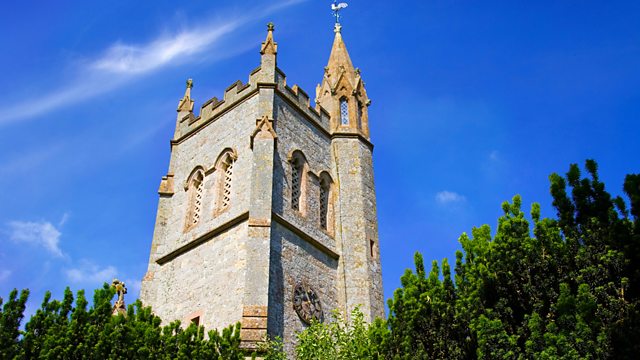 20/07/2014
Marking the Commonwealth Games from Gorbals Parish Church, Glasgow.
As tens of thousands of athletes and spectators start to descend on Glasgow close to the Church, the Minister, the Rev Ian Galloway, explores what it means to be a welcoming city and how the Games focus our minds on what kind of excellence we aim for.
With the Gorbals congregation and singers of Glasgow University Chapel Choir directed by James Grossmith, accompanied by Andrew Forbes.
Producer: Mo McCullough.
Last on
Gorbals Parish Church, Glasgow 20/07/2014
IAN
Good morning, and welcome to Glasgow, where all is now almost ready to host the Commonwealth Games, beginning on Wednesday just a few miles from here. Apart from the competition itself,  drawing participants from Commonwealth countries around the world, there are a huge number of events taking place across the city to ensure that, alongside the many thousands of visitors who will come, the people of Glasgow can celebrate the occasion.
Welcome especially this morning to Gorbals, a fast regenerating area just south of the city centre, standing on the banks of the River Clyde, and to Gorbals Parish Church, in its new home, built in 2011 to enable the church to be at the heart of the new life of this changing place.
We warmly invite you to worship with us this morning as, despite the escalating suffering in the Middle East, and the horrific loss of a civilian aircraft over Ukraine, we welcome the prospect of the peace-building Commonwealth Games, remember with thanks the work of the Commonwealth and pray for its people and for the city of Glasgow.
Glasgow also houses the mainland base of the Iona Community, and our opening words come from the Community's daily service.
Let us worship God:
The world belongs to God
ALL:    The earth and all its people
How good and how lovely it is
ALL:    To live together in unity
Love and faith come together
ALL:    Justice and peace join hands
If the Lord's disciples keep silent
ALL:    These stones would shout aloud
Lord, open our lips
ALL:    And our mouths shall proclaim your praise
MUSIC:   Come down O love divine (Tune: Down Ampney)
SUSAN:
Let us pray:
You are indeed the God, not only of nations,
but of planets, sun, moon and stars,
the God of all time and space.....
....and you are the God who makes a home with people.
In Jesus you have come among us,
bone of our bone, flesh of our flesh,
shown us your life in our life,
and having come,
through your Holy Spirit
you have stayed.
Even when we have turned our back on you,
you have not abandoned us....
always you present us with a new day,
a new possibility,
a new beginning
Here, today,
we want to renew
our sense of belonging
to the Commonwealth of nations
to your world and
to your purpose....
All too often
we find ourselves
caught up in anxiety,
worrying about the future,
seeing the worst in others, and in ourselves,
losing heart in the face of our own weakness.
It is only with you, and in you
that we can, in any full sense, be ourselves
so, we pray, breathe life into us now,
breathe warmth and light and laughter
into our tiredness
and fill us with your love....
 
MUSIC:  KYRIE (Ukrainian)  CH4 776
Have mercy on us, and
give us your peace in our hearts and minds,
and stir us to love and to serve
in Jesus's name,
as now we pray as he has taught us.....
Our Father in heaven,
hallowed be your name,
your kingdom come,
your will be done,
on earth as in heaven.
Give us today our daily bread.
Forgive us our sins
as we forgive those who sin against us.
Save us from the time of trial,
and deliver us from evil.
For the kingdom, the power,
and the glory are yours
now and for ever.
Amen.
IAN
We have with us today Noel Matthias, who has been working on Wevolution, an exciting Church of Scotland initiative that forges links between groups in Scotland and India, a Commonwealth country, which it hopes will enrich the lives of people struggling with poverty here.
NOEL
We found ourselves in India in January 2011 looking to answer a rather basic question: how do people in poverty in India cope with it without having the safety net that we have here in Scotland? We were in a country whose institutions have been deeply influenced by the British from the colonial era: the parliamentary system, the judiciary, the railways, the postal system, the education and the like. And here we were in this very country now learning and seeking answers from the Indian people!
I remember when I was growing up in India, I saw a lot of poverty and hunger around me.   As little and innocent as I was, I always wondered, why didn't the Government simply give currency-printing machines to every poor person?  But as I grew up and became a bit smarter – a little bit smarter, mind you – I understood that what we needed was a redistribution of opportunities, and even creating new ones for and by those in poverty. 
The trip was a transformative experience for the women from Glasgow. The extent and depth of the crushing poverty challenged the group immensely; it horrified many in the group often moving them to outrage and tears. But there was something else that was happening. Every single day, learning and spending time in the company of women in self-help groups, brought home to the group the incredible resolve and confidence of the women to overcome their circumstances on their own and together. And they were succeeding!
Small networks of women in poverty who collectively took upon themselves to turn their lives around. The movement began in the 1980s and now has nearly 8 million of these groups with over a 100 million women involved in them.
And the success was founded on two fundamental beliefs. Firstly, people, even those in poverty, usually have the aspirations and the resources within themselves to overcome their circumstances. And secondly, sustainable progress in society can be achieved when we are able to balance self-interest alongside the common good.
There was this unique realisation that their experience as women in Scotland and women from India was similar, and that if there was hope among the women in India then there was hope for the women in Scotland too! 
Who knows what spiritual riches await us here in Glasgow and the wider United Kingdom during the coming weeks, if we open our hearts to the people and stories we encounter, and listen lovingly to each other.
In a moment, singers from Glasgow University Chapel Choir will sing words by Kathy Galloway set to the tune 'Loch Lomond' - "Love is the welcome that comes from the heart"..  First, we hear from Elaine Reid, one of the women who travelled to India with WEvolution.
INSERT Elaine Reid, WEvolution
 
MUSIC: CHOIR – Love is the welcome that comes from the heart
Tune: Loch Lomond
NOEL:
Our reading this morning begins with an invitation from God to share in abundant life, and ends with a promise of great celebration, such as we hope the Commonwealth Games will bring to all associated with it in any way...Isaiah chapter 55.

 
FRANCES:  Isaiah 55: 1-13 
An Invitation to Abundant Life
55 The Lord says, everyone who thirsts,
   come to the waters;
and you that have no money,
   come, buy and eat!
Come, buy wine and milk
   without money and without price.
2 Why do you spend your money for that which is not bread,
   and your labour for that which does not satisfy?
Listen carefully to me, and eat what is good,
   and delight yourselves in rich food.
3 Incline your ear, and come to me;
   listen, so that you may live.
I will make with you an everlasting covenant,
   my steadfast, sure love for David.
4 See, I made him a witness to the peoples,
   a leader and commander for the peoples.
5 See, you shall call nations that you do not know,
   and nations that do not know you shall run to you,
because of the Lord your God, the Holy One of Israel,
   for he has glorified you.
12 For you shall go out in joy,
   and be led back in peace;
the mountains and the hills before you
   shall burst into song,
   and all the trees of the field shall clap their hands.
13 Instead of the thorn shall come up the cypress;
   instead of the brier shall come up the myrtle;
and it shall be to the Lord for a memorial,
   for an everlasting sign that shall not be cut off.

 
IAN:
At the moment when an athlete lines up for the start of their race, recognising that excellence is required from them, they are fully focused, with every fibre of their being prepared. They know what it's like to have to look deep down into themselves to find the resources they need, and to face not only their great potential but, sometimes, their doubts, fears and limitations.  Something of that heightened awareness, and the recognition that God is intimately present in our struggles and yearnings to be all we can, is conveyed in Bernadette Farrell's version of Psalm 139.....O God, you search me and you know me.....
MUSIC:  O God, you search me and you know me
(Psalm 139 set by Bernadette Farrell)
 
IAN:  REFLECTION            
St Paul, writing to the church in Corinth, says this:
FRANCES:
Do you not know that in a race the runners all compete, but only one receives the prize? Run in such a way that you may win it. Athletes exercise self control in all things; they do it to win a perishable wreath, but we an imperishable one."(9 v 24-25)
IAN:
The Commonwealth Games brings together 6500 athletes from 70 countries to take part in 17 sports over 11 days ..... Participants will come from Africa, from Asia, from Canada and the Caribbean and from the Pacific region as well as from - in Europe - Cyprus, Malta and the home nations in Britain.
The Commonwealth Games are often called the friendly games, and so it is fitting that Glasgow's reputation is partly for the friendliness of its people. Visitors to the games, should they stop any local and ask for directions, will get a reply to their request, and directions whether or not the person they ask does, in fact, know the correct answer. They will find that it takes their ears a little time to adjust to the local accent, but there will be no mistaking the warmth of the tone.
The Commonwealth itself consists of countries that are large and small, rich and poor.... From Britain to Bagladesh, from Australia to Zambia, from New Zealand to Namibia, from Canada to Cameroon. The contrasts are startling, just as within the city of Glasgow there can be a difference of twenty years in life expectancy even in adjoining neighbourhoods. And while the Games are a four yearly celebration of athleticism, the Commonwealth itself, with a population of some 2.2 billion people, has an everyday serious purpose. Its charter begins like this: "We, the people of the Commonwealth, recognising changing economic circumstances and uncertainty, new trade and economic patterns, unprecedented threats to peace and security, a surge in popular demands for democracy, human rights and broadened economic opportunities, affirm that the potential of - and need for - the Commonwealth as a compelling force for good and as an effective network for co- operation and promoting development has never been greater."
I'm glad to say that, alongside the enjoyment of the Games, Glasgow is benefiting from, for example, hundreds of new homes that comprise the athletes' village, in a part of the city that sorely needs change and development. It will add to the enjoyment of the spectacle of the Games to know that there will be a legacy beyond the event itself. That way there will be many more winners than simply those who are first across the finishing line.
And even among the athletes, there can be more to winning than meets the eye. South African athletes will be honoured guests at this year's Games, but in the dark days of Apartheid, a black man would not have been selected for his country. So it was that 4ft 9 inch Precious McKenzie, a weightlifter, came to compete for England and New Zealand rather than his native country, and won four consecutive gold medals. I'm glad that the Commonwealth affirmed an inclusive humanity in the face of darker powers.
But perhaps the most important thing about the Games themselves, apart from the obvious taking part in and watching the sports competitions and crowning the champions, will be the relationships that form among the athletes from different corners of the world, and between the city of Glasgow and its many visitors. The Games are a reminder in the flesh that we are one common humanity living as neighbours in one world through the Grace and mercy of the one God.
St Paul in First Corinthians talks about us running a race in such a way as we may win it. He doesn't, thankfully, mean the hundred metres, nor the four hundred metres and not even the marathon, but the life-long race to win what he describes as an imperishable wreath, our belonging in the kingdom of God. Part of that belonging is eternal, our longed for union with God. Elsewhere Paul describes how now we see through a glass, darkly. Then, he says, we shall see face to face.
But God's kingdom is not all about the future....in Jesus it has already broken in, and in our life and relationships now we are called to reflect its values as a witness to the love of God for all people and all creation.
The Bible reading from Isaiah reflects the generosity of God and challenges the way we humans order our affairs. While we create billionaires and queues at food banks, Isaiah talks of God's desire for all to have abundant life....come, buy wine and milk without money and without price.... God's thoughts, says Isaiah, are not our thoughts, nor are God's ways our ways.
A few days ago I spoke to one of the people who opened the door of faith to me. I well remember being inspired by the way he encouraged me to see that to serve God was to care deeply about the world and its people,  to seek to make a difference while always depending on, and leaning on, Jesus Christ.
If there is a race at the Commonwealth Games that - to me - has something to teach us in that life-long race Paul speaks of, it would be the relay. It's a team effort, not just about our own life but life lived in co- operation with others.....and of course, the most important thing is not to drop the baton. Without each person in the team, the race can't be won by any. Jesus chose ordinary people to carry the baton of faith, and it has been handed on to us. Only together can we win, and hand on the baton to new disciples in their turn.
Enjoy the Games, and enjoy the life of faith, for the generous and compassionate God who made us has given us a Commonwealth of nations and a common humanity to share, thanks be to God. Amen
MUSIC: Lord of all being, throned afar (Tune:  Ombersley)
 
PRAYERS:
IAN:
Let us pray.
God of all life,
of all nations and all peoples,
we thank you for all your goodness to us,
and for the opportunity that is before us
to make the Friendly Games
a place where friendship will flourish
among people of many lands.
FRANCES:
We thank you for the desire
for peace,
co-operation and development
that is at the heart of the Commonwealth,
and for the support and influence it provides
to small countries,
especially those whose people
are among the world's poor.
We thank you too for all that is done throughout the world
To help people live sustainable lives
and to flourish in the face of overwhelming odds.
Yet we know that many do suffer,
and continue to face uncertainty,
and so we pray for our world......
MUSIC:  KYRIE (Ukrainian)  CH4 776
IAN: 
We remember places, in the Commonwealth and across the world
where violence brings pain and terror to people.
Particularly this morning, we remember the suffering people of Israel/Palestine,
And all affected by the loss of the Malaysian flight in Ukraine.
We pray for people who work for peace
with courage and determination,
and for non- violent ways to solve
disputes among communities and peoples.
NOEL:
We remember countries like Bangladesh, and in the Pacific,
threatened by changes in the world's climate.
We pray that all that can humanly be done
will be made a priority
so that people's lives and livelihoods will be saved
for this and future generations
MUSIC:  KYRIE
NOEL:
We remember all who are preparing for the Commonwealth Games,
the athletes, the officials, the volunteers,
those who are getting ready to feed, house and keep safe
a huge number of people over the weeks ahead.
We pray for a memorable event,
with worthy champions,
and that everyone involved
will in some way be a winner.
FRANCES:
And now we remember those who are ill, or anxious, or bereaved.
We remember all our dear ones, wherever they may be....
MUSIC:  KYRIE
 
IAN:
All of this we ask
Through Jesus Christ our Lord.  Amen.
MUSIC:  519 Love divine, all loves excelling (Hyfrydol)
IAN + ALL:
On our heads and our houses
The blessing of God
In our coming and going
The peace of God
In our life and believing
The love of God
At our end and new beginning
The arms of God to welcome us
and bring us home.
  
MUSIC:  SUNG 3-FOLD SOUTH AFRICAN 'AMENI'