Anti-Slavery International
Hugh Quarshie presents The Radio 4 Appeal for Anti-Slavery International.
Registered Charity: 1049160
To Give:
- Freephone 0800 404 8144
- Freepost BBC Radio 4 Appeal, mark the back of the envelope ' Anti-Slavery International '.
Last on
Anti-Slavery International
Anti-Slavery International, founded in 1839, is committed to eliminating all forms of slavery throughout the world. Slavery, servitude and forced labour are violations of individual freedoms, which deny millions of people their basic dignity and fundamental human rights. Anti-Slavery International works to end these abuses by campaigning for slavery's eradication, exposing current cases, supporting the initiatives of local organisations to release people and pressing for more effective implementation of international laws against slavery. For further information on modern slavery and what we do to eradicate it please see www.antislavery.org
Cyprian, from Tanzania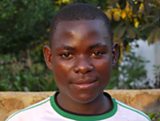 Cyprian, 17, from Tanzania, has been a domestic worker since he was eleven. He could not go to school as his employer didn't give him time off. He got support through Anti-Slavery partners Kuvulini and now he has become a leader in his community helping other child domestic workers to make changes in their lives.
Saruda, from Nepal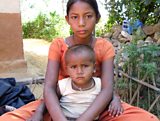 Saruda's parents work as labourers in the fields harvesting rice, so she has to look after her little brother instead of going to school. She also has to fetch water and firewood, and sometimes help harvest rice in the fields.
Aminatou, from Niger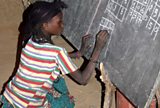 Aminatou Ghalssoune is twelve years old.  She now goes to the school in Inabado, Niger. Her school is part of Anti-Slavery's Niger School Project providing education to communities of former slaves. It's the first time these communities have a chance to break the cycle of exploitation by their traditional masters. Before she went to school Aminatou used to help her mum doing all the housework, fetching wood and water for her family's master.